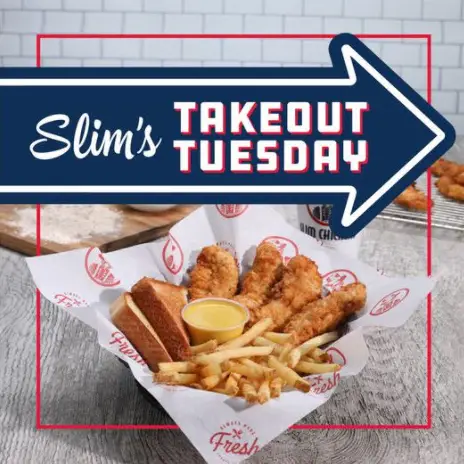 The Slim Chickens menu is somewhat unique among chicken-centric fast-food restaurants. Not only does Slim Chickens serve their namesake chicken after marinating the tenders in buttermilk and hand-breading them, but the menu also features wings, wraps, and chicken & waffles alongside perennial classics like chicken tender baskets and chicken sandwiches. If you've got a sweet tooth, Slim Chickens can satisfy it with a selection of milkshakes or a fun-to-eat Jar Dessert.
Ready for some chicken? Scroll through or search the table below to see prices for everything the Slim Chickens menu has to offer!
Deals at Slim Chickens
Our post on Slim Chickens Coupons & Deals has all the details on current deals at the restaurant. For example, if you sign up for a Slimthusiast Rewards account, you can redeem a promo code good for 20% off an online order of $20 or more on most Tuesdays. Additionally, just signing up for Slimthusiast Rewards will net you a coupon for a free Cayenne Ranch Chicken Sandwich. You'll also get a coupon for a free Jar Dessert to help celebrate your birthday!
Slim Chickens Prices
---
Disclaimer: Menu and prices listed above are based on research of sample locations and are provided for informational purposes only. Since prices and availability may vary by location, please consult your local Slim Chickens menu for the latest details.