Download the Slim Chickens app here and sign up for its Slimthusiast Rewards program to get a coupon for a free Cayenne Ranch Chicken Sandwich.  Also, you'll get a coupon for a free Jar Dessert for your birthday.
Also, sign up for texts and get a promo code for 20% off an order of $15 or more.  Text SLIMS to 24450 to sign up.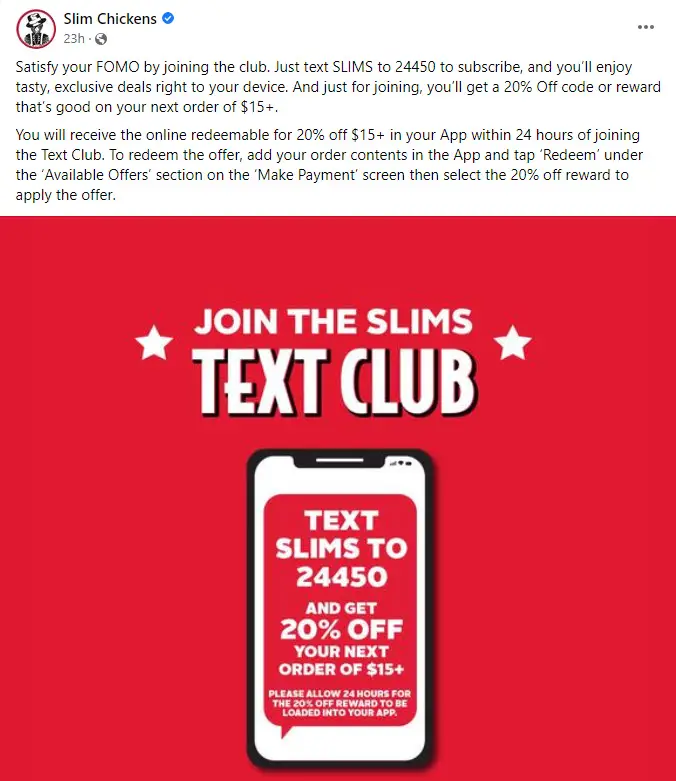 Slim Chickens Family Meals $22 And Up
Slim Chickens has Family Meals to feed 4 for $21.99 and up.  Here are the options:
Grab & Go Pack $21.99:  10 tenders, 2 large sides, 4 Texas Toast, 4 Sauces
Southern Style Family Meal $25.99:  12 Tenders, 4 House Sauces, 1 side of Ranch Chips, 1 side of Mac & Cheese, Coleslaw or Potato Salad, 4 Texas Toast and a gallon of tea.
Picnic Pack $34.99:  16 Tenders, 2 Large Sides (Choose Mac & Cheese, Coleslaw or Potato Salad), 6 Sauces and 4 Texas Toast Slices.
Crowd Pleaser Pack $37.99:  12 Tenders, 10 Wings, 2 Large Sides (Choose Mac & Cheese, Coleslaw, Ranch Chips or Potato Salad), 10 sauces and 4 Texas Toast slices.
For the full lineup and specific pricing for your location, click here for the Slim Chickens website and click "Order Now" or "Locations".   
More from EatDrinkDeals
Inflation stinks!  Want to get make your money go further with the best deals, discount codes, coupons and specials from your favorite restaurants?  Click here to see the latest and greatest from EatDrinkDeals!
More Restaurant Daily Deals
Daily deals for all days of the week can be found here:
For more daily and weekly restaurant specials like these, see:  Restaurant Daily Deals
About Us
EatDrinkDeals is the nation's leading news source for discount dining information. We cover national and regional restaurant chains and provide links to restaurant coupons, coupon codes and general information on how to get the best dining deals.  Inflation is really eating at all of our wallets these days.  That makes our mission of saving you money all the more important!
Our website, www.eatdrinkdeals.com, is updated multiple times every day with the latest deals.  EatDrinkDeals is unique among other coupon sites in that it follows journalistic practices.  This means that every article is checked and verified by our staff before it is published.  We accept no payment for articles or endorsements. Our goal is to provide our users with information on the best deals around so they can enjoy dining out, while sticking to their budgets.  Every article provides attribution that users can show to the restaurant server, in case the server is unaware of the deal.  This attribution is usually a link to the official website, or the Facebook, Twitter or other social media page of the restaurant.