Slim Chickens usually has a takeout deal on Tuesdays, such as $5 off a $25 order or 15% off.  They'll post the offer on their social media each Tuesday with the deal and the promo code to use.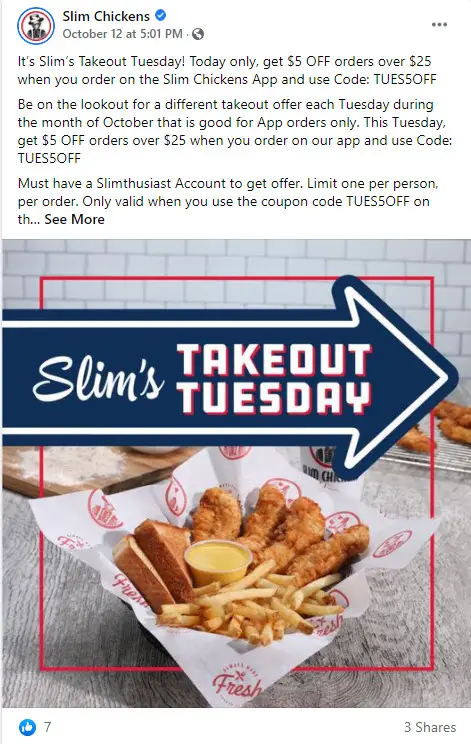 Slim Chickens Family Meals
Slim Chickens has Family Meals to feed 4 for $19.99 and up.  Here are the options:
Grab & Go Pack $19.99:  10 tenders, 1 Large Cole Slaw, 1 Large Mac & Cheese, 4 Texas Toast, 4 Sauces
Southern Style Family Meal $23.99:  12 Tenders, 4 House Sauces, 1 side of Ranch Chips, 1 side of Mac & Cheese, Coleslaw or Potato Salad, 4 Texas Toast and a gallon of tea.
Picnic Pack $29.99:  16 Tenders, 2 Large Sides (Choose Mac & Cheese, Coleslaw or Potato Salad), 6 Sauces and 4 Texas Toast Slices.
Crowd Pleaser Pack $34.99:  12 Tenders, 10 Wings, 2 Large Sides (Choose Mac & Cheese, Coleslaw, Ranch Chips or Potato Salad), 10 sauces and 4 Texas Toast slices.
For the full lineup and specific pricing for your location, click here for the Slim Chickens website and click "Order Now" or "Locations".   
More from EatDrinkDeals
Want to get info on other deals, discounts, coupons and specials from your favorite restaurants?  Click here to see the latest and greatest from EatDrinkDeals!
Slim Chickens App and Rewards Deals
Download the Slim Chickens app here and sign up for its Slimthusiast Rewards program to get a coupon for a free Cayenne Ranch Chicken Sandwich.  Also, you'll get a coupon for a free Jar Dessert for your birthday.
More Restaurant Daily Deals
Daily deals for all days of the week can be found here:
For more daily and weekly restaurant specials like these, see:  Restaurant Daily Deals
If you're an AARP member, you can get every day discounts at Denny's, McCormick & Schmick's, Outback and more places.  You can find all the details in our story, AARP Dining Discounts.
Also, many restaurant chains such as Bob Evans, Outback Steakhouse, Zoe's Kitchen and more offer discounts to the active military and veterans.  Here's the EatDrinkDeals roundup, Restaurant Military and Veterans Discounts.