Get 20% off on most Tuesdays at Slim Chickens with a promo code valid online, plus get special offers when you sign up for the Slimthusiast Rewards program.
Slim Chickens Promo Code For 20% Off
Get 20% off your online order of $20 or more when you order online or in the app with a Slim Chickens promo code valid on most Tuesdays.  Use promo code TAKE20 for the discount.  You'll have to be a Rewards member for the discount to apply.  Slim Chickens will post the promo code most Tuesdays on their social media like this:
Slim Chickens Rewards Deals
Download the Slim Chickens app here and sign up for its Slimthusiast Rewards program to get a coupon for a free Cayenne Ranch Chicken Sandwich.  Also, you'll get a coupon for a free Jar Dessert for your birthday.
Also, sign up for texts and get a promo code for 20% off an order of $15 or more.  Text SLIMS to 24450 to sign up.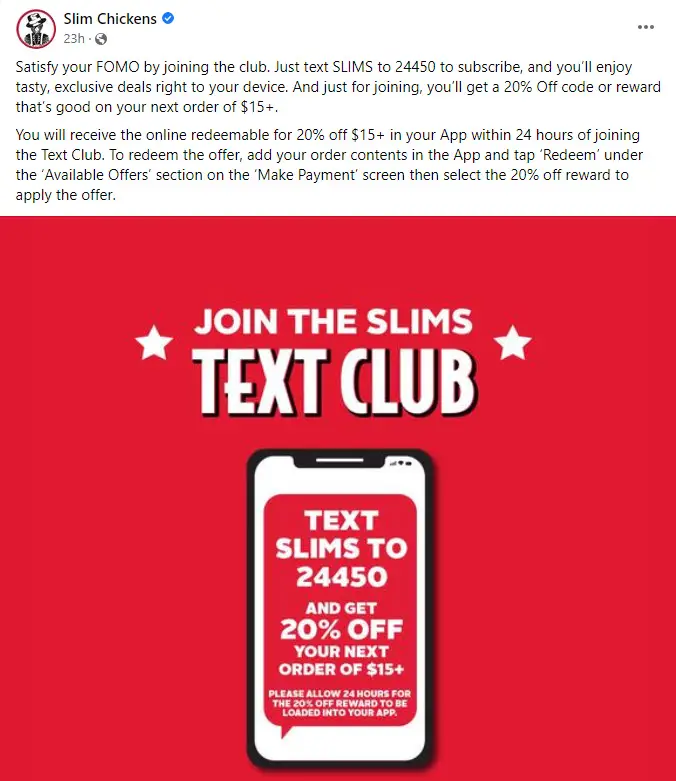 Slim Chickens Family Meals $22 And Up
Slim Chickens has Family Meals to feed 4 for $21.99 and up.  Here are the options:
Grab & Go Pack $21.99:  10 tenders, 2 large sides, 4 Texas Toast, 4 Sauces
Southern Style Family Meal $25.99:  12 Tenders, 4 House Sauces, 1 side of Ranch Chips, 1 side of Mac & Cheese, Coleslaw or Potato Salad, 4 Texas Toast and a gallon of tea.
Picnic Pack $34.99:  16 Tenders, 2 Large Sides (Choose Mac & Cheese, Coleslaw or Potato Salad), 6 Sauces and 4 Texas Toast Slices.
Crowd Pleaser Pack $37.99:  12 Tenders, 10 Wings, 2 Large Sides (Choose Mac & Cheese, Coleslaw, Ranch Chips or Potato Salad), 10 sauces and 4 Texas Toast slices.
For the full lineup and specific pricing for your location, click here for the Slim Chickens website and click "Order Now" or "Locations".