Slim Chickens has Family Meals to feed 4 starting at $19.99, and also has 1/2 price drinks and sides from 2-5 pm daily.
Slim Chickens Family Meals
Slim Chickens has Family Meals to feed 4 from $19.99 and up.  Here are the options:
Grab & Go Pack $19.99:  10 tenders, 1 Large Cole Slaw, 1 Large Mac & Cheese, 4 Texas Toast, 4 Sauces
Southern Style Family Meal $23.99:  12 Tenders, 4 House Sauces, 1 side of Ranch Chips, 1 side of Mac & Cheese, Coleslaw or Potato Salad, 4 Texas Toast and a gallon of tea.
Picnic Pack $29.99:  16 Tenders, 2 Large Sides (Choose Mac & Cheese, Coleslaw or Potato Salad), 6 Sauces and 4 Texas Toast Slices.
Crowd Pleaser Pack $34.99:  12 Tenders, 10 Wings, 2 Large Sides (Choose Mac & Cheese, Coleslaw, Ranch Chips or Potato Salad), 10 sauces and 4 Texas Toast slices.
For the full lineup and specific pricing for your location, click here for the Slim Chickens website and click "Order Now" or "Locations".   
Other Fast Food Coupons and Specials
Want more coupons and deals from your other fast food and fast casual restaurants?  Go to our EatDrinkDeals Fast Food Coupons section here!
1/2 Price Afternoon Snack 2-5 PM Daily
For a limited time, get 1/2 price Drinks and Southern Sides every day from 2-5 pm.  You can get 20 oz or 32 oz drinks, Milkshakes, and the following sides:  Fried Pickles, Fried Mushrooms, Fried Okra, and Large Fries.  Valid at participating locations.  If you're ordering online, as long as you select a pickup time from 2-5 pm, the discount should be automatically applied.  For the list of participating locations and other details, click here for the Slim Chickens website.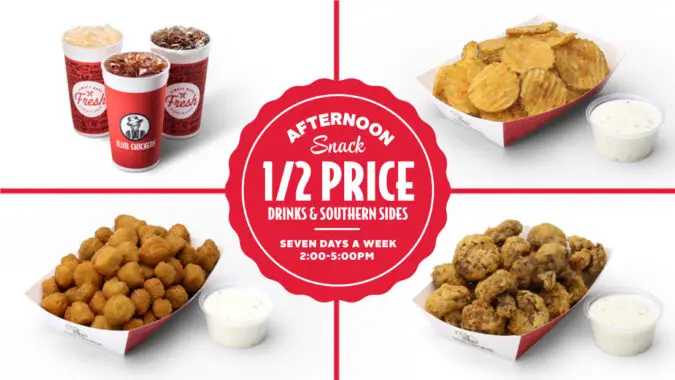 Valid only between 2pm-5pm daily at participating Slim Chickens locations. Offer not valid with delivery orders. Cannot be combined with any other offer. Limited time only.
Slim Chickens App and Rewards Deals
Download the Slim Chickens app here and sign up for its Slimthusiast Rewards program to get a coupon for a free Cayenne Ranch Chicken Sandwich.  Also, you'll get a coupon for a free Jar Dessert for your birthday.
Slim Chickens is a fast-casual restaurant chain which specializes in chicken tenders and wings. It was founded in 2003 by Greg Smart and Tom Gordon.
The first location opened in 2003, inside a former sushi restaurant in Fayetteville, Arkansas. In 2005, the second location opened in the nearby city of Rogers. The chain's expansion accelerated in 2008 with five more openings in Arkansas and Oklahoma.  In 2013, the first franchise location was opened; the next year, six regional franchise deals were made.  In a partnership with Persian Gulf conglomerate Alghanim Industries, the first international Slim Chickens opened in Salmiya, Kuwait in May 2017.  A London branch opened at 35 James Street in March 2018. A Cardiff branch opened in St David's Dewi Sant in 2019. A Bristol UK branch opened in 2019 in the shopping area of Cabot Circus. There also is a branch in Birmingham, UK.