Get discounts on Mobile Mondays at Slim Chickens, plus get special offers when you sign up for the Slimthusiast Rewards program.
Slim Chickens Mobile Monday Promo Code
Get discounts on your online order with Slim Chickens promo codes valid on most Mondays.   You'll have to be a Rewards member for the discount to apply.  Slim Chickens will post the promo code most Mondays on their social media like this:
It's Mobile Monday! Today only, buy one Salad or Wrap & get another Salad or Wrap (of equal or lesser value) for 50% off when you order on the Slims App or website. Offer valid May 15th with code 2FRESH. As if you needed another reason to try one of these delightful,… pic.twitter.com/jemje8auZ4

— Slim Chickens (@slimchickens) May 15, 2023
Slim Chickens Family Meals $25 And Up
Slim Chickens has Family Meals to feed 4 for $24.99 and up.  Here are the options:
Grab & Go Pack $24.99:  10 tenders, 2 large sides, 4 Texas Toast, 4 Sauces
Southern Style Family Meal $32.99:  12 Tenders, 4 House Sauces, 1 side of Ranch Chips, 1 side of Mac & Cheese, Coleslaw or Potato Salad, 4 Texas Toast and a gallon of tea.
Picnic Pack $36.99:  16 Tenders, 2 Large Sides (Choose Mac & Cheese, Coleslaw or Potato Salad), 6 Sauces and 4 Texas Toast Slices.
Tailgate Pack $39.99:  12 Tenders, 10 Wings, 2 Large Sides (Choose Mac & Cheese, Coleslaw, Ranch Chips or Potato Salad), 10 sauces and 4 Texas Toast slices.
For the full lineup and specific pricing for your location, click here for the Slim Chickens website and click "Order Now" or "Locations".   
Slim Chickens Menu
Go to our Slim Chicken Menu and Prices page here to browse what's available, with pricing based on our experience and location sample testing.
Slim Chickens Rewards Deals
Download the Slim Chickens app here and sign up for its Slimthusiast Rewards program. You'll get a coupon for a free Cayenne Ranch Chicken Sandwich.  Also, you'll get a coupon for a free Jar Dessert for your birthday.
Also, sign up for texts and get a promo code for 20% off an order of $15 or more.  Text SLIMS to 24450 to sign up.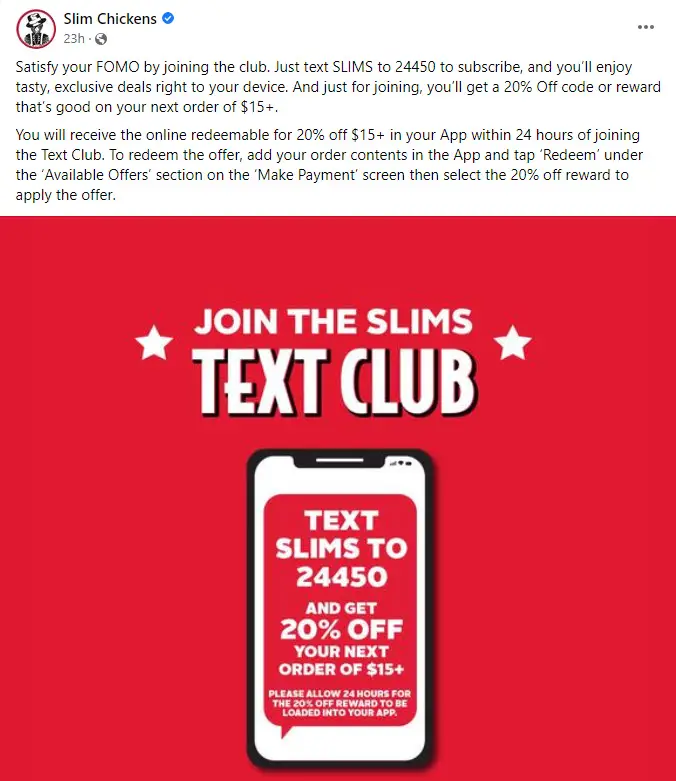 About Slim Chickens
Slim Chickens is a fast-casual restaurant chain with over 120 locations. They focus mainly on the Southeast U.S.
Slim Chickens focuses on chicken, plain and simple. The menu includes chicken tenders, wings, sandwiches, and salads. They use fresh, all-natural chicken that is hand-breaded and cooked to order. Slim Chickens offers a range of sauces and seasoning options. Some of the most popular items on the Slim Chickens menu include the chicken tenders, which are available in both classic and spicy varieties, and the Buffalo and Honey BBQ chicken wings. Their homemade dipping sauces are big hits. Favorites include the signature Cayenne Ranch sauce and the Alabama White BBQ sauce.
Slim Chickens has digital channels for online ordering and a mobile app. They've also got some space in the good ol' fashioned dining room if you want to visit and take a seat.