Order the Smoked Bacon Brisket Burger from Smashburger on October 21 and get a free order of fries to go with it!  Choose from Regular or Sweet Potato Fries.  This burger is a beast – you're getting an Angus Beef patty paired with brisket smoked for 10 hours, bacon, cheddar cheese, pickles, and BBQ sauce, served on a toasted brioche bun.  Smashburger posted the news on their website and social feeds.
Smashclub Rewards Program Free Entree
Get a Smashburger coupon for a free entree when you sign up for the Smashclub rewards program.
Right after joining you'll get a coupon for a free entree with purchase of a side and a beverage.  Then get a free side or shake with any purchase on your birthday.  Get 1 point for every $1 you spend, and with 100 points you'll receive a $10 reward.
To sign up for the Smashclub and get other details see https://smashburger.com/smashclub/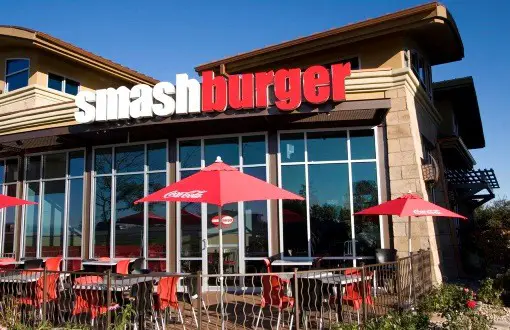 Smashburger Take and Make Family Meal Kit
Love Smashburger, but want to cook it up at home yourself?  The new Take and Make Family Meal Kits will let you do just that.  The kits are designed to feed four people, and come with step-by-step recipe instructions and tips from the Smashburger chefs to help you get it just right.
Here's the options available:
Classic Smash and Tots $24.95 – 4 servings of 100% Angus Beef Smash Patties, Buns, Pickles, Lettuce, Tomato Slices, Red Onion Rings, American Cheese, Seasoning, Ketchup, Signature Smash Sauce, Tater Tots & Signature Smash Oil
Crispy Chicken and Tots $29.95 – 4 servings of Breaded Chicken Breasts, Buns, Lettuce, Tomato Slices, Red Onion Rings, Mayonnaise, Tater Tots & Signature Smash Oil
Smoked Bacon and Brisket and Tots $39.95 – 4 servings of 100% Angus Beef Smash Patties, Applewood Smoked Bacon, Brisket, Brioche Buns, Pickles, Smoked Cheddar Cheese, BBQ Sauce, Seasoning, Tater Tots & Signature Smash Oil
For more info and for cooking instructions, click here to go to the Smashburger Take and Make page. 
More from EatDrinkDeals
Want to get info on other deals, discounts, coupons and specials from your favorite restaurants?  Click here to see the latest and greatest from EatDrinkDeals!
Smashburger Menu
Smashburger's menu focuses primarily on burgers, chicken sandwiches, and salads, with a variety of toppings and options. The restaurant serves localized burgers in each market based on regional flavors like the Sin City, Windy City, Spicy Cowboy, and others. The company also offers a variety of sides, including sweet potato fries, fried onions, and fried pickles, as well as a vegetarian black bean burger and Veggie Frites.  Desserts include shakes and malts made with Häagen-Dazs ice cream.
The chain also serves beer and wine.
More Restaurant Daily Deals
Daily deals for all days of the week can be found here:
For more daily and weekly restaurant specials like these, see:  Restaurant Daily Deals
If you're an AARP member, you can get every day discounts at Denny's, McCormick & Schmick's, Outback and more places.  You can find all the details in our story, AARP Dining Discounts.
Also, many restaurant chains such as Bob Evans, Outback Steakhouse, Zoe's Kitchen and more offer discounts to the active military and veterans.  Here's the EatDrinkDeals roundup, Restaurant Military and Veterans Discounts.