Smashburger has brought back its Scorchin' Hot Crispy Chicken Sandwich for only $5 now through September 30.  This one was a big hit last year.  The sandwich is made with Nashville hot crispy chicken and topped with a spicy red pepper mayo and pickles, served on a toasted bun.  For more details, visit the Smashburger Deals page here.
Free Kids Meals At Smashburger On Wednesdays
Get a free Kids Meal at Smashburger on Wednesdays through December 31!
On Wednesdays buy an adult meal (entree, side and drink) and get a kids meal free.  Valid for kids 12 and under only.  Good in-store only.
For a list of participating locations visit the Smashburger Kids Free website.
*Kids Eat Free Every Wednesday! Promotion. (May 11, 2022 – December 31, 2022). Offer valid only on Wednesdays from 5/11/22 – 12/31/22, in-store at participating Smashburger® locations during regular business hours. Offer for the value of a Kids Meal only with minimum purchase of adult meal (entrée, side, & drink). Valid for Kids 12 & under only. Offer not available online, in-app, or for third party delivery services. Cannot be used in conjunction with any other offer, promotion, or discount.
Smashburger Rewards Program Free Burger
Get a Smashburger coupon for a free entree when you sign up for the Smashclub rewards program.
Right after joining you'll get a coupon for a free entree with purchase of a side and a beverage.  Smashclub members also get a free side or shake with any purchase on your birthday.  Get 1 point for every $1 you spend, and with 100 points you'll receive a $10 reward.  You'll also be notified of other special offers they've got going on.
To sign up for the Smashclub and get other details see https://smashburger.com/smashclub/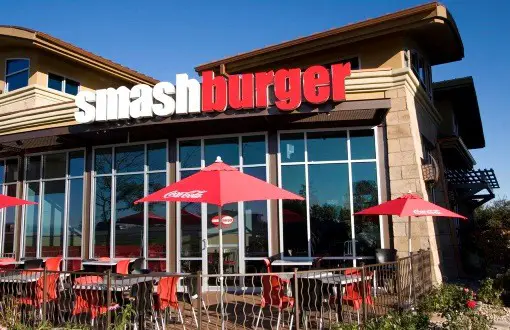 More from EatDrinkDeals
Want to get info on the best restaurant deals available right now?  Click here to see the latest and greatest from EatDrinkDeals!
Smashburger Menu
Smashburger is one of the new types of "better burger restaurant" that have been increasing in popularity lately.  The menu focuses primarily on burgers, chicken sandwiches, and salads, with a variety of toppings and fresh ingredients. Along with the Classic Smash, the restaurant serves localized burgers in each market based on regional flavors like the Sin City, Windy City, Spicy Cowboy, and others. Many fans think these are the best burgers on the menu.  Lots of items come with their signature Smash Sauce made with mayonnaise, mustard, pickles and a bit of lemon juice.
The company also offers a variety of sides, including classic french fries, sweet potato fries, fried onions, and fried pickles, as well as a vegetarian black bean burger and Veggie Frites.  Desserts include shakes and malts made with Haagen-Dazs ice cream.  Grab a refreshing fountain drink or iced tea while you're at it.
Usually, there's a limited time special on the menu worth trying out, like a Cod Sandwich or Cobb Salad.  And, while they may seem to go together, you normally won't be able to find a hot dog on the menu.
For the full Smashburger menu, visit them online here.  You can place online orders here, too.
Smashburger Coupons and Promo Codes
Smashburger may send out more coupon codes, but they'll only be usable for specific locations or areas. Our policy is to only publish Smashburger promo codes that are widely available to avoid disappointing our users.  When awesome Smashburger discount codes are nationally available and from verifiable sources, we will post it here, so you only pay the best deals for your favorite food!
Smashburger Near Me
Smashburger has approximately 400 locations worldwide, but most of those are in the U.S.  They're in about 40 states.  You can find the nearest Smashburger location near you at Smashburger's website here.
Smashburger Hours
Smashburger typically opens around 9:30 or 10 AM and closes around 9 – 10 PM.  To find the hours, address and more details for your local Smashburger, select your location from: Smashburger Near Me
Smashburger Delivery
Smashburger now offers delivery orders directly from their website.  Usually there is a delivery fee of $4-$5, but you can sometimes get a Smashburger coupon code for free delivery during special promotions.  You'll need to have an account registration done before you complete an order.  To start a Smashburger delivery order today, visit:  Smashburger Delivery
You can also place a delivery order through the new Smashburger App for iPhone or for Android.  Online ordering is available through the app for pickup, too.
Smashburger Nutrition
Smashburger lists food allergen and nutritional information in their online and app menus.  You can manage to make some smarter dietary choices, but if you're looking for healthy food, you're not in the right place.  To view the nutritional content of any menu item, click here for the Smashburger Nutrition page.
When you start an online or order, you can make modifications to the menu ingredients online; when ordering at the restaurant, simply ask the crew member to hold a given ingredient.
More Restaurant Daily Deals
Daily deals for all days of the week can be found here:
For more daily and weekly restaurant specials like these, see:  Restaurant Daily Deals
If you're an AARP member, you can get every day discounts at Denny's, McCormick & Schmick's, Outback and more places.  You can find all the details in our story, AARP Dining Discounts.
Also, many restaurant chains such as Bob Evans, Outback Steakhouse, Zoe's Kitchen and more offer a military discount to active duty members and veterans.  Here's the EatDrinkDeals roundup, Restaurant Military and Veterans Discounts.