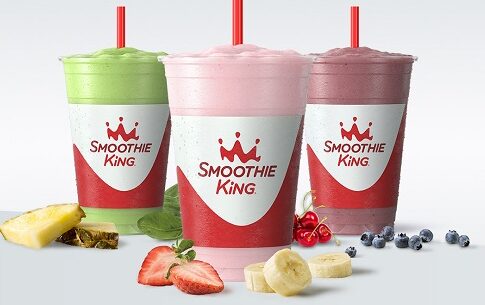 Smoothie King distinguishes itself by serving up smoothies that are as good for you as they are tasty. Each smoothie starts with whole fruits and organic vegetables, and most smoothies on the menu are made without added sugar. What's more, the Smoothie King chain has proven its commitment to Clean Blends by sharing their "No-No List"–a staggeringly long list of multisyllable ingredients that Smoothie King has pledged to keep out of their smoothies–directly on their website.
The Smoothie King menu shows that you don't need high fructose corn syrup or artificial ingredients to make a delicious smoothie. Maybe you need a pick-me-up to get your engine revving first thing in the morning. If so, Smoothie King has a range of Feel Energized Blends that might be just the ticket. If you're on a fitness journey, the Get Fit and Manage Weight Blends are a yummy way to refuel while keeping your goals in mind. And let's be honest–sometimes you just need to treat yourself. In that case, the Be Well and Enjoy a Treat Blends will be right up your alley. Green Tea Tango or Passion Passport, anyone?
Plus, every smoothie is customizable! Add nutritional enhancers like Immune Support and Metabolism Boost, a protein supplement of your choice, more fruit and veggies, or fun extras like peanut butter and espresso. If a smoothie includes an ingredient you don't like, just leave it out!
Scroll through or search the table below to see the menu and prices at Smoothie King. Then start pondering how you'll customize your next smoothie.
Deals at Smoothie King
Smoothie King Rewards members can upgrade a 20-oz smoothie to a 32-oz smoothie every Friday for just $1 extra. Sign up for the rewards program for $2 off your next order, plus additional coupons on your birthday and signup anniversary. For more current offers at Smoothie King, check out our article on Smoothie King Specials.
Don't miss out on new deals and coupons at Smoothie King and your other favorite restaurants. Sign up for the EatDrinkDeals newsletter today!
Smoothie King Prices & Menu
---
Disclaimer: Menu and prices listed above are based on research of sample locations and are provided for informational purposes only. Since prices and availability may vary by location, please consult your local Smoothie King menu for the latest details.