National Smoothie Day is June 21, and Smoothie King is bringing the heat! On June 21, all customers who use the app can get a coupon for a free 20 oz. smoothie redeemable from June 22 – 27! Furthermore, from June 18-21, customers have the opportunity to enter to win free smoothies for life! All you have to do is submit what you love about Smoothie King in their online form to be entered into the contest! If you order a smoothie through the app, you will get a bonus entry everyday!  Smoothie King has the news up on their website.  For eligibility and full contest rules, click here.
In the days leading up to National Smoothie Day, Smoothie King is also offering these promotions:
June 18: Earn a $2 reward on your next purchase when you order delivery or pickup through the app.
June 19: Free delivery on all smoothies all day long!
June 20: Earn 621 bonus points when you use the app online or in store.
June 21: Get a free 20 oz. smoothie and redeem it anytime from June 22-27.*
Also, don't forget to try the relaunched favorite, Hydration Watermelon Smoothie, back for a limited time!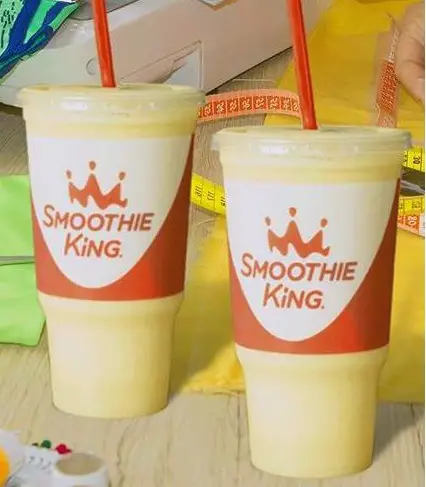 *Healthy Rewards App members who order a smoothie on June 21 will get credit for a free 20 oz. smoothie redeemable from June 22-27. Those without the app can take advantage of. the offer only on June 21. 
$5 Smoothies Deal on Fridays!
Get $5 smoothies and $6 meal replacements at Smoothie King every Friday!  All regular 32 oz smoothies are $5 and Meal Replacement smoothies are $6 every Friday at every store. You can find the deal on the Smoothie $5 Friday Page.
More from EatDrinkDeals
Want to get info on other deals, discounts, coupons and specials from your favorite restaurants?  Click here to see the latest and greatest from EatDrinkDeals!
Smoothie King Rewards
Get a Smoothie King coupon for $2 off when you download their app and sign up for their rewards.
Download the app and sign up for rewards with your email address and get $2 off right away.  Plus get another $2 off on your birthday and signup anniversary. You also get $1 off for every $10 you spend using the app.

CLICK HERE to download the Smoothie King app.    Smoothie King Healthy Rewards are only redeemable with an iPhone or Android device with the app installed.  Enjoy the healthy smoothie rewards that are coming your way!
More Restaurant Daily Deals
Daily deals for all days of the week can be found here:
For more daily and weekly restaurant specials like these, see:  Restaurant Daily Deals
If you're an AARP member, you can get every day discounts at Denny's, McCormick & Schmick's, Outback and more places.  You can find all the details in our story, AARP Dining Discounts.
Also, many restaurant chains such as Bob Evans, Outback Steakhouse, Zoe's Kitchen and more offer discounts to the active military and veterans.  Here's the EatDrinkDeals roundup, Restaurant Military and Veterans Discounts.