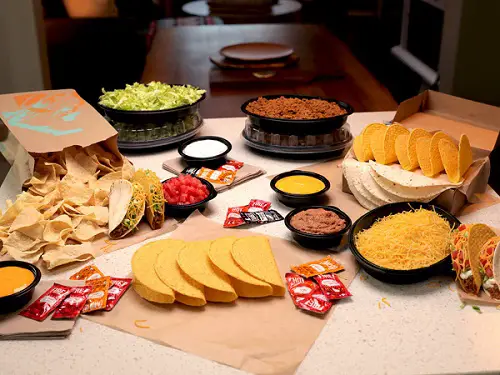 Whether you're out late and need some tasty, affordable Mexican food to fill you up, or you've grown tired of the standard fast-food breakfast fare of pancakes and biscuits, the Taco Bell menu has a taco, burrito, quesadilla, bowl, breakfast wrap, or fun frozen drink for you!
Scroll through or search the table below to see prices for everything from fan-favorite Nacho Fries and Mexican Pizza to Taco Bell's specialties, like the Crunchwrap Supreme® and Cheesy Gordita Crunch.
Taco Bell Deals
Nacho Fries and Mexican Pizza are back at Taco Bell, but that's not all! Read our article on Taco Bell Deals & Coupons for info on the $2 Double Beef Burrito, $5 Breakfast Box, $5 Cravings Box, Taco Bell Value Menu, and more.
Taco Bell recently announced the arrival of the Ultimate GameDay Box at restaurant locations starting January 26, 2023! Gear up for big football and basketball games with the lineup of Mexican Pizza, Crunchy Tacos, and Crispy Chicken Wings!
Taco Bell Menu & Prices
---
Disclaimer: Menu and prices listed above are based on research of sample locations and are provided for informational purposes only. Since prices and availability may vary by location, please consult your local Taco Bell's menu for the latest details.
What Is The Taco Bell Menu Like?
The Taco Bell menu focuses on their Tex Mex staples like tacos (duh), soft tacos, burritos and quesadillas.  Over the years, Taco Bell innovations like the Chalupa, the Spicy Tostada and the Crunchwrap have become popular items, too.  Most feature items can be purchased individually, or as a combo with a drink and smaller items like a bean burrito or nachos.  Taco Bell is a top choice to get some Mexican food at a low price.
Taco Bell also serves breakfast with lots of breakfast burritos options and sides like hash browns available.  For years, Taco Bell has offered a wide selection of vegetarian and vegan options – way ahead of the trend.  They've made it easier than ever with the "Veggie Mode" available at self serve kiosks in select Taco Bell locations to help you tailor your order to meet those dietary needs.
To combat rising costs and operational difficulties with such a wide selection, Taco Bell said their menu will get trimmed.  According to this press release, Taco Bell will take these following items off the menu: Cool Ranch and Fiery Doritos Locos Tacos, the Double Decker Taco, Beefy Mini Quesadilla, chips & salsa, Chipotle Chicken Loaded Griller, Double Tostada, Power Menu Burrito and the XXL Grilled Stuft Burrito.
The Taco Bell menu has a ton of ways to get a tasty meal at an affordable price.  Find the best Taco Bell deal for you and get some big savings to fit within your tight budget!