Get free delivery on from a Taco Bell Grubhub order of $12 or more at Taco Bell today through April 30, 2020. For more details or to start your order visit: Taco Bell Delivery.
Free Grubhub delivery available at participating U.S. Taco Bell® locations for users who order $12 or more (before tax, tip, and fees) at grubhub.com or using the Grubhub app. Expires 3/31/2020. Items may vary. Service fee will apply. No promo code required. Only valid for personal (non-corporate) accounts. Cannot be combined with most discounts or offers. Visit www.tacobell.com/delivery to check delivery availability. Grubhub reserves the right to cancel, suspend and/or modify the offer, or any part of it, for any reason at any time, including, without limitation, if any fraud or technical failure impairs the integrity or proper functioning of the offer. 
Get more details on other restaurant delivery deals by reading our EatDrinkDeals Restaurant Delivery Deals Guide here!
$1 Grande Burritos
Hungry?  Do you also happen to be broke? How 'bout a $1 Loaded Taco or Chipotle Chicken Grande Burrito from Taco Bell?  For a limited time, enjoy either of these bad boys for just $1.
The Loaded Taco Grande Burrito comes with beef, shredded cheese, lettuce, red tortilla strips and sour cream.  The Chipotle Chicken variety comes with shredded chicken, chipotle sauce and seasoned rice.
View the Taco Bell menu page here for nutritional info and more details.  They're only $1 apiece so stock up!
Taco Bell Veggie Mode and More Deals
Taco Bell has made life easier for vegetarians and vegans with a new Veggie Mode to help them easily navigate the menu. Tap the Veggie Mode button at the kiosks in-store, and the menu will show close to 50 items made certified vegetarian.  Big name items include the 7-Layer Burrito, Black Bean Crunchwrap Supreme, Black Bean Quesarito, and more.  Taco Bell announced Veggie Mode on their website.
Plus, if you're in the app, simply go to the Menu button at the bottom, and scroll down until you see the Vegetarian section to quickly spot the items that fit your dietary needs.  Graze on!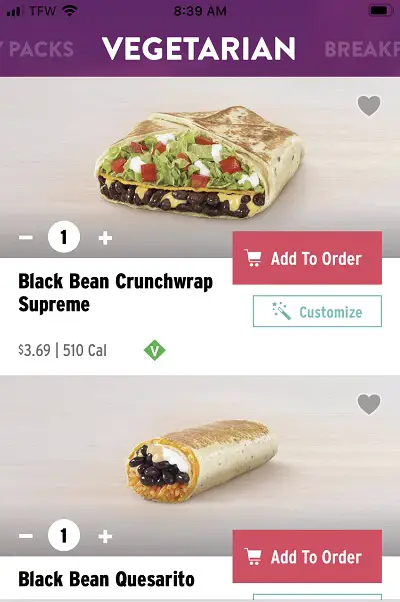 Breakfast Menu
Taco Bell has revamped its breakfast menu to vie for a share of the increasingly competitive early morning crowd.  Choices start at just $1 with items like the Cheesy Toasted Breakfast Burrito or the Mini Skillet Bowl, a Breakfast Crunchwrap for $2.79, a Grande Toasted Breakfast Burrito with Steak for $3.49, and plenty of other options.  To view the full lineup, go to the Taco Bell Breakfast Menu here.
Cravings Value Menu
Taco Bell has a Cravings Value Menu with 8 items including Burritos, Quesadillas and Nachos.
Taco Bell's current Cravings Menu as of December 2019 is below; prices range from $1 to $1.29:
Beefy Fritos Burrito

Cheesy Bean & Rice Burrito

Shredded Chicken Mini Quesadilla

Cheesy Roll-Up

Cinnamon Twists

Spicy Potato Soft Taco

Spicy Tostada

Triple Layer Nachos.
Taco Bell announced the new Cravings Value Menu on the Taco Bell website.
Happy Hour
Enjoy Happier Hour at Taco Bell with $1 specials every day from 2 to 5 PM.  Get Freezes, Sparklers and medium drinks for just $1.
You can find more details on the Taco Bell Happier Hour website or on the Taco Bell Facebook page.
Taco Bell Vegetarian Menu
Taco Bell introduced a new Vegetarian and Meatless Menu nationwide on September 12, 2019, featuring 13 items like the Black Bean Quesarito.
The "new" menu actually is more like a rebranding of some popular existing items that have always been vegetarian.  In fact, Taco Bell was the first quick service restaurant certified by the American Vegetarian Association.  The menu includes 13 items in all.  Some highlights include the Black Bean Crunchwrap Supreme, the Black Bean Quesarito, the Bean Burrito, and the ever-popular 7-Layer Burrito.  In all, Taco Bell has 36 American Vegetarian Association-certified vegetarian ingredients.  26 of these are also vegan.

You can also customize the items on the menu to adhere to vegan restrictions.  For example, The Black Bean Crunchwrap Supreme is a flour tortilla filled with black beans, nacho cheese sauce, iceberg lettuce, sour cream and tomatoes in a tostada shell.  The Black Bean Quesarito is a flour tortilla filled with black beans, seasoned rice, cheddar cheese, nacho cheese sauce, sour cream and a creamy chipotle sauce. Customers can ask to remove the nacho cheese sauce, sour cream, cheddar cheese and creamy chipotle sauce on either item for a vegan meal.
The Taco Bell website has more information on how to eat vegetarian and meatless at their over 7,000 restaurants.  You can also review the official Taco Bell press release for more details.
Taco Bell is an American chain of fast-food restaurants based in Irvine, California, in the U.S.
Taco Bell serves a variety of Tex-Mex foods including tacos, burritos, quesadillas, nachos, other specialty items, and a variety of "value menu" items.  It serves more than 2 billion customers each year in 7,000 restaurants.   Independent franchisees and licensees own more than 80 percent of these restaurants.
Taco Bell Facebook Page / Twitter Page