Taco Bell announced the return of the Double Decker Taco this week, plus 20% rewards on in-app orders now through December 10 and more specials, like the $5 Cravings Box, $2 burritos, a $5.49 breakfast box, and $1 – $2 Value Menu.
Taco Bell Double Decker Returns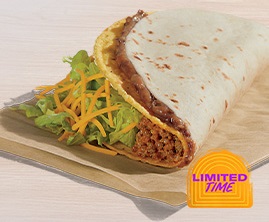 A Taco Bell fan favorite, the Double Decker Taco, is back now through December 20, 2023, priced at $2.99.
The Double Decker Taco is a combination of crunchy and soft textures, consisting of a bean-filled tortilla wrapped around a taco shell, filled with seasoned beef, lettuce, and shredded cheddar cheese. Fans can also order the Double Decker Taco Supreme with added diced tomatoes and reduced-fat sour cream on their taco for $3.69.
"The Double Decker Taco holds a deep space in the hearts of our Taco Bell Fans. The insane amount of love for this product from fans across our social platforms was impossible to ignore," said Taylor Montgomery, Chief Marketing Officer. "We listened to what our fans wanted from us and knew we couldn't deny them the joy of the Double Decker Taco any longer."
You can find the Double Decker Taco on the Taco Bell Menu – What's New page.
20% Off Taco Bell Order
Now through December 10, 2023, spend $20 or more with the Taco Bell app and get a reward for 20% back on what you spent.  Your 20% reward will be valid on another app order in the month of December.  Taco Bell announced the reward on the Taco Bell Home Page.
*Between 12/4/23 and 12/10/23 spend $20 and receive a reward for 20% off (max $10) another order inthe month of December. Redeemable only via the Taco Bell mobile app, at participating U.S. Taco Bell® locations, while supplies last. Not available for delivery orders, unless placed on the Taco Bell app. Must be a registered Taco Bell Rewards member in order to redeem. Reward valid for 20% off an order with a max discount of $10. Reward valid 1 (one) time per registered user. No product or ingredient substitutions, upgrades or add-ons. Reward is non-transferable and cannot be combined with any other offer.  
$5 Cravings Box Is Back At Taco Bell
Taco Bell has a little bit of something for everyone, but even still, sometimes it's hard to find a combo that's got exactly what you want. The $5 Cravings Box can get you a nice variety for a low price. You'll get a Chalupa Supreme, Beefy 5-Layer Burrito, Crunchy or Soft Taco, Cinnamon Twists and a Medium Fountain Drink.
Get more details at:$5 Cravings Box
Nacho Fries Return
Nacho Fries are back at Taco Bell! Yup, that cheese and French fry combo is back and ready to bless your taste buds starting April 13. You can get an individual Nacho Fries for $2.29, or as Grilled Cheese Nacho Fries with Beef for $3.99, or Grilled Cheese Nacho Fries with Steak for $4.99.  You can find them on the Taco Bell Menu – New page
Free Tacos With The Live Mas Student Section
It's back, with free tacos! The Live Más Student Section award from Taco Bell goes to the student section with the most enthusiasm and energy shown at college football games this season. Fans will vote on the winners. If you vote and choose the winner for the month, you win too! Voters who select the winning student section will get a free taco. Get two or three of the monthly votes correct, and you'll get some sweet Taco Bell swag. Get more details from the The Live Más webpage here.
Taco Bell Value Menu
Taco Bell has a Cravings Value Menu with 7 items including Burritos, Nachos and more for just $1 – $2.  Take advantage of some of the best deals at Taco Bell with the current Cravings Menu:
$1 Items:

Spicy Potato Soft Taco

Cinnamon Twists

Cheesy Bean & Rice Burrito

Cheesy Roll-Up

$2 Items

Beefy Melt Burrito

Chipotle Ranch Grilled Chicken Burrito

Fiesta Veggie Burrito
Taco Bell announced the new Cravings Value Menu on the Taco Bell website.
Taco Bell $2 Burritos
For a limited time, get either the Beefy Melt, Fiesta Veggie or Chipotle Ranch Grilled Chicken Burrito for $2 at Taco Bell.  It's an inexpensive way to fuel up.
The Beefy Melt comes with rice, beef, nacho cheese sauce, nacho strips, cheese, and sour cream.  The Fiesta Veggie has rice, black beans, red nacho strips, chipotle sauce, sour cream, cheese, tomatoes and guacamole.  The Chipotle Ranch burrito comes with rice, grilled chicken, avocado ranch and chipotle sauces, lettuce, tomatoes, and cheddar cheese.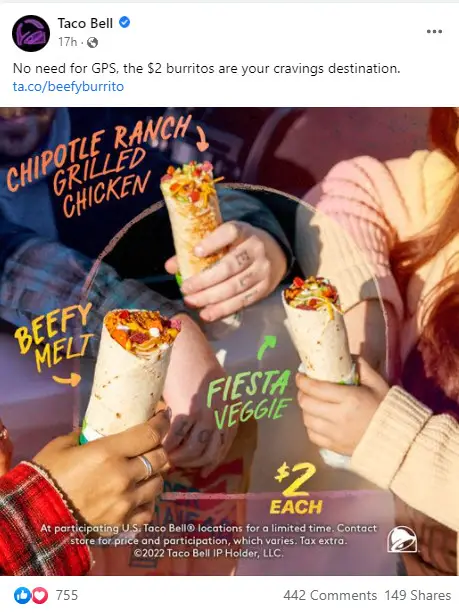 Taco Bell Mexican Pizza
The Taco Bell Mexican Pizza is back on the menu.  The Mexican Pizza is made with beef and refried beans sandwiched between two Mexican Pizza shells with Mexican Pizza sauce, topped with a three-cheese blend and tomatoes.  It is priced at $5.39 at most locations.  You can find it on the Taco Bell Menu.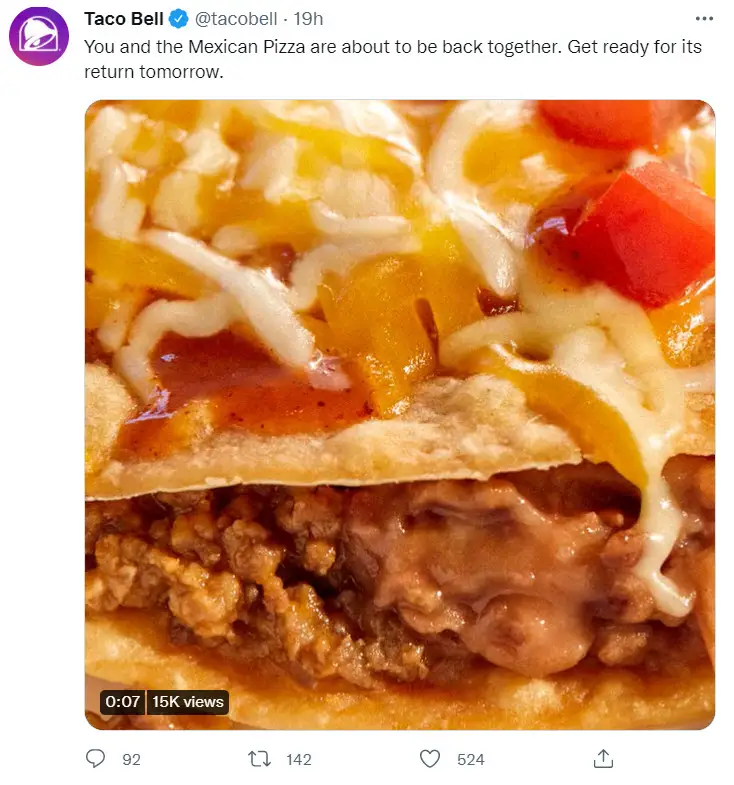 Taco Bell Breakfast Box
Fuel up in the morning with the $5.49 Breakfast Box deal at Taco Bell.  It includes a Crunchwrap Sausage, a Hash Brown, two Cinnabon Delights for sweetness and your choice of a medium coffee or soft drink.  See it at:  Taco Bell Breakfast Box
More Fast Food Coupons
Looking for coupons, promo codes and deals at your other favorite fast food joints?  Visit our EatDrinkDeals Fast Food Coupons, Specials and Deals.
$12.99 Taco & Burrito Cravings Pack
Try out Taco Bell's $12.99 Taco & Burrito Cravings Pack if you're extra hungry, or you need to share with some friends.  You'll get 4 Crunchy Tacos and 4 Beefy 5-layer Burritos.
Taco Bell also has Taco Party Packs that come with 12 tacos and start at $20.99. Choose from regular, Supreme, or Supreme Variety packs.
You can find more details on the Cravings Pack plus details about Taco Party Packs here on the Taco Bell website.
Taco Bell Vegetarian Menu
Taco Bell has made life easier for vegetarians and vegans with a new Veggie Mode to help them easily navigate the menu. Tap the Veggie Mode button at the kiosks in-store, and the menu will show close to 50 items made certified vegetarian.  Big name items include the 7-Layer Burrito, Black Bean Crunchwrap Supreme, Black Bean Quesarito, and more.  You can find the Taco Bell Vegetarian menu at: Taco Bell Vegetarian Menu
Plus, if you're in the app, simply go to the Menu button at the bottom, and scroll down until you see the Vegetarian section to quickly spot the items that fit your dietary needs.  Graze on!
Taco Bell Breakfast Menu And Hours
Taco Bell has revamped its breakfast menu to vie for a share of the increasingly competitive early morning crowd.  Choices start at just $1.99 with items like the Cheesy Toasted Breakfast Burrito, a Breakfast Crunchwrap for $3.99, a Grande Toasted Breakfast Burrito with Steak for $4.49, and plenty of other options.  To view the full lineup, go to the Taco Bell Breakfast Menu here.
Taco Bell's breakfast hours are typically from around 8:30 or 9 AM until around 11 AM.  You can find the specific hours for your location on the Taco Bell website after you enter your address.
Taco Bell Deals & Coupons
Sometimes we'll come across other Taco Bell promo codes, printable coupons and discount codes, but they might only be available for specific locations or areas. At EatDrinkDeals, our policy is to only the latest Taco Bell coupons that are widely available to avoid disappointing our users. When a Taco Bell discount code is nationally available and from verifiable sources, we will post it here, so you only pay the best price for your favorite food!
Taco Bell Menu
Visit our Taco Bell Menu page for a full rundown of the breakfast and lunch/dinner options available, with prices. Or, visit their website here.
Is There A Taco Bell Near Me?
Taco Bell has over 7,000 locations nationwide.  They are a national brand with locations in all 50 states.  To find your local Taco Bell today, click on this link:  Taco Bell Near Me
What Are Taco Bell's Hours?
Most Taco Bells are open every day from 10 am to 10 pm, but times can vary.  In normal times, most Taco Bells will stay open past midnight or later.  Hours have been recently dropped as a result of the Coronavirus pandemic.  To find the hours, address and more details for your Taco Bell, click on this link: Taco Bell Near Me
Does Taco Bell Deliver?
Taco Bell offers delivery through its three third-party delivery partner Grubhub.  Usually there is a delivery fee, but delivery is free during special promotions.  To start a Taco Bell delivery order, or to check on Taco Bell delivery deals, visit:  Taco Bell Delivery
You can also place a delivery order through the Taco Bell app (click here for iPhone, click here for Android).
Where Do I Get Taco Bell Nutrition Info?
Taco Bell lists the full nutritional information, as well as allergen info, in a separate section on its website.  To view the nutritional or allergen content of any menu item, visit:  Taco Bell Nutrition page.
When you start an online or order, you can make modifications to the menu ingredients online to meet your dietary needs.  If you're ordering at the restaurant, simply ask your cashier to hold a given ingredient.
What Is The Taco Bell App Like?
The Taco Bell App is a great way to save money and gain access to exclusive offers. Right now, you can get a free Cheese Quesadilla when you download the app for your first order! The Taco Bell Rewards program awards 10 points for every dollar spent online orders. Once you accumulate 2,000 points, that rate jumps to 11 points per dollar spent. You can use these points to get free menu items to add to your shopping cart.  Sometimes they'll offer bonus point challenges on certain food items, too.  You may even spot a Taco Bell coupon code or other wonderful offers.
Click here to learn more about how to join the Rewards program and check their special deals.  Be sure to check our app review to learn more about the app features and special offers!