Taco Bell's got a little bit of something for everyone, but even still, sometimes it's hard to find a combo that's got exactly what you want. But no more! Now you can construct your own glorious Cravings Box for just $5. You can build out your Cravings Box with one each of the following:
Specialties – Chalupa Supreme, Cheesy Gordita Crunch or Crunchwrap
Starters – Crunchy Taco, Soft Taco, Beefy 5-Layer Burrito or Bean and Cheese Burrito
Sides – Chips & Nacho Cheese Sauce or Cinnamon Twists
Drinks – Choice of Medium Fountain Drink
Taco Bell posted about the $5 Build Your Own Cravings Box on their Facebook page.
More from EatDrinkDeals
Want to get info on other deals, discounts, coupons and specials from your favorite restaurants? Click here to see the latest and greatest from EatDrinkDeals!
Taco Bell's $1 Loaded Nacho Taco
Score the Loaded Nacho Taco at Taco Bell for just $1 for a limited time. You'll get a soft tortilla filled with seasoned beef, lettuce, cheddar cheese, nacho cheese sauce and Southwest Seasoned Chips. You can add on Guacamole or other items for $0.30 – $0.50 more if you want a deluxe version, too. Taco Bell put the Loaded Nacho Taco up on their menu here on their website.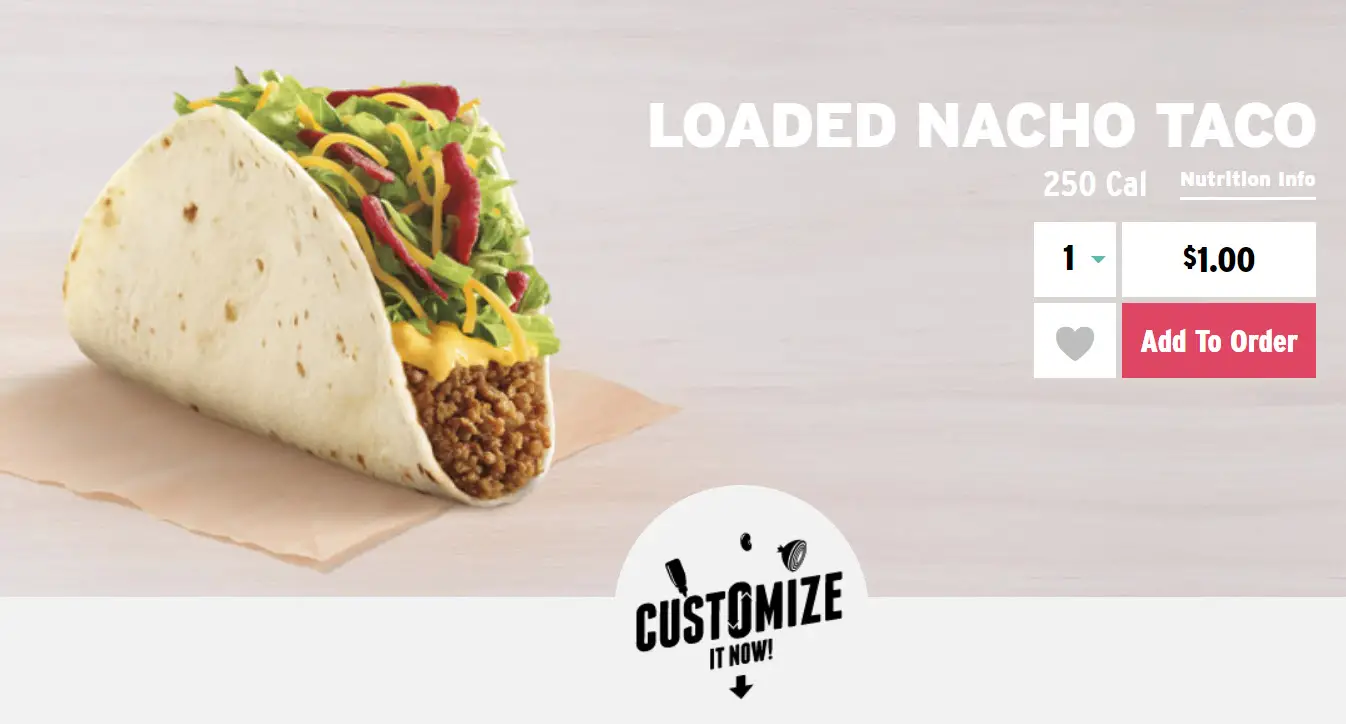 The Taco Bell menu has plenty of other deals available like the $1 Value Menu, plus Nacho Fries are back with a $5 combo deal!
Nacho Fries Are Back On The Menu And In A $5 Combo Box
Taco Bell had a big hit previously with its Nacho Fries, and decided to give us all the Christmas gift we really wanted – now they're back on the menu as of December 24! You can get them for $1.39 with a side of cheesy dipping sauce, or get a Nacho Fries Box for $5. The Nacho Fries Box comes with Nacho Fries (plus the cheesy dipping sauce), a Beefy 5-Layer Burrito, a Crunchy Taco, and a Medium Drink. Taco Bell posted the $5 box deal on its website.
Taco Bell Value Menu
Taco Bell has a Cravings Value Menu with 7 items including Burritos, Quesadillas and Nachos for just $1. The current Cravings Menu as of December 2020 is below:
Loaded Nachos Taco
Beef Burrito

Chicken Chipotle Melt

Cheesy Bean & Rice Burrito

Cheesy Roll-Up

Chips and Nacho Cheese Sauce

Cinnamon Twists.
Taco Bell announced the new Cravings Value Menu on the Taco Bell website.
$10 Taco & Burrito Cravings Pack
Try out Taco Bell's $10 Taco & Burrito Cravings Pack if you're extra hungry, or you need to share with some friends. You'll get 4 Crunchy Tacos and 4 Beefy 5-layer Burritos.
Taco Bell also has Taco Party Packs that come with 12 tacos and start at $13.99. Choose from regular, Supreme, or Supreme Variety packs.
You can find more details on the Cravings Pack plus details about Taco Party Packs here on the Taco Bell website.
Taco Bell Veggie Mode and More Deals
Taco Bell has made life easier for vegetarians and vegans with a new Veggie Mode to help them easily navigate the menu. Tap the Veggie Mode button at the kiosks in-store, and the menu will show close to 50 items made certified vegetarian. Big name items include the 7-Layer Burrito, Black Bean Crunchwrap Supreme, Black Bean Quesarito, and more. You can find the Taco Bell Vegetarian menu at: Taco Bell Vegetarian Menu
Plus, if you're in the app, simply go to the Menu button at the bottom, and scroll down until you see the Vegetarian section to quickly spot the items that fit your dietary needs. Graze on!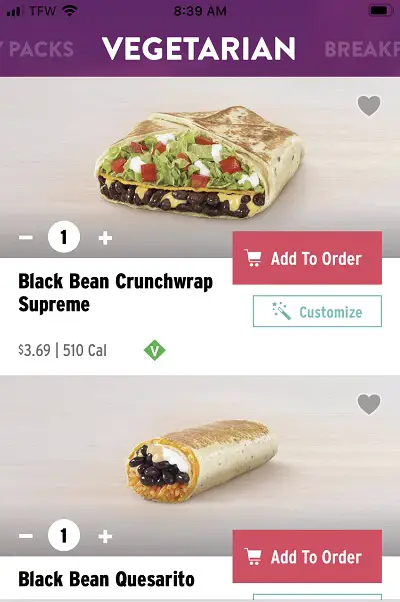 Taco Bell Breakfast Menu
Taco Bell has revamped its breakfast menu to vie for a share of the increasingly competitive early morning crowd. Choices start at just $1.29 with items like the Cheesy Toasted Breakfast Burrito, a Breakfast Crunchwrap for $2.89, a Grande Toasted Breakfast Burrito with Steak for $3.49, and plenty of other options. To view the full lineup, go to the Taco Bell Breakfast Menu here.
Happy Hour Deals
Enjoy Happier Hour at Taco Bell with $1 specials every day from 2 to 5 PM. Get Freezes, Sparklers and medium drinks for just $1.
You can find more details on the Taco Bell Happier Hour website or on the Taco Bell Facebook page.
Taco Bell Menu
The Taco Bell menu focuses on their Tex Mex staples like tacos (duh), burritos and quesadillas. Over the years, Taco Bell innovations like the Chalupa and the Crunchwrap have become popular items, too. Most feature items can be purchased individually, or as a combo with a drink and smaller items like bean burritos or nachos. Taco Bell also serves breakfast with lots of breakfast burrito options and sides like hash browns available. For years, Taco Bell has offered a wide selection of vegetarian and vegan options – way ahead of the trend. They've made it easier than ever with the "Veggie Mode" available at self serve kiosks in select Taco Bell locations to help you tailor your order to meet those dietary needs.
To combat rising costs and operational difficulties with such a wide selection, Taco Bell said their menu will get trimmed in September 2020. According to this press release, Taco Bell will take these following items off the menu: Cool Ranch and Fiery Doritos Locos Tacos, the Double Decker Taco, Beefy Mini Quesadilla, chips & salsa, Chipotle Chicken Loaded Griller, Double Tostada, Power Menu Burrito and the XXL Grilled Stuft Burrito.
Taco Bell Near Me
Taco Bell has over 7,000 locations nationwide. They are a national brand with locations in all 50 states. To find the Taco Bell nearest to you, click on this link:
Taco Bell Hours
Most Taco Bells are open every day from 10 am to 10 pm, but times can vary. In normal times, most Taco Bells will stay open past midnight or later. Hours have been recently dropped as a result of the Coronavirus pandemic. To find the hours, address and more details for your Taco Bell, click on this link: Taco Bell Near Me
Taco Bell Delivery
Taco Bell offers delivery through its three third-party delivery partner Grubhub. Usually there is a delivery fee, but delivery is free during special promotions. To start a Taco Bell delivery order, or to check on Taco Bell delivery deals, visit:
You can also place a delivery order through the Taco Bell app (click here for iPhone, click here for Android).
Taco Bell Nutrition
Taco Bell lists the full nutritional information, as well as allergen info, in a separate section on its website. To view the nutritional or allergen content of any menu item, visit:
When you start an online or order, you can make modifications to the menu ingredients online to meet your dietary needs. If you're ordering at the restaurant, simply ask your cashier to hold a given ingredient.