Get holly and jolly at TGI Fridays with a new Holiday Cocktail menu and 14 new themed drinks to melt away the stress of the season! We hope you're thirsty with this lineup:
Henny Sweater Weather: A chilled house-mulled cider made with Hennessy V.S Cognac.
Spruced Up Spritz: With Hendrick's, Midori, La Marca Prosecco, and seltzer.
The Flying Reindeer: Bacardi Rum, Midori, agave, citrus, and Red Bull Red Watermelon.
Chilled Cocoa: This non-alcoholic sip features chilled Ghirardelli cocoa, torched whipped vanilla foam, and graham cracker.
Spiced & Spiked Cider: Mt. Gay Eclipse Rum is mixed with house-mulled cider, a dash of cinnamon, nutmeg, star anise, and clove for a festive sip. Plus, this cider is served in a limited-edition collectible mug
Skrewed Up S'mores: Skrewball Peanut Butter Whiskey, DeKuyper Crème de Cocoa, and chilled Ghirardelli cocoa are mixed and topped with torched whipped vanilla foam and a graham cracker for the ultimate holiday treat.
Peppermint Christmas in 

Jalisco

: Patron Silver, chilled Ghirardelli cocoa, whipped vanilla foam, and peppermint.
Triple 

Berry Sleigh Ride Shooter

: Smirnoff Vodka, blackberry, cranberry, lemon, and strawberry sugar are combined for the merriest of sips.
Star Anise Old Fashioned: Stay true to the classics with this Bulleit Bourbon and house-made star anise simple syrup old fashioned.
Uncle Nearest's 

Winter Sour

: Notes of blood orange, herbs, and rosemary elevate this spin on a whiskey sour.
Blackberry Long Island Iced Tea: BSkyy Vodka, Cruzan Aged Light Rum, New Amsterdam Gin, Christian Brother's Brandy, fresh blackberries, agave, and citrus.
Pumpkin Spiced Espresso-tini: Absolut Vodka, Frangelico, pumpkin, and Owen's Nitro Espresso.
Naughty Blood Orange Margarita: Raise your glass with this elevated, citrusy take on the classic margarita.

Nice Blood Orange Margarita

: A non-alcoholic beverage featuring Spiritless Jalisco 55.
TGI Fridays also has an all-day Happy Every Hour menu with $4 cocktails, $5 wine, and $2 beers, $10 lunch specials, and more deals.
Does TGI Friday's Have A Happy Hour?
Forget Happy Hour – TGI Fridays has a Happy Every Hour menu for good vibes all day long with $4 cocktails, $5 wine and $2 beers!  Choose from the following:
$4 Cocktails – Bloody Mary, Cape Cod, Cuba Libre, Tequila Sunrise and Whiskey Sour
$5 Select Glasses of Wine, like Dark Horse Chardonnay
$2 12oz drafts of Miller Lite
TGI Fridays spread the word on their website promotions page.
Problem: Long day at work?
Solution: HAPPY EVERY HOUR!

Please Drink Responsibly. pic.twitter.com/n02YIU5nUp

— TGI Fridays (@TGIFridays) April 27, 2023
$9.99 Ribs Combo At TGI Friday's
10 Lunch Entrees For $10
TGI Fridays has put together ten lunch entrees available for $10 each, Monday – Friday until 3 pm at most locations. The prices may be a bit higher in some areas. Choose from plates like the Buffalo Chicken Slammers, Chicken Cobb Salad, and more. Options may vary by location, too. Check the TGI Fridays website during lunch hours to see what's available.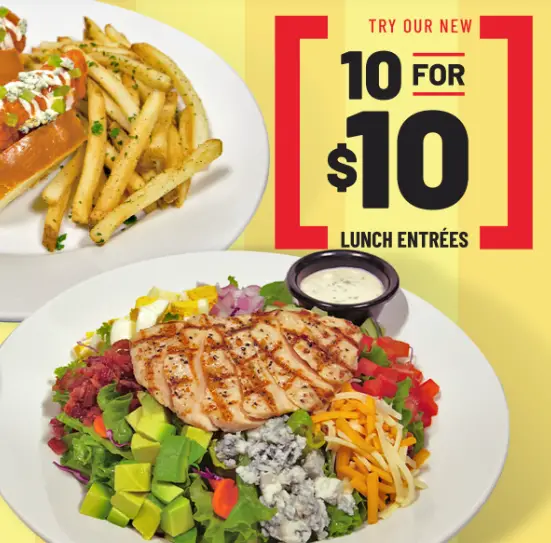 TGI Fridays Rewards Program
Fridays Rewards gives guests a point per dollar spent. At 75 points you get a free appetizer, kid's item, alcoholic beverage, or dessert. At 150 points, you can get a free entree! Recently, in partnership with Oracle CrowdTwist, TGI Fridays has beefed up its rewards program to give customers better perks. For example, you can get free chips & salsa or get $3 off an Appetizer every visit! You also get a birthday surprise, too! This is your sign to sign up now!
Wing Mondays At TGI Fridays – $0.50 Wings & $2 Beers
Head to TGI Fridays for Wing Mondays from 5 pm – close with $0.50 wings and $2 Miller Lite draft beers.
Options for wings are:  Buffalo, Garlic Parmesan, Nashville Hot, Dragon-Glaze, Apple Butter BBQ or Chile-Lime Sauce.  Check out the details on the on TGI Fridays promotions page.
TGI Fridays Family Meal Bundles and Platters
TGI Fridays has Family Meal Bundles and Platters to help you feed a crew at home.  Family Meal Bundles typically feed 4-6 people and come in varieties like the Whiskey-Glazed Bundle, the Grilled Chicken and Ribs Bundle, and more. Party Platters feature a selection of classic TGI Fridays apps or wings that feed anywhere from 4-12 people, ribs platters, or dessert platters.
Popular takeout items and typical* prices include:
Large Wings Platter $72
Pasta Bundle $75
Grilled Chicken and Ribs Bundle $82
Fried Chicken and Shrimp Bundle $87
The Bones Bundle $92
Mac 'n Cheese Party Tray $22
Whiskey-glazed Sliders Party Tray – 8 sliders $31
To view the complete Family Meal menu, visit: TGI Fridays Menu, select your location, click Order Now and then view the complete menu.
More from EatDrinkDeals
Want to get info on other deals, discounts, coupons and specials from your favorite restaurants?  Click here to see the latest and greatest from EatDrinkDeals!
10% Off Coupon
Get 10% off your next online order when you sign up for texts from TGI Friday's.  You should see something on the bottom left of the screen of the homepage.  It looks like this when you open it up: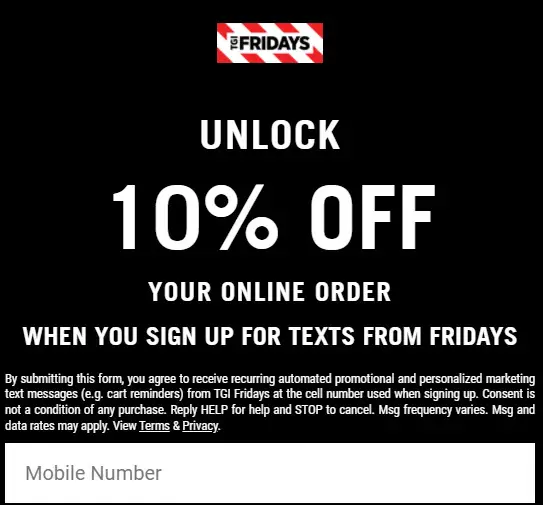 What's On The TGI Friday's Menu?
TGI Fridays focuses on American cuisine in the casual dining space.  Think burgers and other sandwiches, plus steaks, seafood options, and salads.  Some famous TGI Friday's menu items are their Loaded Potato Skins, Wings, and Mozzarella Sticks.  Big entree choices include Fajitas or Steak with their famous Whiskey-Glaze sauce, Fridays Ribs, Dragon sauce Glazed Salmon, and Chicken Tenders.  For a peek at the full TGI Fridays Menu, visit their website.
Is There A TGI Friday's Near Me?
There are over 800 TGI Fridays locations all around the world.  There's around 300 locations in the United States.  You can find TGI Friday's locations near you at: TGI Friday's Near Me
How Do I Find The Hours For TGI Friday's?
Most TGI Friday's restaurants open around 10:30 am until closing around 9 or 10 pm.  To find the hours, address and more details, select your location from: TGI Fridays Near Me
Does TGI Friday's Deliver?
TGI Friday's offers delivery through its third-party partners like Uber Eats.  To start a TGI Fridays delivery order, visit:  TGI Fridays Delivery and select a location to see if it's available.
Where Is TGI Friday's Nutritional Info?
TGI Friday's lists the nutritional information for its menu on their website.  To view the nutritional content of any menu item, click here for the TGI Fridays Nutrition page.
Does TGI Friday's Sell Gift Cards?
TGI Fridays gift cards are a popular item for online shopping.  Looking for one?  Visit the TGI Friday's official website here and add one to your shopping cart.  Sometimes, there are TGI Fridays coupons that give you an extra discount on a gift card purchase.  The special offer usually comes around during the springtime and holiday season, like Black Friday and Cyber Monday.  Gift cards have no cash value, but don't have an expiration date generally.