TGI Fridays has 25% off Family Meal Boxes and Party Platters specials with online orders through July 4! Use promo code BASKET at checkout. Click here to start an online order.  Choose from party platters with a selection of classic TGI Fridays apps or wings that feed anywhere from 4-12 people, ribs platters, or dessert platters. Family Meal Boxes typically feed 4-6 people and come in varieties like the Whiskey-Glazed Box, the Grilled Chicken and Ribs Box, and more.  You can view the promotions on the TGI Fridays website, too.
TGI Fridays posted the coupon code on their Facebook page.
Or, get a free Kids Entree with a minimum purchase of $20 or more!  Use promo code FREEKIDS at checkout.
More from EatDrinkDeals
Want to get info on other deals, discounts, coupons and specials from your favorite restaurants?  Click here to see the latest and greatest from EatDrinkDeals!
$5 LITs and Ritas To-Go
Do you need booze, To-Go?  We won't judge you.  TGI Fridays has that, too, with the crown jewel being $5 Long Island Iced Teas or Margaritas!  The offer is only valid in areas that allow cocktails to-go.  To see if your local TGI Fridays has the deal, click here for the TGI Fridays online order page.  Find your local spot with the location finder, and if allowed you should see an "Alcohol" section in the menu.  Click there and you should see something like this: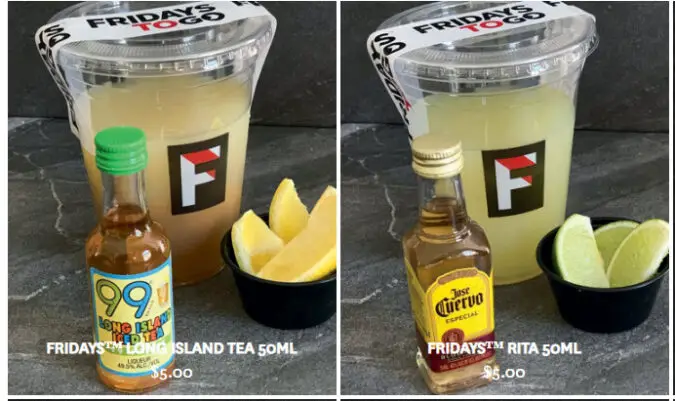 Note that some states allow beer and wine to-go, but not cocktails.  TGI Fridays posted the deal on Facebook.
About TGI Fridays (from Wikipedia)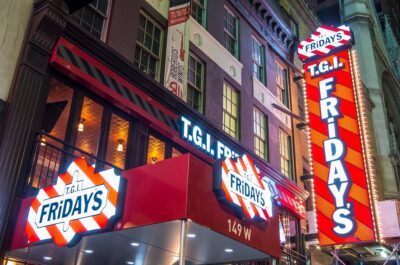 T.G.I. Friday's (often shortened to "Friday's" in most countries, and stylized "FRiDAY'S", or "T.G.I.s" in the United Kingdom) is an American restaurant chain focusing on casual dining. The company is a unit of the Carlson Companies. Its name is taken from the expression TGIF. The company asserts that it stands for "Thank Goodness It's Friday."   The chain is known for its appearance, with red-striped canopies, brass railings, Tiffany lamps and frequent use of antiques as decor.
There are about 870 locations in the U.S. (as of October 2018).
Friday's has a large menu with an emphasis on alcoholic beverages which includes their famous "Ultimate" drinks which are served in an 18 oz. (532 mL) glass, and often made with top-shelf and darker liquors. They also focus on a variety of blended drinks that are signature to the Friday's name, such as the "Tropicolada" and the "Friday's Freeze". A section of the menu is dedicated to the "Jack Daniel's Grill", a selection of items with a special Jack Daniel's-branded sauce.