TGI Fridays has Family Meal Bundles and Platters to help you feed a crew at home.  Family Meal Bundles typically feed 4-6 people and come in varieties like the Whiskey-Glazed Bundle, the Grilled Chicken and Ribs Bundle, and more. Party Platters feature a selection of classic TGI Fridays apps or wings that feed anywhere from 4-12 people, ribs platters, or dessert platters.
Popular takeout items and typical* prices include:
Large Wings Platter $53
Pasta Bundle $60
Grilled Chicken and Ribs Bundle $60
Fried Chicken and Shrimp Bundle $70
The Bones Bundle $65
Mac 'n Cheese Party Tray $18
Whiskey-glazed Sliders Bundle – 4 sliders $12
To view the complete Family Meal menu, visit: TGI Fridays Menu, select your location, click Order Now and then view the complete menu.
More from EatDrinkDeals
Want to get info on other deals, discounts, coupons and specials from your favorite restaurants?  Click here to see the latest and greatest from EatDrinkDeals!
10% Off Coupon
Get 10% off your next online order when you sign up for texts from TGI Friday's.  You should see something on the bottom left of the screen of the homepage.  It looks like this when you open it up: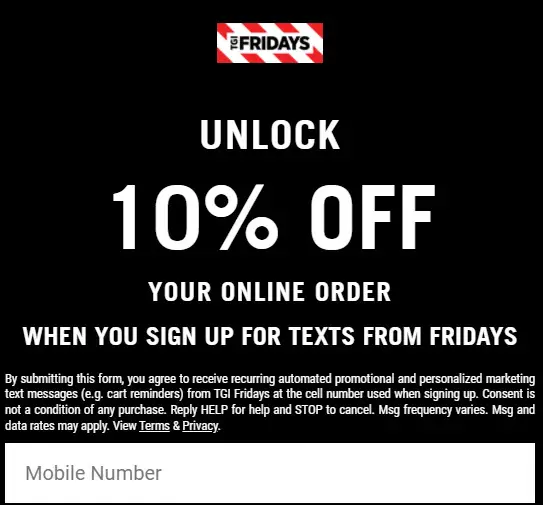 More About TGI Fridays
TGI Fridays Locations (TGI Fridays has 340 locations in the U.S.)