Get 25% off Family Meal Boxes and Party Platters with online orders for a limited time at TGI Fridays! Use promo code BASKET at checkout. Click here to start an online order.  Choose from party platters with a selection of classic TGI Fridays apps or wings that feed anywhere from 4-12 people, ribs platters, or dessert platters. Family Meal Boxes typically feed 4-6 people and come in varieties like the Whiskey-Glazed Box, the Grilled Chicken and Ribs Box, and more.
TGI Fridays posted the coupon code on their Facebook page.
Also, get a free Kids Entree with a minimum purchase of $20 or more!  Use promo code FREEKIDS at checkout.
Beverages To-Go
Do you need booze, To-Go?  We won't judge you.  TGI Fridays has that, too – where allowed by state law.
Feast for 2 Menu for $20
Bring a friend and get 2 individual sized appetizers, 2 entrees, and 2 desserts starting at $20 with the Fridays Feast for 2 deal.  Depending on the entrees selected, the cost could be $20, $25 or $29.  Entrees in the $20 tier include Cajun Shrimp and Chicken Pasta and Crispy Chicken Tenders.  $25 entrees include Dragon-Glaze Salmon, 6 oz Sirloin and Shrimp, or a Half-Rack of Fridays Big Ribs.  $29 entrees include a full rack of ribs, and the Whiskey-Glazed Flat Iron Steak.  For dessert, you get a Mini Chocolate Bundt Cake.
For more details, go to the TGI Fridays Feast for 2 page here.  For the full Feast for 2 menu options available, click here.
TGI Fridays Weekday Specials
TGI Fridays has weekday specials including $5.99 and $8.99 Big Ribs.
TGI Fridays Weekday Specials are listed below.  To get the deal of the day ask your server for the Weekday Special or show your server this official announcement on the TGI Fridays website.
The TGI Fridays Weekday Specials are:
Monday:  Cajun Shrimp and Chicken Pasta, $6.99 for a lunch portion or $9.99 for a full portion

Tuesday: $5.99 Cheeseburger and Fries

Wednesday: $6.99 Crispy Chicken Tenders, Fries and Coleslaw

Thursday: Big Ribs with seasoned fries and cole slaw, $8.99 for a half-rack, $13.99 for a full rack of ribs

Friday-Sunday: Sirloin Steak and Crispy Shrimp, with Mashed Potatoes and Lemon Butter Broccoli $12.99
*Valid for Dine-In or Online orders only on the days listed for each offer at participating Fridays™ locations. Not valid for delivery. Beverage not included. Tax and gratuity not included. No coupon necessary. Select items and sizes for each offer only. No substitutions. One offer per person, per visit. Unless required by law, offer cannot be redeemed for cash. Not valid in conjunction with any other offer, coupon, promotion, discount, Choose 2, or Endless Apps®. Limited time only, while supplies last. Offer valid only in U.S.  
Choose 2 Special
Get two meats and two sides for $14.99 with the Choose 2 special at TGI Fridays.
Choose from ribs, steak, chicken and seafood.  Select two meats from this list:
Half-Rack of Big Ribs

Parmesan-Crusted Chicken

Dragon-Glaze Salmon

Fried Shrimp

Coconut Shrimp

6 oz Sirloin
And add mashed potatos and lemon-butter broccoli, all for $14.99.  You can upgrade to a premium side for an additional charge.
For more details see:  TGI Fridays Choose 2 Special.  TGI Fridays announced the special on the TGI Fridays Home Page.
Terms & Conditions:
Choose 2 for $14.99.  Select items only. Only available at participating stores. See store details. No substitutions. Not valid in conjunction with any other coupon, promotion, or discount. Limited time only.
TGI Fridays Drink Specials
Get the pumpkin cocktails and beers starting at just $3 all October long.  Here are the TGI Fridays October 2019 drink specials:
$5 Pumpkin Spice Sangria
$5 Pumpkin Spice Mule
Go Big Cocktails w/take home shaker for $8
$5 Angry Apple Punch
$3 Blue Moon Belgian White
TGI Fridays announced the drink specials on the TGI Fridays Drink of the Month Page.
About TGI Fridays (from Wikipedia)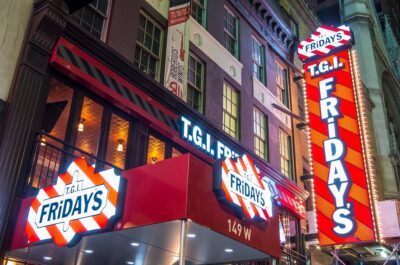 T.G.I. Friday's (often shortened to "Friday's" in most countries, and stylized "FRiDAY'S", or "T.G.I.s" in the United Kingdom) is an American restaurant chain focusing on casual dining. The company is a unit of the Carlson Companies. Its name is taken from the expression TGIF. The company asserts that it stands for "Thank Goodness It's Friday."   The chain is known for its appearance, with red-striped canopies, brass railings, Tiffany lamps and frequent use of antiques as decor.
There are about 870 locations in the U.S. (as of October 2018).
Friday's has a large menu with an emphasis on alcoholic beverages which includes their famous "Ultimate" drinks which are served in an 18 oz. (532 mL) glass, and often made with top-shelf and darker liquors. They also focus on a variety of blended drinks that are signature to the Friday's name, such as the "Tropicolada" and the "Friday's Freeze". A section of the menu is dedicated to the "Jack Daniel's Grill", a selection of items with a special Jack Daniel's-branded sauce.