TGI Fridays has new Sizzling Plates starting at $10 now through May 5, 2019.
The Sizzling plates and prices* are:
:

$10: Sizzling Chicken and Cheese; Sizzling All-Day Omelet

$12: Sizzling Street Noodles; Sizzling Chicken and Shrimp

$14: Sizzling Whiskey-Glaed Flat Iron; Sizzling Chicken and Shrimp Alfredo
"Simply put, Fridays always brings the sizzle," said Cindy Syracuse, TGI Fridays vice president of Marketing. "That's why we decided to expand the Sizzling menu for a limited time only—with taste innovations that celebrate everyone's favorite flavors."
You can find more details on the TGI Fridays Home Page and on Facebook.
For more deals at TGI Fridays, see:  TGI Fridays Coupons and Specials
*Price may vary by location.
About TGI Friday's (from Wikipedia)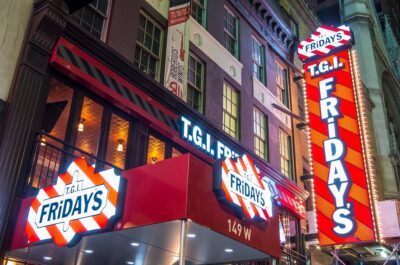 T.G.I. Friday's (often shortened to "Friday's" in most countries, and stylized "FRiDAY'S", or "T.G.I.s" in the United Kingdom) is an American restaurant chain focusing on casual dining. The company is a unit of the Carlson Companies. Its name is taken from the expression TGIF. The company asserts that it stands for "Thank Goodness It's Friday."   The chain is known for its appearance, with red-striped canopies, brass railings, Tiffany lamps and frequent use of antiques as decor.
There are about 870 locations in the U.S. (as of October 2018).
Friday's has a large menu with an emphasis on alcoholic beverages which includes their famous "Ultimate" drinks which are served in an 18 oz. (532 mL) glass, and often made with top-shelf and darker liquors. They also focus on a variety of blended drinks that are signature to the Friday's name, such as the "Tropicolada" and the "Friday's Freeze". A section of the menu is dedicated to the "Jack Daniel's Grill", a selection of items with a special Jack Daniel's-branded sauce.