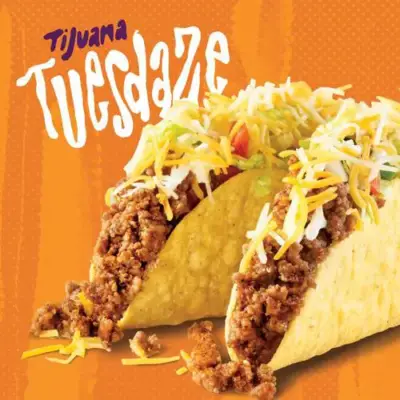 Tijuana Flats puts a spicy, out-of-the-box spin on Tex-Mex fare with their unique menu and range of hot sauces. Not content to only offer tacos, burritos, and nachos, Tijuana Flats goes the extra mile. Get wings, chimichangas, flautas, seafood, and more to satisfy your next craving for tasty Mexican food. Or customize a Take-Home Meal Kit and get it all to go!
Scroll through or search the table below to see the menu and prices at Tijuana Flats so you can take your Taco Tuesday game to the next level.
Deals at Tijuana Flats
As a Tijuana Flats Rewards member, you can earn a free entrée if you buy four seafood entrées on separate visits, now through April 7!
Tijuana Flats has meal deals on "Tuesdaze" and "Throwback Thursdaze" that get you the featured entrée plus chips and a drink for around $7 – $8. Read up on these specials and more, like the Tijuana Flats Rewards program, in our article on Tijuana Flats Coupons.
Don't miss out on new coupons and deals from Tijuana Flats and your other favorite restaurants. Sign up for the EatDrinkDeals newsletter today!
Tijuana Flats Prices & Menu
---
Disclaimer: Menu and prices listed above are based on research of sample locations and are provided for informational purposes only. Since prices and availability may vary by location, please consult your local Tijuana Flats menu for the latest details.