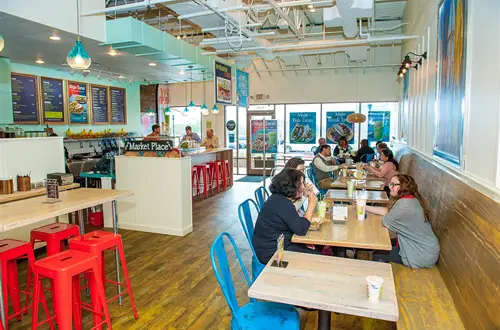 "Eat better. Feel better." As Tropical Smoothie Cafe's slogan suggests, the restaurant's slate of unique smoothies, healthy mix-ins, and flavorful wraps and flatbreads is like an island paradise in a sea of standard fast-food burgers and fries. The Tropical Smoothie Cafe menu often "mixes" things up with seasonal offerings. For example, the bright, refreshing flavors of the Dragon Fruit and Starfruit Smoothies herald the arrival of spring. Summertime means fun "mocktail" smoothies, like the Watermelon Mojito® and Mango Berry Cosmo Smoothie–perfect for chilling by the pool.
Scroll through or search the table below to see the menu and prices at Tropical Smoothie Cafe!
Deals at Tropical Smoothie Cafe
What's even better than a cool smoothie paired with a warm flatbread or spicy quesadilla? A free smoothie, of course! You can score a free smoothie after your first purchase just by downloading the Tropical Smoothie Cafe app and joining Tropic Rewards. Check out our article on Tropical Smoothie Cafe Specials for more details and the link to download the app!
Don't miss new promotions and coupons from Tropical Smoothie Cafe and your other favorite restaurants: Sign up for the EatDrinkDeals newsletter today!
Tropical Smoothie Cafe Prices & Menu
---
Disclaimer: Menu and prices listed above are based on research of sample locations and are provided for informational purposes only. Since prices and availability may vary by location, please consult your local Tropical Smoothie Cafe menu for the latest details.