Get Sizzli Breakfast Sandwiches for about $4 at Wawa.
Featuring Sausage, Egg and Cheese and Bacon, Egg and Cheese, get a regular Sizzli for $4 or double meat for $4.80.
Pumpkin Spice at Wawa
Pumpkin Spice handcrafted beverages are back at Wawa, just about any way you like! Choose from hot varieties or iced, with velvety smooth cold foam. Or go frozen, blended with dessert-inspired flavors like creamy cheesecake.  See the menu at: Wawa Pumpkin Spice Lattes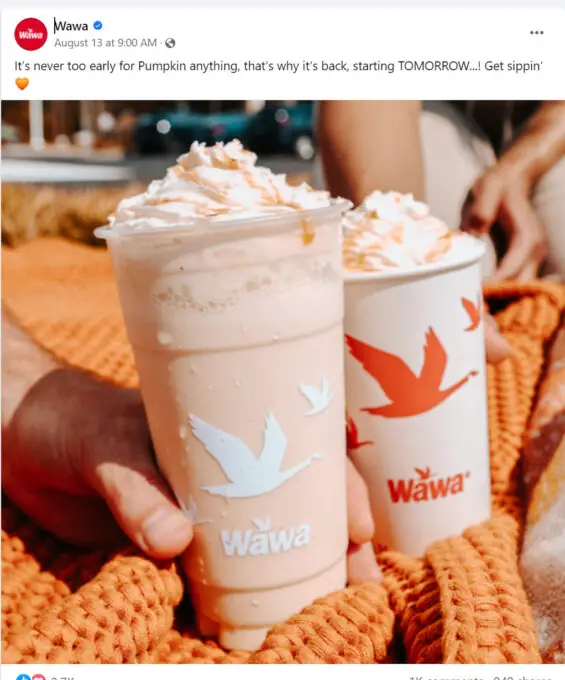 Wawa Rewards Deals
Wawa convenience stores have a free Rewards program with these benefits:
Get a coupon for a FREE drink** when you make your first purchase with Wawa Rewards.
Delicious rewards every time you spend $50 on qualifying items
Bonus Rewards throughout the year just for being a member
Plus, when you download the Wawa App, you'll be able to:
Mobile Order your Wawa favorites anytime
Pay in store with the app
You can enroll in the rewards program at:  Wawa Rewards
Previous Offers
Get 20% off your catering order with a Wawa promo code valid through the football season. Start your order here and use promo code FOOTBALL20 at checkout so you can save some money.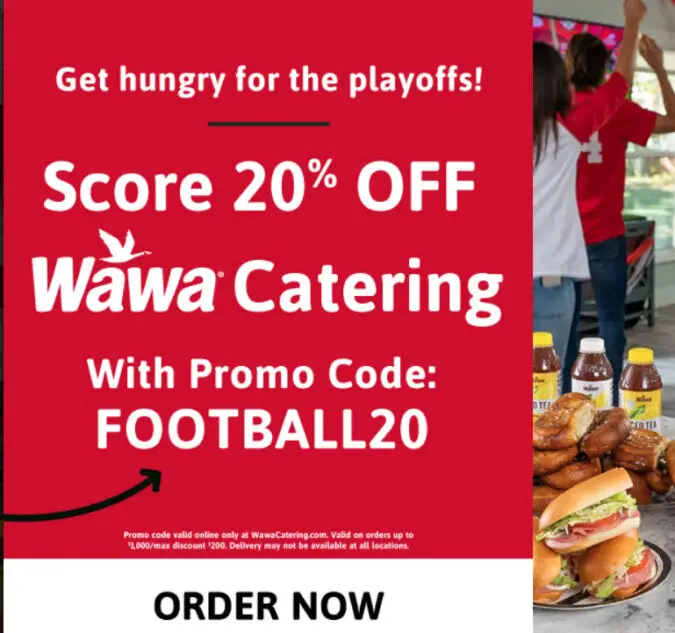 About Wawa
Wawa is a chain of convenience stores and gas stations founded in 1964. They've now got over 900 locations, mostly in the Northeast and MidAtlantic states. Wawa' menu includes hoagies, sandwiches, salads, and breakfast items, as well as its coffee and other beverages. They've also got all the other stuff you'd expect from a gas station convenience store. They have a ton of snacks, such as chips, candy, and baked goods, as well as a selection of beverages, including coffee, tea, soda, and smoothies.
Wawa has about 900 locations.   Find one near you at: Wawa Locations