Looking for wings?
What's On The Wingstop Menu?
Maybe you're donning your lucky jersey and gearing up to feed a troop of fellow fans on Big Game Sunday. Maybe you're throwing a party and want to make sure your guests remember the good times and the tasty food. Or maybe you've made a New Year's resolution to work your way up the Scoville scale of spiciness, all the way from tame Lemon Pepper to sweet-hot Spicy Korean Q to eye-watering Atomic. However you enjoy your wings, and no matter how many hungry people you need to satisfy, the Wingstop menu has you covered.
They've also got a complement of other items such as crispy tenders and thighs on the entrees.  Side menu items include french fries, vegetable sticks, and other goodies.  It's set up as a fast-food restaurant, with limited seating in most locations.
Scroll through or search the table below to see the menu and prices at Wingstop! We've got the scoop on all the wings, flavors, sandwiches, and sides so you don't have to…well, "wing" it.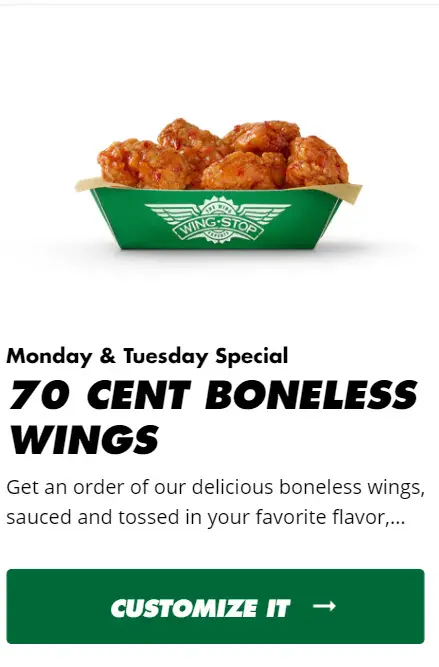 What Are The Flavors At Wingstop?
In order of mildest to spiciest, the 11 flavors at Wingstop are:  Hawaiian, Garlic Parmesan (Dry Rub), Lemon Pepper (Dry Rub), Hickory Smoked BBQ, Mild, Louisiana Rub (Dry), Spicy Korean Q, Original Hot, Cajun, Mango Habanero and Atomic.  Yes, Atomic is really spicy.
Deals at Wingstop
The fan-favorite chicken sandwich is back at Wingstop! You can get a chicken sandwich slathered in your choice of wing sauce and topped with pickles–plus a dip, side, and drink–for about $8. Check out the return of the chicken sandwich and other deals at Wingstop in our article Wingstop Promo Codes & Specials. What's a better way to start your week than with the 70-cent boneless wing deal on Mondays and Tuesdays?
Sign up for the EatDrinkDeals newsletter to make sure you don't miss new coupons and deals from Wingstop!
Wingstop Prices & Menu
---
Disclaimer: Menu and prices listed above are based on research of sample locations and are provided for informational purposes only. Since prices and availability may vary by location, please consult your local Wingstop menu for the latest details.