Zaxby's has new Family Meals to feed a group of 4 for $24.99!  Choose from a 20 piece Chicken Fingerz or 30 piece Boneless Wings pack.  Each pack includes large Shareable Sides of Crinkle Fries, Texas Toast and Dipping Sauces for the chicken.  To order online, click here for the Zaxby's menu page.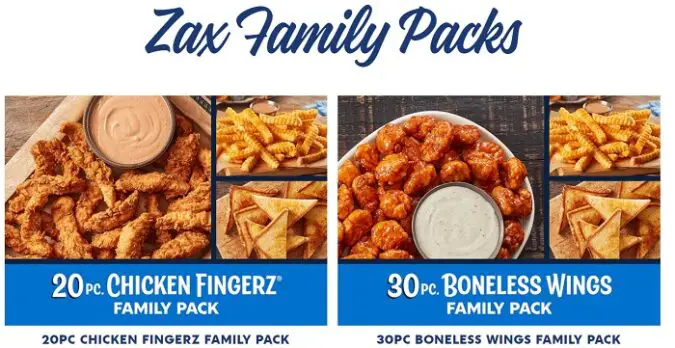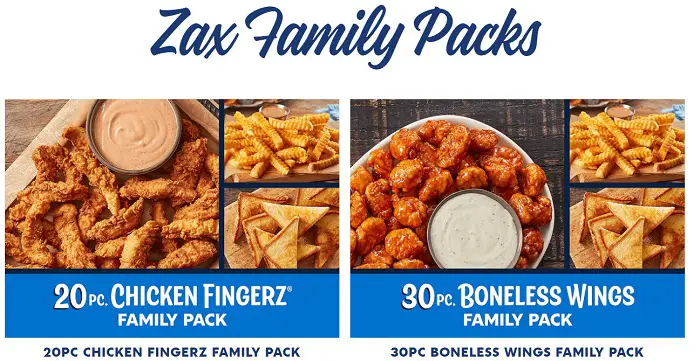 More Fast Food Coupons and Deals
For more deals like this including coupons from McDonald's, Wendy's and all of your other favorites, see the EatDrinkDeals Fast Food Coupons, Specials and Deals page.
Zaxby's is a chain of fast casual restaurants offering chicken wings, chicken fingers, sandwiches, and salads. The chain operates primarily in the Southern United States, and has more than 900 locations. Most Zaxby's restaurants are owned by franchisees, but 123 locations are owned by Zaxby's corporate.  The company operates as a casual dining restaurant, offering prepared-at-order chicken fingers, chicken wings, sandwiches, egg rolls, salads, and appetizers. Dipping sauces are offered with chicken finger orders, and range from mild, to the moderate "Zax sauce", to the intensely hot "Nuclear" and "Insane".