Specials at Zaxby's include the new Fried Chicken Philly for $7.29, a Great 8 Boneless Wings Meal for $8.39, and more deals.  Also, join Zax Rewards to get a free meal.
Zaxby's latest limited-time offer is the Fried Chicken Philly. Zaxby's hasn't done a Philly before, and they're giving it their best shot. The Fried Chicken Philly comes with fried or grilled chicken, melted American cheese, grilled peppers, and onions, plus a savory garlic aioli, all served on a toasted hoagie roll. The sandwich is available at participating locations for a limited time only, starting at $7.29 while supplies last.
Chicken Bacon Loaded Fries At Zaxby's
Zaxby's recently added Chicken Bacon Ranch Loaded Fries to the menu, featuring crinkle-cut fries, 12-hour marinated chicken, a blend of Monterey Jack and cheddar cheese, bacon and ranch dressing.  Chicken Bacon Ranch Loaded Fries are $7.99.
"Our new Loaded Fries are the culmination of Zaxby's most craveable ingredients," said Patrick Schwing, chief marketing and strategy officer at Zaxby's. "It's a combination of flavors piled high on a bed of fries, so it works great as a meal or side to share."
The Zaxby's Great 8 Boneless Wings Meal
Zaxby's has new Fingerz and Wings Meal specials like Boneless Wings, Chicken Fingers and more starting at about $7.50.
Most meals come with small fries, Texas toast and a small drink.  The complete menu, with typical prices, is:
Boneless Wings Meal $7.49
Big Zax Snak Meal $7.79
Great 8 Boneless Wings Meal $8.39
Chicken Finger Plate $9.59
Traditional Wings Meal $10.49
Wings and Things Meal $11.29
To order or find more information visit:  Fingerz and Wings Meals at Zaxby's
Zaxby's Signature Sandwich Deal
There's been a lot of talk about the "Chicken Sandwich Wars", but no one seems to be talking about Zaxby's.  Which is strange, because they've been around for awhile, and they know chicken.  Zaxby's is trying to change that with the nationwide rollout o its Signature Sandwich!  It comes with a hand-breaded fillet of chicken, thick-sliced pickle chips and served on a buttery potato bun.  It's topped with a choice of Zax Sauce or Spicy Zax Sauce if you're in the mood for hot.
Get a Signature Sandwich for $5.49, or as a meal for $7.99 (prices vary by location).  You can find the deal on the Zaxby's Specials Page.
Zaxby's Coupons In The App
The Zaxby's app (you can download it here) will net you coupons that rotate monthly. Typical offers include a free drink with or shareable, $5 off a $20 order, and other deals.
Family Meals and Combo Deals
Zaxby's has Family Meals to feed a group of 4 for about $30.
Choose from a 20 piece Chicken Fingerz or 30 piece Boneless Wings pack, each priced at $29.69 (price may vary by location).  Each pack includes large Shareable Sides of Crinkle Fries, Texas Toast and Dipping Sauces for the chicken.  For more details, visit: Zax Family Packs
Zaxby's also has Fingerz and Wings Mealz for one starting at about $8.  For more details, visit: Zaxbys Menu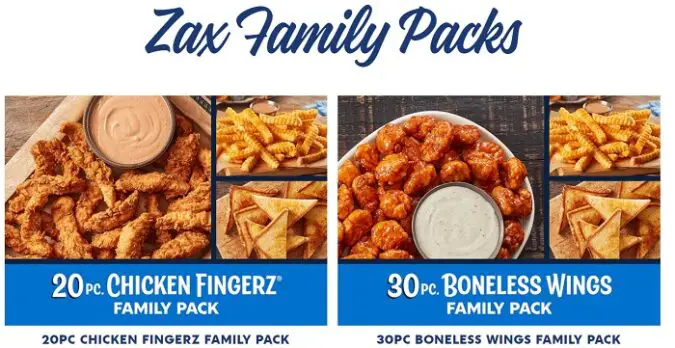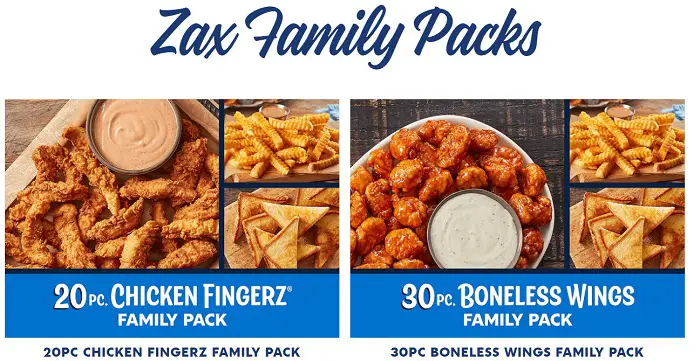 Zaxby's Rewards Coupon – Free Meal
Also at Zaxby's, join the Zax Rewards and get a coupon for a free Big Zax Snak meal!  You join here on the Zax Rewards page.
There's lots of other benefits to the program, too.  Every $1 spent earns 10 points, which accumulate into a choice of free menu items and select dollars-off rewards.  Redeem the points for free food as follows:
250 points – Cookie Trio
700 points – 5 Boneless Wings
1050 points – Big Zax Snak Meal
Zaxby's Menu
To see what's available and pricing information, go to our Zaxby's Menu Prices page here. Or, visit the company website.
About Zaxby's
Zaxby's is a popular fast-food chain in the United States that specializes in chicken. Although it only started in 1990, it has over 900 locations in 17 states. It fights with Chick-Fil-A, KFC, Popeyes and Bojangles for tops in the fast food chicken game.
The menu at Zaxby's primarily consists of chicken dishes, including wings, tenders, and sandwiches, as well as salads, sides, and desserts. One of the most popular items on the menu is the Zaxby's Chicken Finger Plate, which comes with a choice of sides and Zax Sauce, a signature sauce made with mayonnaise, ketchup, Worcestershire sauce, and other spices.