April 20 has become a quasi-holiday in recent years.  Check out these restaurant deals to help you celebrate and satisfy those intense food cravings you'll undoubtedly get! Also, it's National Cold Brew Day, so you'll find some specials on coffee too. A little pick-me-up might be what you need.
Do you want to have great deals like these emailed directly to you? Click here to sign up for our newsletter!
4/20 Restaurant Deals, in Alphabetical Order
Buffalo Wild Wings has BOGO on Boneless Wings on Thursdays at participating locations. That's about as 4/20 as you can get. They announced the deal on the Buffalo Wild Wings Promo Page.
Carl's Jr.
Carl's Jr. is offering a 20% discount on Large Combos for a limited time. Claim the offer through the Rewards Program! For more details and other Carl's Jr. deals, check out our Carl's Jr. article.
The Cheesecake Factory will be offering $10.40 off $50 when you use promo code TAXDAY1040 at checkout from April 17-21. It's a special made up for Tax Day which falls on April 18, but it's still valid for the much more fun 4/20 holiday. You can order online or through DoorDash!
Chronic Tacos
Buy one Bowlrito and get another for $4.20 at Chronic Tacos on 4/20. Just use code 420BOWLS at checkout! Check out our Chronic Tacos article for more details and other deals.
Get a free brownie with online or app orders from Condado Tacos on 4/20. Here are the details.
Celebrate with $0.85 Blizzards at Dairy Queen! You'll have to use the app for the offer. You'll see it in the Deals section like this: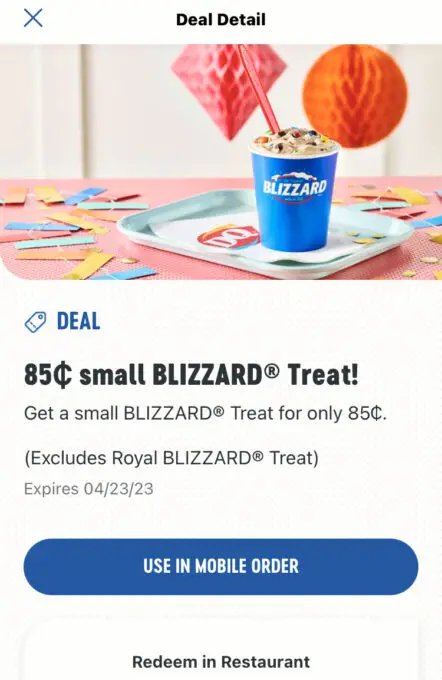 Del Taco will offer 8 Snack Tacos for $4.20 for Del Yeah! Rewards Members on April 20.  Del Taco posted the deal in this press release. Plus, there will be a Del After Dark Menu available from 9 pm – 4 am from April 20-22, with items like the Stoner Burrito. Go to the Del Yeah Rewards page to get setup with the deal.
Domino's Pizza
You knew you would find some pizza here. Domino's has a large one-topping pizza deal for carryout for $7.99 each every day, plus mix and match deals at $6.99 each like medium pizzas.
To get the Domino's $7.99 special on a Large 1 Topping Pizza, an 8 piece order of Wings or Boneless Chicken, or a Dip and Twist Combo, you'll need to place your order online. To start, visit the Domino's website. From there, you can also find local Domino's coupons by clicking View Your Local Domino's.
Learn about other Domino's deals in our story, Domino's Pizza Deals.
Dunkin'
Dunkin' is celebrating 4/20 with a Free Cold Brew for all Rewards Members! All you have to do is make a purchase and you'll get your free drink. This is an app-exclusive offer and only available to Dunkin' Rewards Members, so make sure you've enrolled! Click here to sign-up now!
Genghis Grill
Get $4.20 off Small and Medium Bowls from Genghis Grill on April 20. Mention the offer that they posted on their socials to save. For online orders, use promo code GGFOUR20.
Get a FREE Classic Cookie with any purchase today, April 20 at Insomnia Cookies! Yeah, you knew they'd have something going on for 4/20. Mention the deal in-store, or see it posted here on their website for online orders.
Jimmy John's
Jimmy John's is celebrating 4/20 this year with an exclusive sandwich: The Munchie Crusher. This sandwich features turkey, provolone and avocado spread, cucumber, lettuce, tomato, sliced pickles, oregano and basil, and mayo. Plus, you can also get a free side when you use code FREESIDE the week of 4/20.
Mellow Mushroom will be offering Pretzel Bites for $4.20 on 4/20! This is an online-exclusive deal and guaranteed to help you conquer the munchies.
Buy one entree and get another for $5 more with a Pei Wei coupon valid through April 20.
Show the coupon to your cashier for the deal, or for online orders, use promo code BOGO5 at checkout for online orders.  Click here if you want to start an online order.
Playa Bowls
In case you didn't know, 4/20 is also National Cold Brew Day. Playa Bowls is offering rewards members a free 16 oz. Sweet Cream Cold Brew when they purchase any superfruit bowl. Playa Bowls sent a press release detailing the offer.
It wouldn't be 4/20 without an all you can eat deal. Celebrate Endless Shrimp at Red Lobster April 20-23 for $20! Red Lobster sent this press release and posted the offer on their social media.
Also, get $5 Lobsteritas margaritas through April 23 if you need something to balance yourself out! Note that the offer isn't valid in a lot of states due to liquor laws: AL, GA, HI, IL, MD, NC, NY Times Square, OH, OK, PA, PR, SC, TN after 10 p.m., UT, VA and Canada. But hey, if you're in a different spot, this is a nice deal.
Smashburger is offering 4 burgers for $20 on April 20! This is a perfect deal to share with friends (or you can make it a meal for 1, we aren't judging)!
White Castle
White Castle has 20% off your total order with this coupon good only on April 20.  CLICK HERE for your White Castle coupon.
From April 20-23, get the Wingstop Hot Box with wings and fries covered in a spicy ranch sauce, hot cheese puff dust and herb seasonings. They're going for a special look here! You'll get a 20 oz drink to cool you off, too. The options and pricing are:
Chicken Sandwich and Fries for $8.99
3 pc Tenders and Fries for $10.99
8 Boneless Wings and Fries for $12.99
8 Bone-In Wings and Fries for $13.99