Carl's Jr. announced Appy Hour specials that run from 2-5 pm daily when you order in the app. Enjoy $1 fountain drinks of any size, $2 sides or appetizers like fries and onion rings, and $3 ice cream shakes. This makes Carl's Jr. a nice spot for a late lunch or afternoon snack.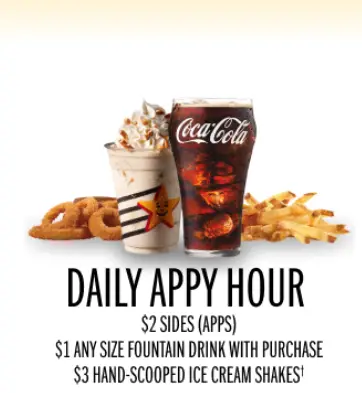 For breakfast, Monster Mondays at Carl's Jr. means $3 Monster Biscuits during breakfast hours! You'll have to use the app to get the deal. Normally, the Monster Biscuit runs around $5.
Also, get $2 off Breakfast Burritos, free desserts and more offers with Carl's Jr. promo codes in the app. To access them, go to the Carl's Jr. My Rewards page and join.
What Coupons Does Carl's Jr. Have Right Now?
Here are the coupons currently available in the app:
Free Strawberry Swirl Cheesecake with $15 purchase – expires 11/1/23
Appy Hour – $1 Fountain Drinks (2-5 pm) – expires 11/1/23
Appy Hour – $2 Sides (2-5 pm) – expires 11/1/23
Appy Hour – $3 Ice Cream Shakes (2-5 pm) – expires 11/1/23
$2 off Breakfast Burritos – expires 11/1/23
$5 off $25 purchase – expires 11/1/2/3
Monster Mondays – $3 Monster Biscuits Every Monday – expires 11/1/23
Carl's Jr. Promotions
Visit our Carl's Jr. specials page here to learn about what limited-time offers are running right now.
Carl's Jr. My Rewards Deals
Carl's Jr. has rolled out its new My Rewards program, with perks like 10% off your digital order and points to earn and use on free food!  Also, just for signing up, Rewards Members can get their choice of one free Western Bacon Cheeseburger, Famous Star, or Hand-Breaded Chicken Sandwich with a purchase!  On regular purchases, you'll earn 10 Stars for every $1 spent.  Free food unlocks start at 150 Stars, with more options at 300 and 500 Stars, too.  Definitely worth signing up for.  Who wouldn't want a free Famous Star or free small fries?  Paying is for suckers!  To get your free food deal, click here for the Carl's Jr. My Rewards page.
So, with the My Rewards program, we're expecting fewer Carl's Jr. coupons to be hitting the interwebs.  Instead, mobile apps from Carl's Jr. will get you the best access to the latest offers.
What's On The Carl's Jr. Menu?
The Carl's Jr. menu focuses on their signature Angus Beef Thickburgers, with a 1/3 lb beef patty, as well as their slightly smaller Famous Star cousins.  To some, it's one of the best burgers in the fast food game.  Carl's Jr. also makes some mean chicken tenders and sandwiches, too.  Wash it down with a soft drink or iced tea.  For breakfast, you've got a mix of breakfast burritos and biscuits/sandwiches to get you started on your day.  Click here to peruse the full Carl's Jr. menu and let your mouth water.  There's always Carl's Jr. promos going on too with limited time menu items.
Is There A Carl's Jr. Near Me?
Carl's Jr. has over 3,500 locations, mostly focused in parts of the country outside of the South, where its sister restaurant Hardee's is more prevalent.  You can find Carl's Jr. locations near you at: Carl's Jr. Near Me
How Do I Find Carl's Jr. Hours?
Most Carl's Jr. restaurants open around 6 am for breakfast, and serve that until 10:30 or 11, then focus on lunch and dinner until closing around 11 pm.  Some Carl's Jr. locations are open 24 hours, though.  To find the hours, address and more details, select your location from: Carl's Jr. Near Me
Does Carl's Jr. Deliver?
Carl's Jr. offers delivery through its third-party delivery partner Postmates.  Usually there is a delivery fee of $4 – $5, not counting a tip (please be kind and tip your delivery folks!)  To start a Carl's Jr. delivery order, visit:  Carl's Jr. Delivery and select a location to see if it's available.
Where Is Carl's Jr. Nutritional Info?
Carl's Jr. lists the nutritional information for its menu on their website.  To view the nutritional content of any menu item, click here for the Carl's Jr. homepage, scroll to the bottom of the page and click "Nutritional Information" to download a file.
Does Carl's Jr. Sell Gift Cards?
Carl's Jr. gift cards are a popular item for online shopping.  Looking for one?  Visit the Carl's Jr. official website here and add one to your shopping cart.  Sometimes, there are Carl's Jr coupons that give you an extra discount on a gift card purchase.  The special offer usually comes around during the springtime and holiday season, like Black Friday and Cyber Monday.  Gift cards have no cash value, but don't have an expiration date generally.