Applebee's has new Loaded Fajitas starting at $13.99.
Smothered with hot queso and sprinkled with crispy Applewood-smoked bacon, Applebee's Loaded Fajitas are available in your choice of sirloin steak, chicken or shrimp and served on a sizzling skillet.
Typical prices are: Loaded Chicken ($13.99), Shrimp ($14.99), and Sirloin Steak ($16.99).*
"We're introducing our guests to sizzling, delicious and craveable Fajitas in only the way Applebee's can – by loading them up with queso and bacon," said Joel Yashinsky, chief marketing officer at Applebee's. "Our industry-leading culinary team has taken this classic dish to a whole new level that our guests have been telling us surpasses their expectations and delivers real value. Our Loaded Fajitas are truly an experience for all of your senses."
Each order of Loaded Fajitas is served with fajita vegetables and Spanish rice and comes with warm flour tortillas, a blend of cheddar cheeses, guacamole, lettuce, lime wedge, sour cream and house-made pico de gallo.
To see the complete Loaded Fajitas menu visit  https://www.applebees.com/en/specials/loaded-fajitas
This special replaces Applebee's $12.99 Grill Combos special that ran from April 7 – May 15, 2019.
*Prices vary by location; typical prices are show.

Applebees 2 for $20
Applebee's still has a 2 for $20 menu at most locations.
Applebee's 2 for $20 menu includes an appetizer and your choice of entrees.  The 2 for $20 menu varies by location, but a typical Applebee's 2 for 20 menu has these entrees; note that some entrees have an upcharge.
Chicken Tenders Plate

Chicken Tenders Platter (+$2)

Three Cheese Chicken Penne

American Standard All-in Burger

Bourbon Street Chicken & Shrimp (+$2.50)

Crispy Chicken Tender Salad (+$2.50)

6 Oz. Top Sirloin (+2.50)

8 Oz. Top Sirloin (+$4.50)

Stuffed Rigatoni and Tomato Meat Sauce

Fiesta Lime Chicken

Half Rack Double-glazed Baby Back Ribs (+$2.50)

Cedar Grilled Lemon Chicken

Classic Cheeseburger.
Appetizer options may include Spinach + Artichoke Dip, Crunchy Onion Rings, Mozzarella Sticks, Boneless Wings or two side salads. Exact appetizers may vary by location.
"At Applebee's, we're providing our guests with a great meal at a great price with our 2 for $20 menu, but more than that, we're providing a reason to go out to eat and enjoy a meal with a friend, spouse or coworker, connecting over a shared love of their favorite appetizer and two abundant entrees," said Stephen Bulgarelli,  vice president and chief culinary officer at Applebee's. "We want to give our guests more – more flavor, more variety, and more bang for their buck."
To see the complete 2 for $20 menu at your location visit  https://www.applebees.com/en/menu/2-for-20
Applebee's Eclub Coupon
Receive a coupon for a free appetizer with the purchase of an entrée when you join Applebee's E-Club.
Enjoy E-Club exclusives starting immediately when you sign up at:  https://www.applebees.com/en/sign-up

About Applebee's (from Wikipedia)
Applebee's International, Inc., is an American company which develops, franchises, and operates the Applebee's Neighborhood Grill and Bar restaurant chain. As of March 31, 2017, there were about 2,000 restaurants in all 50 states, Puerto Rico, Guam and 15 other countries.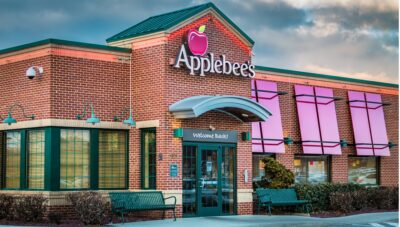 The Applebee's concept focuses on casual dining, with mainstream American dishes such as salads, shrimp, chicken, pasta, and "riblets" (which is considered Applebee's signature dish). All Applebee's restaurants feature a bar area and serve alcoholic beverages (except where prohibited by law).
Visit Applebee's: www.applebees.com
Follow Applebee's: www.twitter.com/applebees
Become a fan: www.facebook.com/applebees
Share your photos: www.instagram.com/applebees