Applebee's has new Pasta & Grill Combos starting at just $9.99.
For a limited time* starting September 30, 2019, the Pasta & Grill combo lets you select one pasta, including the new Smoky Mozzarella Ravioli, and one grilled entrée, such as a Crispy Shrimp with a Grilled Shrimp Skewer.
Each Pasta & Grill Combo comes with a side of steamed broccoli and garlic mashed potatoes, topped off with crispy onions and a signature breadstick.
"At Applebee's, our menu offers a variety of options, but sometimes all of those options make it hard to pick just one dish," said Joel Yashinsky, chief marketing officer at Applebee's. "With our new Pasta & Grill Combos, we're making the choice easy by offering some of our most popular entrees and sides all in one sitting … and starting at a great price of only $9.99. It can't be beat!"
Applebee's offers four grilled proteins and three pastas for 12 possible combinations. The grilled entree choices are:
Grilled Chicken Breast with a Buttery Blend of Garlic and Parsley ($9.99)*

6 oz. USDA Select Top Sirloin ($17.99) or 8 oz. USDA Select Top Sirloin ($19.99) 

Blackened Cajun Salmon ($18.49)

Crispy Shrimp & Grilled Shrimp Skewer with a Buttery Blend of Garlic and Parsley ($14.99)
The pasta choices are:
Smoky Mozzarella Ravioli with Tomato Cream Sauce

Fettuccine Alfredo with Broccoli in a Rich Alfredo Sauce

Stuffed Rigatoni with Tomato Meat Sauce.
To order Applebee's Pasta & Grill Combos for Delivery or To Go, head straight to www.applebees.com. Or, gift your favorite dishes to someone special with an Applebee's gift card, available for purchase at all locations or online at www.applebees.com.
For more information on this and other Applebee's specials, view the online menu and stop by your neighborhood Applebee's restaurant.
* Price and participation may vary.  Prices shown are an example at one location.
Applebees 2 for $20 Special
Applebee's still has a 2 for $20 menu at most locations.
Applebee's 2 for $20 menu includes an appetizer and your choice of entrees.  The 2 for $20 menu varies by location, but a typical Applebee's 2 for 20 menu has these entrees; note that some entrees such as steak or ribs have an upcharge.
Chicken Tenders Plate

Three Cheese Chicken Penne

Classic Cheeseburger or Classic Bacon Cheeseburger

Fiesta Lime Chicken
Oriental Chicken Salad or Grilled Oriental Chicken Salad

Chicken Tenders Platter (+$2)

Half Rack Double-glazed Baby Back Ribs (+$2.50)

Bourbon Street Chicken & Shrimp (+$2.50)

6 Oz. Top Sirloin (+2.50)

8 Oz. Top Sirloin (+$4.50).
Appetizer options may include Spinach + Artichoke Dip, Crunchy Onion Rings, Mozzarella Sticks, Boneless Wings or two side salads. Exact appetizers may vary by location.
"At Applebee's, we're providing our guests with a great meal at a great price with our 2 for $20 menu, but more than that, we're providing a reason to go out to eat and enjoy a meal with a friend, spouse or coworker, connecting over a shared love of their favorite appetizer and two abundant entrees," said Stephen Bulgarelli,  vice president and chief culinary officer at Applebee's. "We want to give our guests more – more flavor, more variety, and more bang for their buck."
To see the complete 2 for $20 menu at your location visit  https://www.applebees.com/en/menu/2-for-20
Applebee's Most Valuable Neighbor Program
Applebee's rewards program is called the Most Valuable Neighbor program.  Sign up to earn MVN points good for free food, discounts on new menu items, and more.
Unfortunately, the MVN program doesn't link up with the Applebee's mobile app.  We rated the app 6/10 in our review.  The app has everything you need for a mobile ordering experience, but there aren't any separate rewards exclusive to the app and you can't link it to the MVN membership.
To register, you need to notify your server in the restaurant, and you will sign up with your name, mailing address, email address, and phone number.  You can set up a combined account with a spouse, but no one else.  You earn rewards points for every dollar spent at Applebee's restaurants.  Here are the rewards:
0-500 Points – Green Apple Status

50% entree purchase on your birthday
Daily Specials

Mon $6.99 Burger
Tues $1 Tacos (3 minimum)
Wed All You Can Eat Boneless Wings $10.99
Thurs All You Can Eat Riblets $12.99
1/2 price appetizers during football or baseball games

501-1000 Points – Red Apple

All above rewards plus:
free chips and salsa with beverage purchase
25% off new food items during soft roll-outs
$1 spent equals 1.25 points
Kids eat for $0.99 with purchase of adult entree (beverage not included)

1001+ Points – Gold Apple

All above rewards plus:
50% off new food items during soft roll-outs
host events/parties with no added costs
$25 delivery fee waived for catering orders
$1 spent equals 1.5 points
Kids eat free with purchase of adult entree (beverage not included)
As you earn points, you also get free food.  You can spend 75 points to get a free appetizer, or 150 points to get a free entree.
Other terms and conditions apply.  Visit the Applebee's MVN website for more details.
Applebee's Eclub Coupon
Receive a coupon for a free appetizer with the purchase of an entrée when you join Applebee's E-Club.
Enjoy E-Club exclusives starting immediately when you sign up at:  https://www.applebees.com/en/sign-up

About Applebee's (from Wikipedia)
Applebee's International, Inc., is an American company which develops, franchises, and operates the Applebee's Neighborhood Grill and Bar restaurant chain. As of March 31, 2017, there were about 2,000 restaurants in all 50 states, Puerto Rico, Guam and 15 other countries.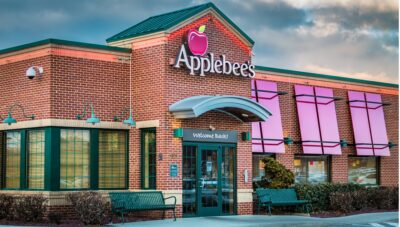 The Applebee's concept focuses on casual dining, with mainstream American dishes such as salads, shrimp, chicken, pasta, and "riblets" (which is considered Applebee's signature dish). All Applebee's restaurants feature a bar area and serve alcoholic beverages (except where prohibited by law).
Visit Applebee's: www.applebees.com
Follow Applebee's: www.twitter.com/applebees
Become a fan: www.facebook.com/applebees
Share your photos: www.instagram.com/applebees