Get a free Spicy Nuggets and more deals with these Wendy's app coupons good today through Tuesday, August 20, 2019.
Wendy's currently has these coupons in the Wendy's app.
Free 6 pc Spicy Chicken Nuggets with any mobile order  
Free fry and drink with Premium Sandwich Mobile Order
BOGO for $1 Spicy Chicken Sandwich
Free small Frosty with Combo purchase
$2 off any premium Combo 
$1 large fries
$1 off any entree salad
$2 small peach lemonade
To see all the deals you have available, sign into the app, click on Account then on the Offers tab.  For those select locations that accept mobile ordering, you can start your order immediately; otherwise you will want to click on Use at Restaurant when you place your order.  You can also view the offers when you sign in on the Wendy's offers website.
You can download the app and get more details at the Wendy's App Site.   
*Wendy's app coupons vary by location; your deals may differ.
More Fast Food Coupons
For more deals like this including coupons from McDonald's and Burger King, see the EatDrinkDeals Fast Food Coupons page.
About Wendy's (from Wikipedia)
Wendy's is an American international fast food restaurant chain founded by Dave Thomas in 1969, in Columbus, Ohio. As of 2016, Wendy's was the world's third largest hamburger fast food chain with 6,503 locations, following Burger King's 15,243 locations and McDonald's' 36,615 locations.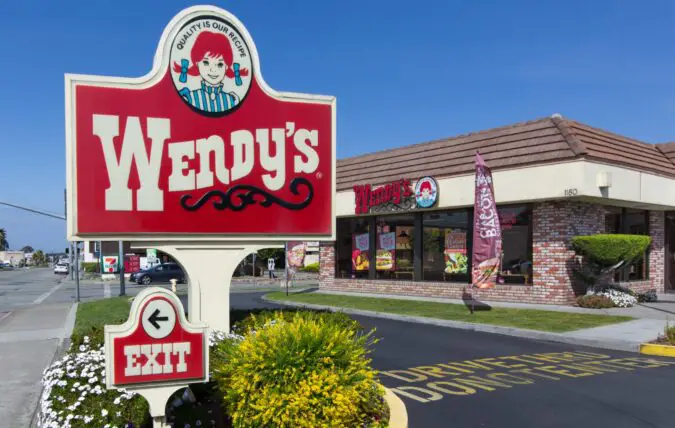 Wendy's menu consists primarily of hamburgers, chicken sandwiches, French fries and beverages, including the signature Frosty, which is a soft serve frozen dairy dessert. Since phasing out their famous "Big Classic", the company does not have a signature sandwich, such as the Burger King Whopper or the McDonald's Big Mac. Although, by default the "signature sandwich" spot seems to have been filled by Dave's 1/4 lb. Single (introduced in 2011 as Dave's Hot 'N Juicy as a reworking of the longstanding Wendy's Single, shortened to simply Dave's in 2016), a square-pattied burger made with fresh ground beef rather than round frozen patties. Wendy's uses these square hamburger patties – which hang over the edge of a circular bun – as its signature item.