Applebee's has a $1 Malibu Bahama Mama as its cocktail of the month for July.
Starting today and every day through July 31, 2019, get a Bahama Mama made with Malibu coconut rum and white rum with pineapple, cherry, and orange flavors.   The 10oz drink is just $1.  For more details see the Applebee's Drink of The Month page.
"Malibu Coconut Rum is unquestionably a fan favorite, so we've added this premium liquor to our ever-popular Neighborhood Drink of the Month," said Patrick Kirk, vice president of beverage innovation at Applebee's. "If you're looking for a new cocktail to cheers to summer with, the Malibu DOLLARMAMA™ has you covered."

Other previous drinks of the month at Applebee's were the $1 Vodka Raspberry Lemonade in June, a "Dollarita" in May and April, the $2 "Absolut Rainbow Punch" in March, the $1 Dollar Hurricane in February, the $2 Captain and Cola in January, the Dollar Jolly in December and a $2 "Dilly Dally" Bud Light Draft in November.
Applebee's Happy Hour
Applebee's has a late-night happy hour with some appetizers for half price.
Many Applebee's locations have select appetizers for half price after 9 pm on weekdays and after 10 pm on weekends.   Some Applebee's also have a late afternoon happy hour.  Typical appetizer specials for happy hour are boneless wings, Mozzarella sticks, and spinach artichoke dip.
Happy hour times and specials vary by location. You'll need to contact your local Applebee's to find your local happy hour specials.
About Applebee's (from Wikipedia)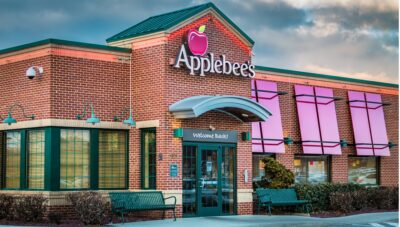 Applebee's International, Inc., is an American company which develops, franchises, and operates the Applebee's Neighborhood Grill and Bar restaurant chain. As of March 31, 2017, there were about 2,000 restaurants in all 50 states, Puerto Rico, Guam and 15 other countries.
The Applebee's concept focuses on casual dining, with mainstream American dishes such as salads, shrimp, chicken, pasta, and "riblets" (which is considered Applebee's signature dish). All Applebee's restaurants feature a bar area and serve alcoholic beverages (except where prohibited by law).
Visit Applebee's: www.applebees.com
Follow Applebee's: www.twitter.com/applebees
Become a fan: www.facebook.com/applebees
Share your photos: www.instagram.com/applebees
More Drink Specials
Chili's also has a drink of the month special; for details see: Chili's New $5 'Rita