Buy one footlong sub and get another free and more savings with these Subway promo codes!
What Promo Codes Does Subway Have Right Now?
Buy one footlong sub and get another free with a Subway promo code valid for online or app orders!  Go to the Subway website to start an online order, and use promo code BOGOFTL at checkout.
Unfortunately, Subway promo codes don't work 100% of the time in all locations.  The Subway BOGO footlong one worked in about half the locations that we tested.  The footlong of equal or lesser value will be taken off your total. Here's what it looks like when the code is applied correctly: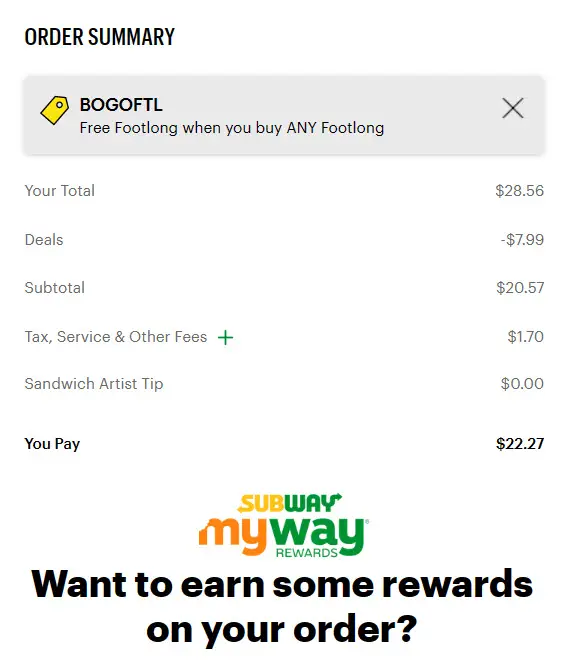 Buy one, get one free is a great deal if you can get it.  If it's not available at your local Subway, this deal is good at most locations: buy one Footlong Sub and get another for 50% off with promo code BOGO50.  You can find the deal on the Subway Home Page.  
This one worked in just about every location we tested, so it's more reliable than the buy one, get one free code.
What Are The Current Subway Coupons?
Here are some more Subway codes that are currently active:
BOGO50:  Buy one footlong, get one 50% off (expires 4/30/23)
FL699: $6.99 footlong sub
6SUB – 6 Inch $3.99
6INCHMEAL649 – 6 Inch Meal for $6.49
FLMEAL899 – Footlong Meal for $8.99
FL1299 – $12.99 for 2 Footlongs
FL1799 – $17.99 for 3 Footlongs
Generally, Subway doesn't have any printable coupons available. Franchisees may send out printed coupons in the local newspaper, but as far as discounts for Subways nationwide, they stick to promo codes and online coupons.  Happy deal hunting!
Subway Specials
Check our Subway Specials page here to learn about their Subway Series sandwiches and other new offers.
Does The Subway App Give Coupons?
Subway has a mobile app that can help you get more savings.  We rated it a 9/10 in our review.  The app has a great user interface for online orders, and offers exclusive deals that you can't get anywhere else.  You'll get notice of coupon codes and more exclusive offers reserved for the biggest Subway fans.
New subscribers get 3 $2 off Subway coupons for $6 off total when you download the app, which automatically enrolls you in the Subway MyWay rewards program.  Click here for more info to download the app for iPhone or Android devices.  Note that this deal is valid for new subscribers only.  Maybe if you tell a friend they'll give you one of the Subway $2 off coupons!  There's other Subway deals to be had in the app, too.
What's On The Subway Menu?
If you want to browse around, visit our Subway menu page here. Or, visit their website here.
Is There A Subway Restaurant Near Me?
There are approximately 23,000 Subway locations in the U.S.  You might even find two across the street from each other.  Seriously, they're everywhere.  You can find your local Subway restaurants near you at: Subway Near Me
What Are Typical Subway Shop Hours?
Most Subways are open around 8 am – 9 pm, but times can vary.  In many of the busier locations, they may stay open until 10 or 11 pm.  To find the hours, address and more details for your Subway, select your location from the Subway website.
Does Subway Have Delivery?
Get Subway, your way, delivered straight to your door!  Subway offers delivery through its third-party delivery partners like Doordash and Uber Eats.  Usually there is a delivery fee of $4 – $5.  To start a Subway delivery order, visit:  Subway Delivery
You can also place a delivery order through the Subway App – click here to download the app if you don't have it yet.  In our review of the app, we rated it a 9/10 for ease of use and great customization options.
Where Do I Find Subway Nutritional Information?
Subway lists food allergen and nutritional information in their online and app menus.  To view the nutritional content of any menu item, click here for the Subway Nutritional Calculator page.
When you start an online or order, you can make modifications to the menu ingredients online; when ordering at the restaurant, you just ask your server to make the sandwich exactly the way you want it.