Since the advent of the smartphone revolution, the world has changed at a drastic pace, and the restaurant industry is no exception.  Many restaurant chains large and small have launched their own apps to make dining more convenient and offer rewards for their loyal customers.  At EatDrinkDeals, we are committed to helping our users find the best restaurant apps to save money, no matter where the deals may be found.  Therefore, we are starting a new series of reviews of restaurant apps.  Here's our review of the Subway mobile app.
Visit the Subway website here to download the app.
For info on deals and specials at Subway, click here for the EatDrinkDeals Subway page.
Convenience and Reliability
To get started, you create an account with your name, phone number, and email.  You can use your existing account if you already have one.  Then, you'll see a home page that shows your Subway MyWay points (more on that later), a store locator, and a list of favorites and recent orders.  You can click on the menu bar at the top left for other options.  At the bottom, you can click "Start Order" to place your order.  The locator will automatically find the closest Subway, or you can search by city, state or zip code.
When ordering, featured items are near the top, but you can find all your favorites with a smooth interface.  Everyone knows that the key to a good experience is the ability to easily customize your sandwich just the way you want it.  When you select a sandwich, it clearly identifies the ingredients (with pictures!) and has a "Customize" button at the bottom.  This brings up a neat menu where you see what goes on the sandwich, and you can click each item to remove entirely, add more, and so on.  So, for example, I can click on the picture of cucumbers in the Cold Cuts sandwich to add more, get less, or get rid of 'em.
You have a variety of payment methods at your disposal, from credit/debit cards to Paypal, Masterpass and Subway gift cards.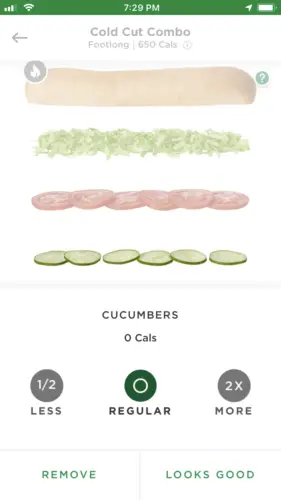 Rewards and Savings
Here's how the Subway MyWay Rewards program works.  You get 4 tokens for every $1 spent.  After 200 tokens, you get a $2 reward.  So, basically for every $50 you spend you get $2 back.  That's not the best ratio compared to other apps, but the nice thing is you have the flexibility to spend it the way you want.
https://youtu.be/LGi_QJJqIhs
The app also can send you specials and promotions tailor made for you, such as double tokens on purchases, or discounted food.  You can find this in the "Deals" section of the menu at the top left of the screen.
Finally, Subway has started to make some deals exclusive to its app.  For example, this $5 off deal was only for customers using the app and paying with Paypal.
Is Subway one of the best restaurant apps to save your money?
9/10
The Subway app has a great user interface, especially with the sandwich customization options.  The MyWay Rewards programs offers a decent return on your dining dollars with $2 back for every $50 spent, used the way you want it.  The app will also offer you exclusive deals that you can't get anywhere else.  Simply put, this app is worth the space on your phone.