Buy one footlong and get another 50% off with a Subway coupon code valid for online and app orders through April 4! Use promo code BOGO50 when you've got a footlong sub in your order. We spotted the code on the Subway website:
It should look like this once you've entered the code, if your local Subway participates: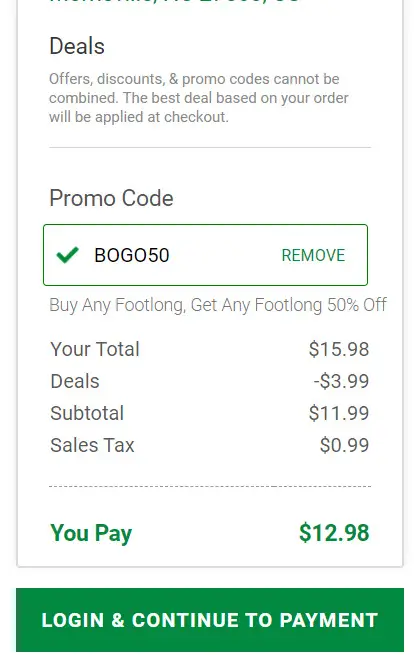 * 50% off sub of equal/lesser price. Extras/Add-ons addt'l. At participating restaurants. App/online orders only. 1 per order. No addt'l discounts. No delivery. Excludes FOOTLONG PRO. Exp 4/14/21.
In other Subway news, you can double up the protein on your subs for just $2 more. For the hungriest of us! Subway posted the offer on Facebook.
More from EatDrinkDeals
Want to get info on other deals, discounts, coupons and specials from your favorite restaurants? Click here to see the latest and greatest from EatDrinkDeals!
Subway Fresh Value $2.99 Subs Deal
Subway has announced its new Fresh Value menu featuring two six inch subs for just $2.99 each. Choose between the Oven Roasted Chicken or the Veggie Delite for $2.99 each. If you want something smaller, get sliders starting at $1.89. The Oven Roasted Chicken usually comes with chicken, lettuce, spinach, tomatoes, cucumbers, green peppers and onions – but you can of course get it any way you want! The Veggie Delite features whatever veggies and condiments you want to stuff between your choice of bread.
Subway announced the special on the their homepage and on Facebook.
Subway Daily Specials
Try the Subway sub of the day special at many stores with footlong subs or combos for $5 to $6.
At stores which participate in deal, the price is typically $4.99 or $5.99 for a footlong sub or for a combo with a six-inch sub of the day, chips and drink. Some stores do not participate in the sub of the day deal but offer a special on one sub every day, usually Meatball Marinara.
To get the deal, look for a posting at your local Subway or ask your server what is the current sub special. Below is an example of the sub of the day rotation at a store that does offer the special.
Monday: Sweet Onion Chicken Teriyaki: A blend of tender teriyaki glazed chicken strips. Served hot & toasted on freshly baked bread.
Tuesday: Oven Roasted Chicken: The Oven Roasted Chicken is piled high atop freshly baked bread with your favorite toppings from spicy jalapenos to crisp green peppers.
Wednesday: Turkey Breast: Tender turkey breast piled sky-high with everything from lettuce and tomatoes to banana peppers.
Thursday: Italian B.M.T.: This all-time Italian classic is filled with Genoa salami, spicy pepperoni, and Black Forest Ham.
Friday: Tuna: Flaked tuna, mixed with mayo, and your choice of fresh vegetables.
Saturday: Black Forest Ham: Black Forest Ham with all the crunchy veggies you like on your choice of freshly baked bread. Even try it fresh toasted with melty cheese and mustard.
Sunday: Meatball Marinara: Italian style meatballs drenched in irresistible marinara sauce, served on freshly baked bread.
Subway App
Subway has a mobile app that can help you get more savings. We rated it a 9/10 in our review. The app has a great user interface and offers exclusive deals that you can't get anywhere else.
New subscribers get 3 $2 off Subway coupons for $6 off total when you download the app. Click here for more info to download the app for iPhone or Android devices. Note that this deal is valid for new subscribers only. Maybe if you tell a friend they'll give you one of the Subway $2 off coupons! The coupons should load into your account within 15 – 30 minutes of downloading.
Subway Menu
Subway's core product is the sub. I mean, obviously. It's in their name, people. They do also have wraps and salads if you aren't into the really bready thing. They also sell breakfast sandwiches, English muffins, and flatbreads. The name of the game at Subway is getting your sub (or wrap, or whatever) made your way, with near limitless combinations of meats, cheeses, toppings, dressings and other sauces and spices. You could eat there every day and never get the exact same thing twice if you wanted. Or you could find a favorite and stick to it! For the full current menu, click here for the Subway Menu page.
Subway Near Me
There are approximately 23,000 Subway locations in the U.S. You might even find two across the street from each other. Seriously, they're everywhere. You can find the Subway location near you at: Subway Near Me
Subway Hours
Most Subway are open for 8 am – 9 pm, but times can vary. In many of the busier locations, they may stay open until 10 or 11 pm. To find the hours, address and more details for your Subway, select your location from: Subway Near Me
Subway Delivery
Get Subway, your way, delivered straight to your door! Subway offers delivery through its third-party delivery partners like Doordash and Uber Eats. Usually there is a delivery fee of $4 – $5. To start a Subway delivery order, visit: Subway Delivery
You can also place a delivery order through the Subway App – click here to download the app if you don't have it yet. In our review of the app, we rated it a 9/10 for ease of use and great customization options.
Subway Nutrition
Subway lists food allergen and nutritional information in their online and app menus. To view the nutritional content of any menu item, click here for the Subway Nutritional Calculator page.
When you start an online or order, you can make modifications to the menu ingredients online; when ordering at the restaurant, you just ask your server to make the sandwich excatly the way you want it.