Cafe Rio Mexican Grill has a daily deals menu with tacos, enchiladas, tostadas and more starting at $6.49.  The daily deals at most locations are (these deals were valid as of October 2019):
Cafe Rio announced the daily deal special on the Cafe Rio Daily Specials Website.  Price and participation may vary by location.
Visit https://www.caferio.com to find a restaurant nearest to you and connect with Cafe Rio on Instagram, Twitter, and Facebook.
If you're interested in daily deals and specials from your other favorite restaurants, our roundups for every day of the week are here:
About Cafe Rio (from Wikipedia)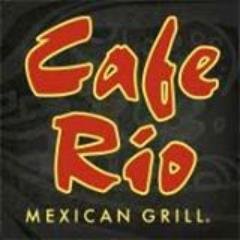 Cafe Rio, or Cafe Rio Mexican Grill, is a fast casual restaurant chain based in Salt Lake City, with branches in Arizona, California, Colorado, Florida, Idaho, Maryland, Montana, Nevada, Utah, Virginia, Washington, and Wyoming. The company specializes in Mexican cuisine. Its menu includes appetizers, tostadas, salads, burritos, desserts, enchiladas, tacos, quesadillas, soups, and beverages. The company also provides catering services. As of October 2017, the chain has 120 locations.