The Caribou Coffee Fall Menu has landed.  Pumpkin, anyone?  Let's dive in!  The Caribou Coffee Fall Menu includes:
Nitro Pumpkin Latte: Espresso whipped cream, nitro cold press, and milk blended with pumpkin flavors. Caribou Coffee is the only major coffee house to offer Nitro infused with seasonal flavors.  You can get this hot or iced.

Pumpkin Crafted Press: Cold-filtered coffee is steamed or blended with milk, real sugar, and real pumpkin. The Crafted Press is available hot, iced, or blended.

Pumpkin White Mocha: Crafted with real chocolate melted into steamed milk and then combined with espresso and pumpkin, topped with whipped cream and sprinkled with chocolate chips. Caribou's Pumpkin White Mocha is also available iced, blended, or as Nitro.

Apple Blast: The Apple Blast is a blend hot apple cider and caramel, topped with whipped cream and more caramel. Get

Apple Blast hot, iced, blended, or as Caribou BOUsted.
Maple Waffle Breakfast Sandwich: Caribou's take on chicken and waffles, made with chicken sausage, gouda cheese and a cage-free egg between two maple waffles.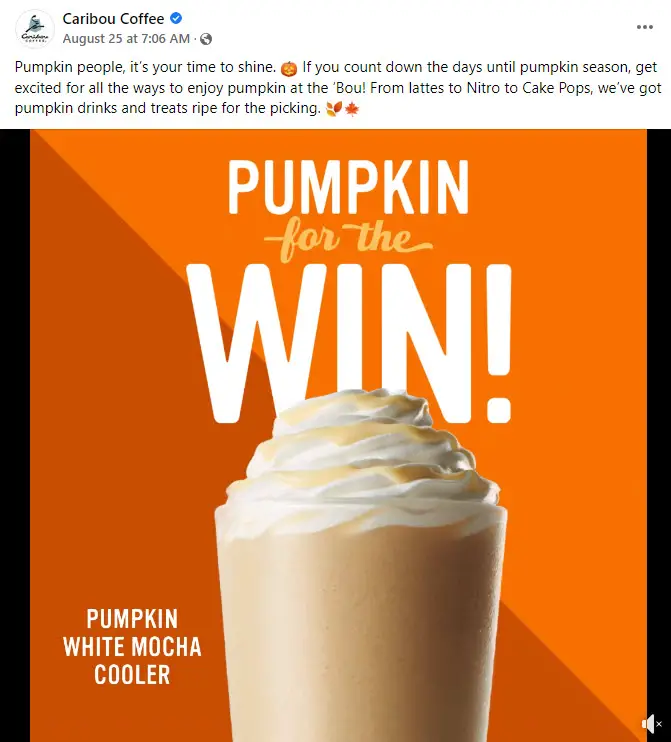 Caribou Coffee Rewards – Free Beverage
Caribou Coffee has a free beverage when you sign up for the Caribou Perks Rewards program and make your first purchase.  Also get a birthday gift every year, and get 2 points for every dollar you spend. Further, the upgraded Caribou Perks loyalty program lets you earn points online at CaribouCoffee.com and redeem those points for discounts on online orders and free shipping. Get some free coffee for home!  Other new features include the, ability to save customizable drinks, share rewards, and more.
For more details or to enroll, visit:  Caribou Coffee Perks
More from EatDrinkDeals
Inflation stinks!  Want to get make your money go further with the best deals, discount codes, coupons and specials from your favorite restaurants?  Click here to see the latest and greatest from EatDrinkDeals!
More Restaurant Daily Deals
Daily deals for all days of the week can be found here:
For more daily and weekly restaurant specials like these, see:  Restaurant Daily Deals
About Us
EatDrinkDeals is the nation's leading news source for discount dining information. We cover national and regional restaurant chains and provide links to restaurant coupons, coupon codes and general information on how to get the best dining deals.  Inflation is really eating at all of our wallets these days.  That makes our mission of saving you money all the more important!
Our website, www.eatdrinkdeals.com, is updated multiple times every day with the latest deals.  EatDrinkDeals is unique among other coupon sites in that it follows journalistic practices.  This means that every article is checked and verified by our staff before it is published.  We accept no payment for articles or endorsements. Our goal is to provide our users with information on the best deals around so they can enjoy dining out, while sticking to their budgets.  Every article provides attribution that users can show to the restaurant server, in case the server is unaware of the deal.  This attribution is usually a link to the official website, or the Facebook, Twitter or other social media page of the restaurant.