Carl's Jr. has two brand new menu items with the Big Char Chile Burger and Salted Caramel Pretzel Shake.
The Big Char Chile Burger comes topped with a creamy Santa Fe sauce, pepperjack cheese, lettuce and a whole charred green chile. It's all nestled between two pieces of a crispy, toasted seeded bun. Other varieties available are the Big Char Chile Double, Big Char Chile Angus, and Big Char Chile Double Angus.
On the sweeter side of life (but also a little salty), the Salted Caramel Pretzel Shake has hand-scooped ice cream blended with milk, caramel syrup, pretzel pieces, and a whipped topping finish.
"Our new Big Char Chile Burger and Salted Caramel Pretzel Shake pack a flavor punch – on their own and together, and guests are sure to come back for more." said Anthony Nguyen, Carl's Jr. VP of Brand Marketing. "Carl's Jr. is known for its exciting menu items, and with these two only available for a limited time, you won't want to miss out on this ambitious flavor combo."
Carl's Jr. also has their famed Double Deals starting around $3.99.
$3.99 Double Deals At Carl's Jr.
Carl's Jr. has brought back their Double Deals, with 3 different double burgers available priced at about $3.99.  Your options are the Double Cheeseburger (American cheese, onion, pickles, mustard, and ketchup), Bacon Double Cheeseburger (adding Bacon), or the California Classic Double Cheeseburger (American cheese, grilled onions, lettuce, tomato, and Thousand Island dressing).  Each comes with two charbroiled beef patties.
You can find more details on the Carls Jr website at the CarlsJr Home Page.
Also, My Rewards members can get other Double Deals. Right now, it's a 6 pc Chicken Stars – for the same $3.99 price.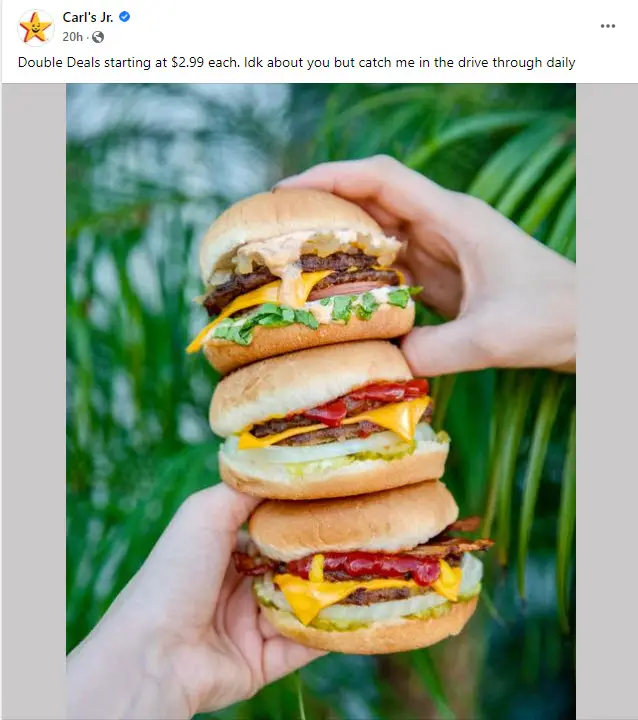 Carl's Jr. App Deals
Check our Carl's Jr. coupon page here to learn about offers available in the Carl's Jr. app.
About Carl's Jr.
Carl's Jr. is a fast-food chain with its headquarters in Franklin, Tennessee, USA. The company was founded way back in 1941. It operates over 1,000 restaurants in the United States and internationally.
Carl's Jr. is best known for its burgers, particularly its signature item, the Western Bacon Cheeseburger, which features a charbroiled beef patty topped with crispy onion rings, barbecue sauce, and melted cheese. The chain also offers other fast-food favorites like chicken sandwiches, salads, fries, and milkshakes.
Carl's Jr. has a sister restaurant Hardee's. The companies combined about 25 years ago and, though they remain different brands, share many similarities on the menu.