The Cheesecake Factory has a Happy Hour at most locations with appetizers and small plates starting at about $6.
Typical times for the Cheesecake Factory Happy Hour are 4 pm – 6 pm Mondays through Fridays in the Bar.  Happy hour specials not offered in the main dining area. The Happy Hour menu will vary by location but below is a typical example.
Happy Hour Burger $9.50

Roadside Sliders $9.50

Fried Calamari $9.50

Avocado Eggrolls $9.50

Crispy Brussel Sprouts $7.95
Where allowed by law, some locations also have drink specials such as Cosmos, Margaritas and Mojitos for $7.50, select wines for $7,50, and select draft beers for $4.95.
To view the Happy Hour menu for your local spot:
Select Your Location here
Click on your preferred location
Click on Details
Look for "Happy Hour Menu" and click on it; if not listed, then your location probably does not offer it.
Free Slice With Cheesecake Factory Rewards
The Cheesecake Factory launched its first-ever rewards program on June 1, 2023. Guests who sign up for Cheesecake Rewards will get access to reservations, free cheesecake, and access to exclusive offers! This program is unique in the fact that there is no point tracking – just rewards!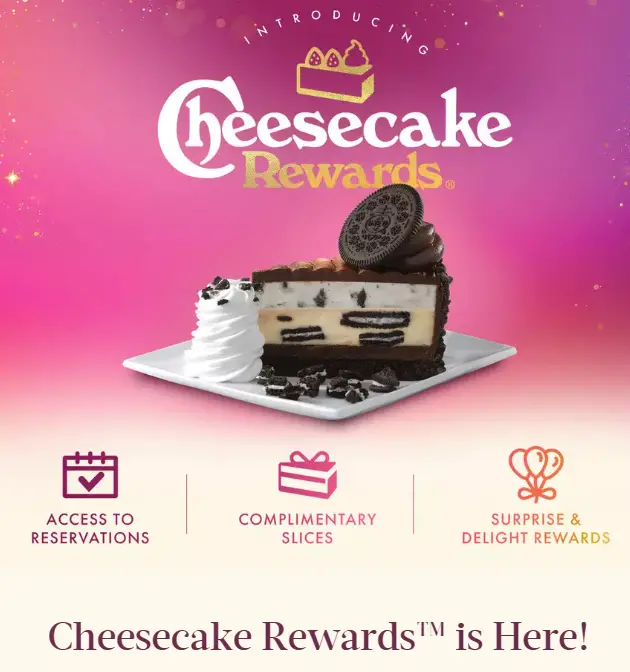 Click here to sign up and get your free cheesecake!
Cheesecake Factory Menu
If you want to browse around, visit our Cheesecake Factory menu page here. Or, visit their website here.
Enjoy Brunch on Saturdays and Sundays from 10 AM – 2 PM with special entrees like the Monte Cristo Sandwich, Green Chilaquiles with Carnitas and Eggs, Fried Chicken and Waffles, Bruleed French Toast and more.  For the full lineup, visit the Brunch menu page.
Cheesecake Factory Recipes
If your craving a Cheesecake Factory favorite at home, they post home-style versions of some of their most popular dishes, such as Cajun Jambalaya Pasta and White Chicken Chili, on their official recipes website.
About The Cheesecake Factory
The Cheesecake Factory is a restaurant chain in the United States that became famous for its decadent cheesecake desserts. The Cheesecake Factory boasts an otherwise extensive and borderline ridiculous menu. They have over 200 locations across the United States and several other countries.
The Cheesecake Factory menu clocks in at over 250 items, including appetizers, salads, entrees, sandwiches, and desserts. The menu draws inspiration from just about every type of ethnic cuisine. Some of the most popular dishes include the Factory Burger, Chicken Madeira, and the Bang-Bang Chicken and Shrimp. Cheesecakes are the star, and here a "slice" is more like a big chunk of a whole cake. Cheesecakes come over 30 different flavors, including Original, Oreo Dream Extreme, and Lemon Meringue.