Cracker Barrel has a Southern Fried Chicken special in a single meal or new takeout picnic box.
Each fried chicken meal features a half chicken – a breast, thigh, leg and wing – and is served with two country sides and homemade buttermilk biscuits or corn muffins, for $10.79 (price and availability may vary by location).
If you're looking for a family takeout, a Southern Fried Chicken Picnic Box with 12 pieces of chicken, two sides and buttermilk biscuits is available for about $34.  For more details see:  Cracker Barrel Fried Chicken
"This year will mark Cracker Barrel's 50th anniversary, and we are so pleased to offer guests our take on a classic dish like fried chicken for this occasion," said Cracker Barrel's Vice President of Culinary Cammie Spillyards-Schaefer. "To celebrate this milestone, we felt our guests were deserving of something special, from the heart, and as good as home. Our culinary team traveled throughout the South, noting what makes fried chicken so delicious and so popular in order to develop the perfect recipe rooted in traditional Southern cooking."
Secret Recipe
Cracker Barrel said it spent years developing the fried chicken recipe, perfecting the breading's spice and flour blends, ensuring a cooking method that allowed for a hearty, crispy outside and perfectly juicy inside, redesigning its kitchens in over 650 restaurants to accommodate new equipment, and training its workforce of over 70,000 team members.
"Given that we are a restaurant rooted in Southern cooking, we've always known the importance of adding bone-in fried chicken to our menu," Spillyards-Schaefer said. "Southern Fried Chicken has been a long time in the making because we knew Cracker Barrel had to get it just right. As an iconic food of the South, there is so much nostalgia and emotion connected to fried chicken. Nothing brings me back to fond childhood memories with my family like eating a plate of delicious, crispy fried chicken."
Cracker Barrel announced the new specials on their home page.
Cracker Barrel Veterans Day 2019 Special
On Nov. 11, 2019, Cracker Barrel will offer veterans a choice of a complimentary piece of Double Chocolate Fudge Coca-Cola Cake for dessert or a Pumpkin Pie Latte beverage.  The family dining chain announced the Veterans Day deal on the Cracker Barrel Veterans Day page.  Cracker Barrel has about 650 locations.
In addition, Cracker Barrel will also offer $25 off all U.S. U.S. military branch-themed rocking chairs and a special discount of 25 percent off on all military licensed products in its retail stores and online, including clothing, home furnishings and drinkware.
Additionally, Cracker Barrel guests can give back with a purchase of one of the brand's iconic rocking chairs that line the front porch of each store. Proceeds from eligible online and in-store purchases will go toward Operation Homefront, a national military nonprofit with a mission to build strong, stable and secure military families
Get info on all the Veterans Day deals in our EatDrinkDeals Veterans Day article.
Daily Specials Menu
Cracker Barrel has weekday lunch and dinner specials starting at about $6.
The lunch specials include lunch-sized portions of favorites such as Baked Chicken n' Dressing and Chicken Pot Pie. You can find the lunch specials menu at Cracker Barrel Weekday Lunch Specials  The lunch specials are generally priced at $5.99 and are served Monday – Friday starting at 11 AM.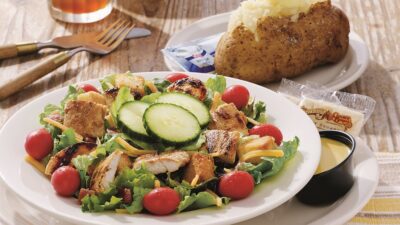 You can also get a Pick 2 Country Combo for $5.99.  Choose any of the following for $5.99:
Three Cheese Grilled Cheese Sandwich

Country House Salad with Grilled Chicken (pictured)

Cup of Soup (selections vary daily)

Baked Potato or Sweet Potato.
Cracker Barrel's dinner specials are usually priced starting at $7.99 and feature generous sized portions of favorite meals with your choice of two country vegetables plus made from scratch Buttermilk Biscuits or Corn Muffins and real butter. You can find the dinner specials menu at  Cracker Barrel Daily Dinner Specials.
Cracker Barrel Merchandise
Cracker Barrel frequently has merchandise on sale for up to 70% off plus free shipping on orders over $50.
Visit:  Cracker Barrel Merchandise Sale  to see the sale items and start your order.
About Cracker Barrel (from Wikipedia)
Cracker Barrel Old Country Store, Inc. is an American chain of combined restaurant and gift stores with a Southern country theme.  Dan Evins founded Cracker Barrel in 1969.  The first store opened in Lebanon, Tennessee, and serves as the company headquarters.  The chain's stores were at first positioned near Interstate highway exits in the Southeastern and Midwestern US, but it has expanded across the country during the 1990s and 2000s. As of 2018 the chain operates 653 stores in 45 states.
Menu
Cracker Barrel's menu is based on traditional Southern cuisine, with appearance and decor designed to resemble an old-fashioned general store.  Each restaurant features a front porch lined with wooden rocking chairs, a stone fireplace, and decorative artifacts from the local area.
Cracker Barrel said Momma's Pancake Breakfast is their top-selling entrée, with three buttermilk pancakes that come with your choice of any fruit topping or 100% Pure Natural Syrup plus two eggs and your choice of smoked sausage patties, thick-sliced bacon or turkey sausage.  Cracker Barrel said that every year they serve:
217 million guests
200 million biscuits
160 million eggs
135 million slices of bacon
57 million pancakes
53 million 1.5 oz. bottles of Pure Natural Syrup
46 million servings of grits
13 million pounds of chicken tenders
11 million orders of Chicken n' Dumplins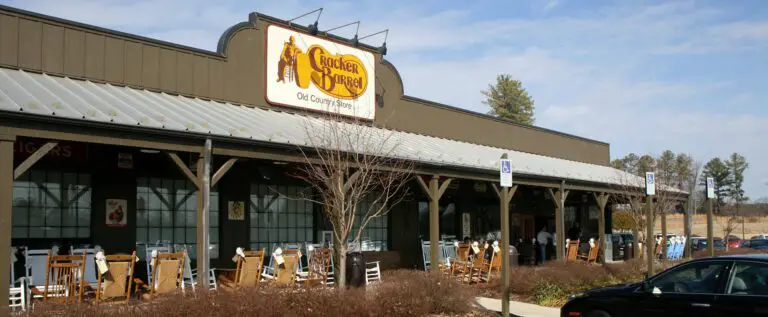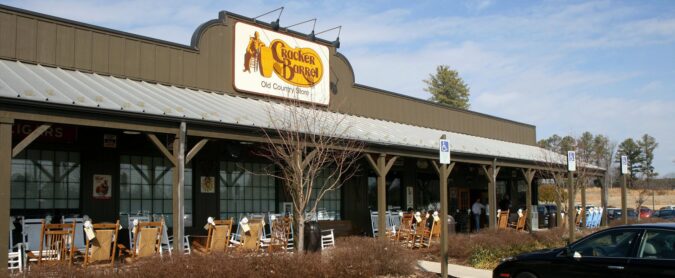 Photo Credits: "Cracker Barrel 10/2014" by JeepersMedia / CC BY 2.0