Cracker Barrel has Family Meal Baskets available to-go or for delivery that can feed a group of 3-5 people.  The baskets range from about $30 – $40.  Here are the family meal options and pricing.  Pricing may vary by location; click here for the Cracker Barrel Family Meals webpage for full details and to place an order.  Cracker Barrel also has free delivery with a $15 order and free half gallons of iced tea with Family Meal purchases through July 5, 2020.
All-Day Pancake Breakfast $31.99 – Buttermilk Pancakes with butter and syrup and Scrambled Eggs, plus choice of Bacon or Sausage Patties, and Hashbrown Casserole or Fried Apples
Signature Chicken n' Dumplins $29.99 – Chicken n' Dumplins and Buttermilk Biscuits plus choice of 2 Country Sides
Scratch-Made Meatloaf $33.99 – Meatloaf and Buttermilk Biscuits plus choice of 2 Country Sides
Homestyle Chicken $33.99 – Fried chicken and Buttermilk Biscuits plus choice of 2 Country Sides
Grilled or Fried Catfish $39.99 – 6 catfish fillets with 10 hushpuppies plus choice of 2 Country Sides
Cracker Barrel Merchandise
Cracker Barrel frequently has merchandise on sale plus free shipping on orders over $100.
Visit:  Cracker Barrel Merchandise Sale  to see the sale items and start your order.
About Cracker Barrel (from Wikipedia)
Cracker Barrel Old Country Store, Inc. is an American chain of combined restaurant and gift stores with a Southern country theme.  Dan Evins founded Cracker Barrel in 1969.  The first store opened in Lebanon, Tennessee, and serves as the company headquarters.  The chain's stores were at first positioned near Interstate highway exits in the Southeastern and Midwestern US, but it has expanded across the country during the 1990s and 2000s. As of September 1, 2019 the chain operates 660 stores in 45 states.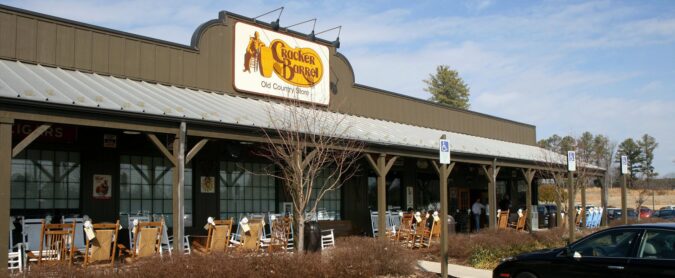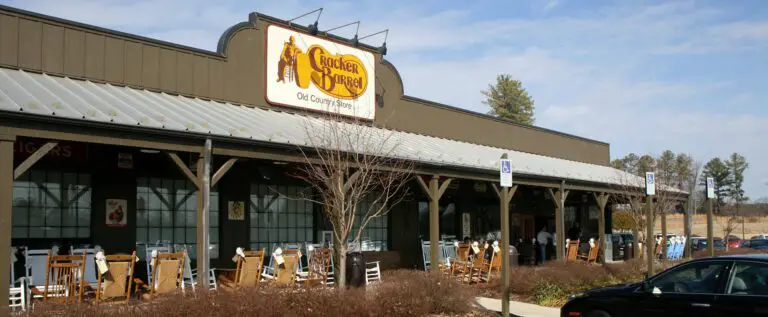 Menu
Cracker Barrel's menu is based on traditional Southern cuisine, with appearance and decor designed to resemble an old-fashioned general store.  Each restaurant features a front porch lined with wooden rocking chairs, a stone fireplace, and decorative artifacts from the local area.
Cracker Barrel said Momma's Pancake Breakfast is their top-selling entrée, with three buttermilk pancakes that come with your choice of any fruit topping or 100% Pure Natural Syrup plus two eggs and your choice of smoked sausage patties, thick-sliced bacon or turkey sausage.  Cracker Barrel said that every year they serve:
217 million guests
200 million biscuits
160 million eggs
135 million slices of bacon
57 million pancakes
53 million 1.5 oz. bottles of Pure Natural Syrup
46 million servings of grits
13 million pounds of chicken tenders
11 million orders of Chicken n' Dumplins