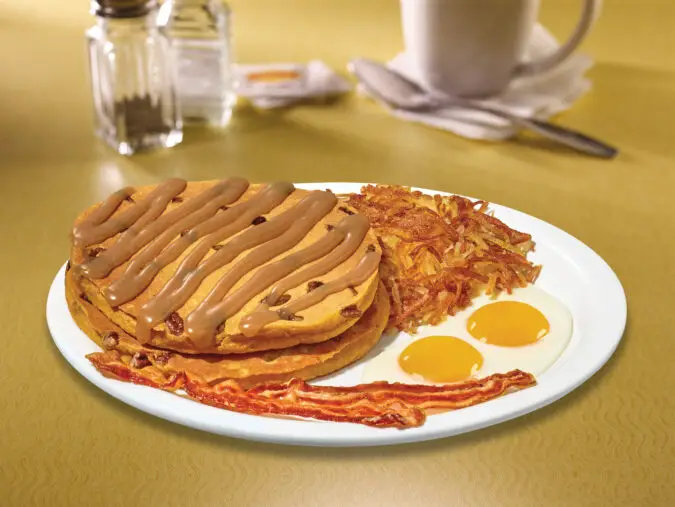 From breakfast to burgers, from all-day diner deals to salads and shakes, everyone in the family can find something to love on the Denny's menu.
Scroll through or search the table below to see prices for the Denny's menu. You'll find everything from classic favorites like the Moons Over My Hammy egg sandwich and gravy-smothered Plate Lickin' Chicken Fried Chicken to tasty new additions inspired by TikTok influencers, such as It's Bananas Salted Caramel Pancakes and Straight Up Bourbon Steak.
Denny's Deals
If you bought Denny's gift cards around the holidays last year, don't forget to redeem your $5 Bonus Card! Bonus Cards received as part of the 2022 holiday gift card deal are valid from January 2, 2023 to March 31, 2023. Get the details on this deal and many more in our article on Holiday Restaurant Gift Card Deals.
You can save a lot of dough and still fill up on great food with the new All Day Diner Deals menu at Denny's. Choose breakfast, lunch, or dinner from a special ten-item menu, all starting at just $5.99! Also, if you're over the age of 50, you can get 15% off your check at Denny's when you show a valid AARP membership card. To read up on these and other deals and specials at Denny's, check out our article on Denny's Promo Codes, Coupons & Specials.
Denny's Menu & Prices
---
Disclaimer: Menu and prices listed above are based on research of sample locations and are provided for informational purposes only. Since prices and availability may vary by location, please consult your local Denny's menu for the latest details.
What's on the Denny's Menu?
Denny's is a classic diner through and through. They're probably best known for their breakfast menu, which is served all day. A full Denny's breakfast after a late night out on the town is a great way to wrap up the evening. The signature Grand Slam comes with eggs, bacon, and pancakes, though there's all sorts of variation on that now. You can build your own Grand Slam any way you want it, or get other breakfast items like French toast instead.
Plus, Denny's has a full lineup of sandwiches, burgers, and other hearty meals. Low prices doesn't mean a low number of choices here. Another signature item is the Moons Over My Hammy scrambled eggs and ham sandwich. You can find affordable prices all over the Denny's menu for breakfast, lunch, or dinner.
What Is in the Denny's Grand Slam?
The classic Denny's Grand Slam is a breakfast plate where you get to pick your favorite 4 items from about 8-9 choices. The Grand Slam costs about $10 in most locations. Your choices to build your own Grand Slam are: 2 eggs, 2 pancakes, 2 strips of bacon, 2 pieces of sausage, hashbrowns, 2 pieces of toast, an English muffin a slice of ham (with about $1 upcharge), fresh fruit (also about $1 upcharge).
Sometimes, Denny's will run a promotion for a Super Slam for less, around $7-$8. The Super Slam comes with 2 eggs, bacon, sausage, and 2 pancakes.