Get $5 off a $20 or more order online with a Denny's coupon code valid through July 31.  To start an order, click here to visit the Denny's website.  Then, use coupon code 5OFF20 to get the deal.  Get yourself something nice with that extra $5.  Denny's announced the deal on their website homepage.
More from EatDrinkDeals
Want to get info on other deals, discounts, coupons and specials from your favorite restaurants?  Click here to see the latest and greatest from EatDrinkDeals!
Denny's $2 $4 $6 $8 Value Menu
Denny's knows budgets are getting tight.  So, they've got a new menu with items for $2, $4, $6 or $8 available for dine-in, takeout, or delivery.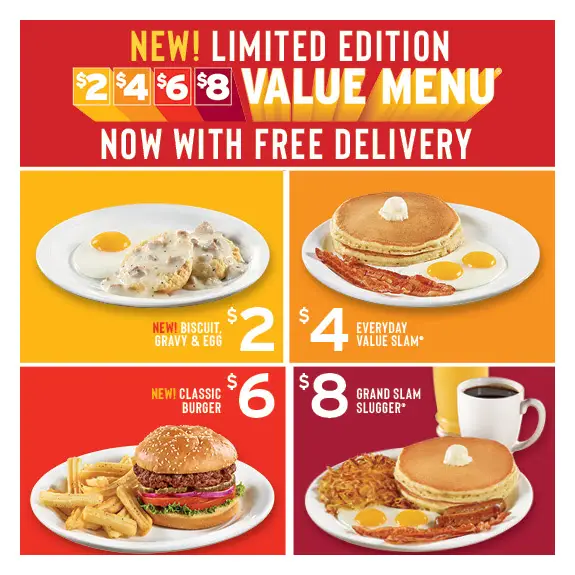 Here's the full array of items available:
$2

Egg and a Biscuit with Gravy
Chocolate Hazelnut Crepe
Slice of French Toast

$4

Mozzarella Sticks and Tater Tots
Everyday Value Slam – 2 pancakes, 2 eggs, 2 strips of bacon or sausage

$6

Classic Burger
Chorizo Burrito

$8

Grand Slam Slugger – 2 pancakes, 2 eggs, 2 strips of bacon or sausage, hash browns or choice of bread, coffee, and juice
To start an order online, click here for the Denny's Value Menu page.
Family Packs $24.99 and Up
Denny's has new Shareable Family Packs available to feed a group of 4-5 people ranging from $24.99 – $28.99.  To start an order online, click here for the Denny's website.  Here's the main packs available:
Grand Slam Pack:  Grand Slams for 4 people – eight buttermilk pancakes, eight scrambled eggs, four slices of bacon, four sausage links, and hash browns (option to add toast)
Build Your Own Cheeseburger Pack:  Cheeseburgers (or hamburger) for four – 100% beef patties topped with American cheese with option to add custom toppings.  Each burger comes with a side of wavy-cut fries.
Premium Chicken Tenders Pack:  Sixteen chicken tenderloins served with wavy-cut fries and BBQ and honey mustard sauces for dipping
Packs for sides a la carte and beverages are also available.  Denny's posted the packs on their Facebook page.
AARP Member 15% Discount
Get 15% off your check when you show your AARP card at Denny's.
Discount is good for your entire check (some restrictions apply).  AARP discount is not good with other coupons or offers.
To receive your 15% discount, just show your valid AARP membership card any day of the week.  Denny's and AARP announced the deal on the AARP Discount site.
Find other restaurant discounts in our story,  AARP Dining Discounts.
About Denny's (from Wikipedia)
Denny's (also seen as Denny's Diner on some of the locations' signage) is a full-service coffee shop/family restaurant chain. It operates over 1,600 restaurants in the United States (including Puerto Rico), Canada, Curaçao, Costa Rica, Honduras, Japan, Mexico, New Zealand, Qatar, and the United Arab Emirates.
Denny's is known for always being open and for serving breakfast, lunch, dinner, and dessert around the clock. Unlike many other restaurant chains, Denny's does not close on holidays or nights, except where required by law. Many of their restaurants are located in proximity to freeway exits, bars and in service areas. Denny's started franchising in 1963, and most Denny's restaurants are now franchisee-owned.