America's Biggest Breakfast is back at Denny's for $7.99. The beloved Super Slam, which features two buttermilk pancakes, two eggs cooked to order, two bacon strips, two sausage links, and crispy hash browns, will be available around the clock at Denny's locations nationwide. You can get all that food for $7.99 ($9.99 at select locations).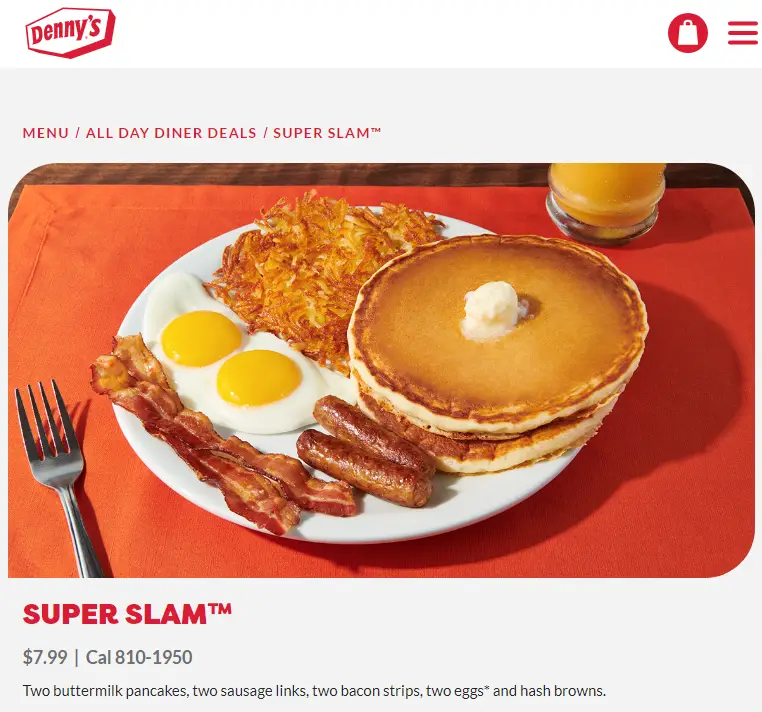 Pumpkin Pecan Pancakes Return To Denny's
America's Diner has brought back its beloved Pumpkin Pecan Pancakes just in time for fall. The pancakes have real pumpkin pie filling, glazed pecans, and are topped with a rich pecan pie sauce. Get a stack of 'em for $5.99, or order the Pumpkin Pecan Pancakes Slam meal with two eggs, golden hash browns, and bacon strips or sausage links for $8.99.
The Red White And Blue Pancake Breakfast Is Back At Denny's
Back by popular demand, the Red White & Blue Pancake Breakfast recently returned to the Denny's menu. For a limited time, get two blueberry pancakes topped with strawberries and cream cheese icing for your Red, White & Blue theme. The breakfast gets packed with two eggs, hash browns, and your choice of bacon or sausage. Pricing varies by location, but we spotted it for $10 – $11 in most areas.
All Day Diner Deals At Denny's
The All Day Diner Deals menu at Denny's has options starting at $7.99.
Here's the full lineup.  Note that prices may be higher in some locations – these are typical prices based on our research:
Super Slam $7.99 – Eggs, bacon strips or sausage links, and two buttermilk pancakes and hash browns.
Scrambled Eggs & Cheddar Breakfast $7.59 – Scrambled eggs with cheddar cheese, plus two bacon strips, two sausage links and buttermilk pancakes
Two Moons Over My Hammy Omelette $7.99 – Two-egg omelette with ham, Swiss & American cheeses. Served with hashbrowns and choice of bread
Quarter Pound Cheeseburger $7.99 – topped with American cheese, lettuce, tomato, red onion and pickles on a split top Brioche bun, served with fries
Grand Slam Family Pack for $27.99:  Grand Slams for 4 people – eight buttermilk pancakes, eight scrambled eggs, four slices of bacon, four sausage links, and hash browns (option to add toast)
Build Your Own Cheeseburger Pack for $28.99:  Cheeseburgers (or hamburger) for four – 100% beef patties topped with American cheese with option to add custom toppings.  Each burger comes with a side of wavy-cut fries.
Premium Chicken Tenders Pack for $26.99:  Sixteen chicken tenderloins served with wavy-cut fries and BBQ and honey mustard sauces for dipping
Lumberjack Slam Pack for $33.99:  Eight buttermilk pancakes, eight scrambled eggs, eight slices of bacon, eight sausage links, 4 grilled ham slices, hash browns and toast.
Fish and Chips Pack for $34.99:  12 wild-caught Alaska pollock fried fillets and tartar sauce, served with wavy cut fries.
Packs for sides a la carte and beverages are also available.  Denny's posted the packs on their Facebook page.
Denny's Menu
Visit our Denny's menu page here to see what they've got and how much things cost. Or, visit their website here.
Get 15% off your check when you show your AARP card at Denny's.  The discount is good for your entire check, but some restrictions apply.  The AARP membership is available to anyone aged 50 and up.  The AARP discount is not good with other coupons or offers.  To receive your 15% discount, just show your valid AARP membership card any day of the week.  AARP announced the deal on the AARP Discount site.
Find other restaurant discounts in our story,  AARP Dining Discounts.
How Do I Get A Discount At Denny's?
If you sign up for the Denny's Rewards program, you'll get access to special deals for your location.a free gift on your birthday, and more.  Also, the Denny's app can offer you some exclusive deals and extra savings on occasion.  You can download it from the Denny's website.
Also, if you're an AARP member, you can get a 15% discount everyday.
Sometimes we'll come across other Dennys promo codes and printable coupons, but unfortunately they are often only available for specific locations or areas. You may see a Dennys promo code with a long string of letters and numbers on other sites, but these generally don't work as they are one-time use only.
At EatDrinkDeals, our policy is to only publish Denny's discount codes that are widely available to avoid disappointing our users. When Dennys coupons or promo codes are nationally available and from verifiable sources, we will post the latest Denny's coupons here, so you only pay the best price for your favorite food!  As we mentioned above, though, you don't need a Denny's promo code to get a great deal.  If you're trying to find info on the best Denny's promotions, you've come to the right place.
Does Denny's Have Kids Eat Free Nights?
One big perk for Rewards members is Kids Eat Free nights.  Check with your local Denny's restaurant, as the dates and times will vary, but generally you'll be able to get a free Kids Meal with an adult entree purchase of $6 or more for these events.  You can see the promo up on the Denny's Rewards page.  You can't beat the low price of free!
Does Denny's Give You A Free Grand Slam On Your Birthday?
If you sign up for Denny's Rewards, you can get lots of perks.  Among them, you'll get a free Grand Slam on your birthday.  There's no catch, it's just a nice little gift for your special day!
How Do I Find A Denny's Near Me and Hours?
There are Denny's locations all over the map with over 2,000 diners in the United States.  Typically, restaurants were open 24 hours a day, 7 days a week.  With the onset of the COVID pandemic, the restaurant chain dropped its 24/7 policy, but they're still open far longer than other restaurants.  Looking for one near you?  Click here to find a location near you – you need to start an order to find the closest one. Most locations open at 6 AM, and usually close around midnight during the week, and later on weekends.  There are still a fair number of locations open 24/7, too.
Can I Get Denny's Delivery?
Denny's offers delivery for a fee on a typical order will be $5 – $6.  Sometimes, we'll find a free delivery deal or promotional code.  We'll be sure to post them here when we do.  To start a delivery order, click here for the Denny's website.  You can order delivery in the mobile app, too.
Where Is Denny's Nutritional Information?
Denny's has a full listing of calorie and nutritional information available online. To view the calories and nutritional information, visit the official website of Denny's Nutritional Info.