Genghis Grill has carryout orders for 20% off every Tuesday.  If ordering online use promo code TUESDAY and get 20% off your carryout order.   You can also get the discount on request when you order in-store.  Genghis Grill announced the special on Facebook.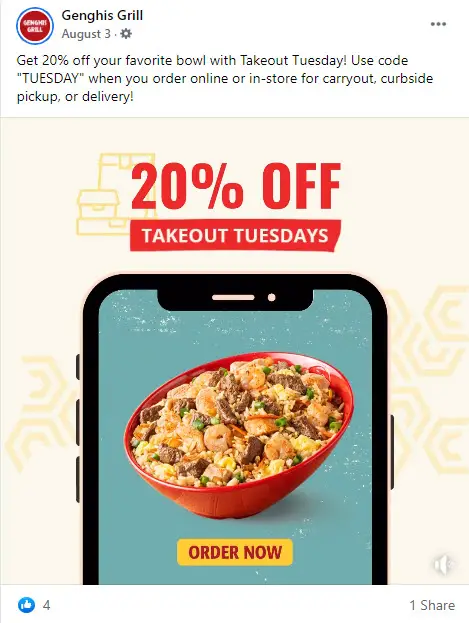 Genghis Grill Rewards Coupon
Get a Small Chef Bowl when you join the rewards program at Genghis Grill.
CLICK HERE to join the Genghis Grill rewards program.  Also, get 1 point for every $1 you spend on eligible purchases. To accumulate points or to use your reward, tell your server your email address when you dine at your favorite Genghis Grill location.  25 points gets you a free Beverage, 50 points a free Dessert, 90 points a free Appetizer, all the way up to free Bowls starting at 110 points.  More details are in the Genghis Grill Rewards FAQ.
More from EatDrinkDeals
Want to get info on other deals, discounts, coupons and specials from your favorite restaurants?  Click here to see the latest and greatest from EatDrinkDeals!
Genghis Grill Menu
Genghis Grill is a build your own style restaurant with a big Mongolian wok.  Think of it as create your own stir fry.  Fill your bowl up with a wide variety of meats and other proteins, vegetables, and an array of flavorful sauces to make your perfect creation.  Genghis Grill also has a bunch of signature recipes if you don't feel like thinking that hard.  Browse the Genghis Grill menu online here.
Genghis Grill Near Me
There's about 50 Genghis Grills nationwide, mostly in the South.  To find the Genghis Grill nearest to you, click on this link:
Genghis Grill Hours
Most Genghis Grills are open every day from 11 am to 8 pm, but times can vary.  To find the hours, address and more details for your Genghis Grill, click on this link: Genghis Grill Near Me
Genghis Grill Nutrition
Genghis Grill lists the full nutritional information, as well as allergen info, in a separate section on its website.  To view the nutritional or allergen content of any menu item,  click here to view the .pdf file.