Häagen-Dazs has a Free Cone Day every May and has set their next event for May 12, 2020.
During Free Cone Day, usually from 4 pm to 8 pm, get a complimentary mini cone with no purchase or coupon required.
The chain says they typically serve more than 300,000 free scoops on Free Cone Day, an annual event at the ice cream shops.
*Limit 1 kiddie scoop per guest.  All other menu items are regular price. Free cone day offer may not be combined with any other offer or used as a discount on other items. Offer valid only on date and time specified, no exceptions.  Guests who want to purchase items may bypass the line of people who are waiting for free scoops. U.S. Stores Only
For more information on Haagen-Dazs Shops' free Cone Day visit   https://www.haagendazs.us/about/news/freeconeday/
About Häagen-Dazs (from Wikipedia)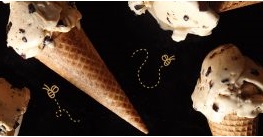 Häagen-Dazs is a brand of ice cream, established by Jewish-Polish immigrants Reuben and Rose Mattus in the Bronx, New York, in 1961. Starting with only three flavors: vanilla, chocolate, and coffee, the company opened its first retail store in Brooklyn, New York, on November 15, 1976.  The business grew, and created franchises throughout the United States and many other countries around the world.  Häagen-Dazs produces ice cream, ice cream bars, ice cream cakes, sorbet and frozen yogurt.
Häagen-Dazs ice cream comes in several traditional flavors as well as several esoteric flavors that are specific to the brand, such as Vanilla Swiss Almond and Bananas Foster. It is marketed as a "super-premium" brand: it is quite dense (very little air is mixed in during manufacture), uses no emulsifiers or stabilizers other than egg yolks, and has a high butterfat content. Häagen-Dazs consumers are also directed to store their ice cream at 0 °F (−18 °C), a temperature substantially lower than that used for most ice creams, in order to keep its intended firmness. It is sold both in grocery stores and in dedicated retail outlets serving ice cream cones, sundaes, and so on.