The Palm Restaurant, a fine dining steakhouse chain, has a lunch special and Happy Hour at most locations.
The Palm Lunch Specials
The Palm has a three-course "Power Lunch"  at most locations, typically priced at about $30.  The menu usually includes:
The Palm Happy Hour
The Palm's Happy Hour is offered at many of the steakhouse chain's restaurants.  A typical Happy Hour (also called PrimeTime) schedule is Sunday through Friday, 4:00 – 6:30 pm.
Happy Hour specials vary by location, but a typical Happy Hour at the Palm offers discounts on these Prime Bites; most are $12 to $14:
To find details for Happy Hour at your location, select your location from The Palm Home Page, scroll down to "View Menus" and look for Prime Time Menu or Happy Hour. Some generic info is here on The Palm PrimeTime page.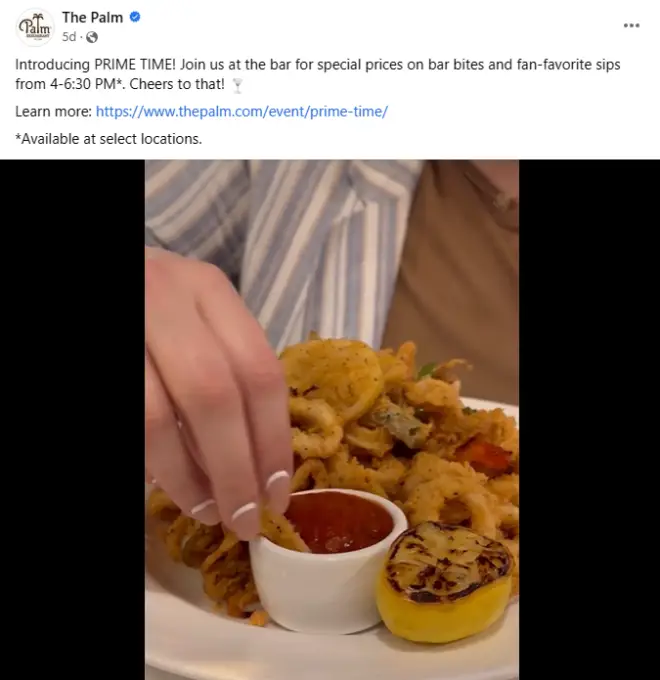 About The Palm
The Palm is a chain of upscale steakhouses that was founded in 1926 in New York City. The restaurant serves up American fare like USDA Prime aged steaks, jumbo Nova Scotia lobsters, and also an array of Italian dishes. The Palm has a rich history and has been a favorite dining destination for celebrities, politicians, and business leaders for decades. The restaurant has over 20 locations in major cities across the U.S. including New York, Los Angeles, and Las Vegas. It's not uncommon to spot celebrities and the rich and famous enjoying a meal at these fine establishments.