Get $20 off a catering order with this Insomnia Cookies coupon code good now through October 31, 2019.
Place a catering order for $100 or more and get $20 off by entering Insomnia Cookies coupon code COOKIECATERING on the checkout page.  You must be signed in to your Loyalty account to get the discount.  You can start an order at:  Insomnia Cookies Catering Order
*Valid on catering orders only placed via the Insomnia Cookies website, mobile app, customer service, or sales team; catering orders cannot be placed in-store. For online orders, customer must be signed into loyalty account and apply code "COOKIECATERING" during checkout to redeem. Cannot be combined with any other offer or discount. Limit one use per customer. Offer expires 11/1/19 at 3 AM.
Show their social media post to get the deal, good September 23-29, 2019. Attached below is the Insomnia Cookies Facebook announcement.  You can also find the announcement on the Insomnia Cookies Home Page.
About Insomnia Cookies (from
Wikipedia
)
Insomnia Cookies is a chain of bakeries in the United States that specializes in delivering warm cookies. Seth Berkowitz, a student at the University of Pennsylvania, started the company in 2003. There are over 100 locations as of 2017. Most are located by university campuses and cater to students who want to order cookies late at night.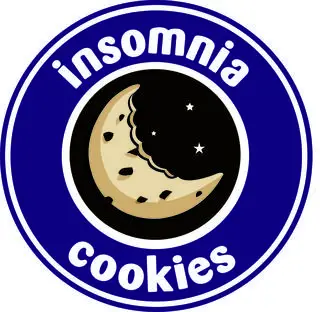 Insomnia Cookies offers 12 varieties of traditional and deluxe cookies. Some flavors include the classic Chocolate Chunk and White Chocolate Macadamia cookies to the more decadent, Chocolate Peanut Butter Cup and S'mores Deluxe. Insomnia serves all their cookies warm from the oven.
Cookie cakes and brownies are available with toppings such as Cookie Dough, M&Ms, and Snickers. Ice cream is offered at most locations by the cup, pint and quart. Customers have the opportunity to customize and combine products, creating a cookie a la mode, brownie a la mode or cookiewich (ice cream sandwiched between two cookies). Milk is also available with every order.
Insomnia Cookies is based in New York City.  Insomnia Cookies bakeries are typically located near college and university campuses to target students who wish to order cookies past the closing time of traditional bakeries. Stores have opened in Philadelphia, Miami, New York City, Boston, Charlotte, Raleigh, Washington, Rochester, Baltimore, Champaign, Chicago, St. Louis, Kansas City, Minneapolis, Chapel Hill, Greenville, Morgantown, Pittsburgh, Tucson and San Marcos.
In 2018 Krispy Kreme, financed by JAB Holding Company, acquired Insomnia.