Jamba has brought back its popular Pumpkin Smash Smoothie for the fall, made with milk, frozen yogurt, and a pumpkin spice base with hints of nutmeg. Prices vary, but a small generally is about $6.50 in most locations. Typical prices for a medium or large are $7.50 and $8.50.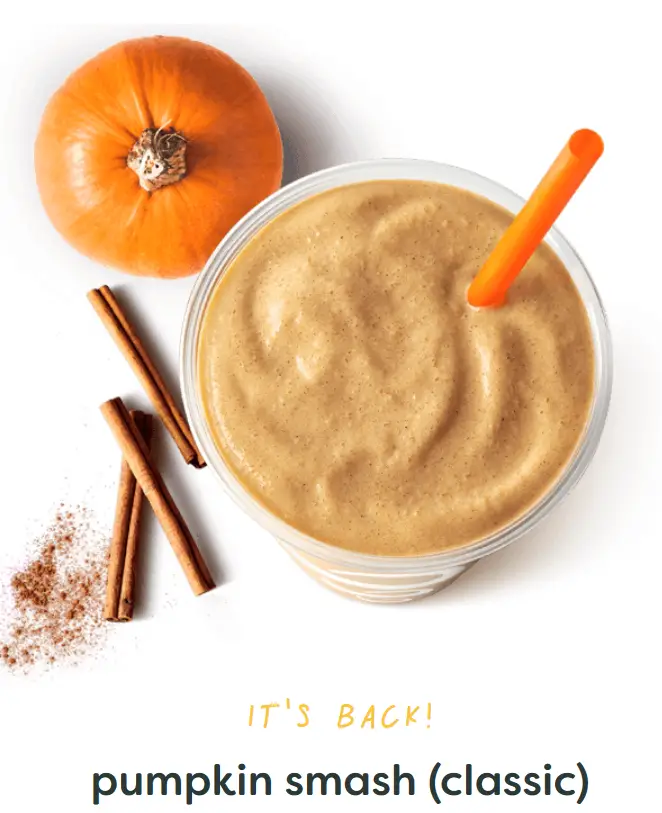 Get 50% Off A Smoothie With Jamba Rewards
Get a Jamba coupon for half off a smoothie when you enroll in the Rewards program.
To enroll or to get more details, visit:  My Jamba Rewards.  You must provide a mobile phone number and email address to get your Jamba coupons.
You will get a 50% off Any Smoothie coupon right away plus a free Small Smoothie on your birthday.  In addition, by supplying your phone number (which becomes your account number) whenever you place an order you will build up points for future treats.
For more Smoothie Deals news, visit our page here to learn about the latest juicy news at all your favorite places.
National Smoothie Day Specials At Jamba June 21
Celebrate National Smoothie Day at Jamba with a $5 special for a to-be-announced Mystery Flavor! Order online or in the app and use promo code MYSTERY5 for the deal. Jamba says they'll be dropping some hints on Instagram in the coming days if you're interested in getting a sneak peek.
About Jamba
Jamba is a popular chain of smoothie and juice bars that was founded in 1990 in San Luis Obispo, California. Jamba comes in near the top in the smoothie restaurant game. It has over 850 locations worldwide.
The Jambamenu features a variety of smoothies and juices made with fresh fruits, vegetables, and other natural ingredients. Fans love the smoothie flavors like Mango-a-go-go, Strawberry Wild, and Razzmatazz. Some popular juice flavors include Orange Carrot Karma, Purely Carrot, and Tropical Greens.
In addition to smoothies and juices, Jamba also offers bowls, shots, and boosts. They make their bowls  with a base of acai, pitaya, or oats, and topped with fruits, granola, and other toppings. Shots are small servings of concentrated juices, while boosts are add-ons that can be added to smoothies for an extra nutritional boost.