Islands Restaurants has a Pro Football Happy Hour every day but Friday and Saturday in their bar and patio areas.
During their Pro Football happy hour – 3 pm to 6 pm Monday through Thursday, and all day Sundays –  you can get discounts on Classic Islands Cocktails, Draft Beer, wine and mixed drinks, plus special prices on appetizers including Cheesy Fries, Nacho Sliders, and more.
Islands Restaurants announced the Happy Hour on the Islands Restaurants Home Page.  Discounts vary by location so be sure to enter your preferred location on their website here for the most accurate offerings.
Also check the Islands Restaurants Facebook Page for the latest offers.
Islands Locals Rewards Coupon: $7 Off
Join the Islands Locals program and get a coupon for $7 off an appetizer just for signing up.  Plus, you'll get other offers along the way, and earn 1 point per dollar spent with your purchases.  150 points gets you a $10 off coupon for a future visit.  Click here to get signed up.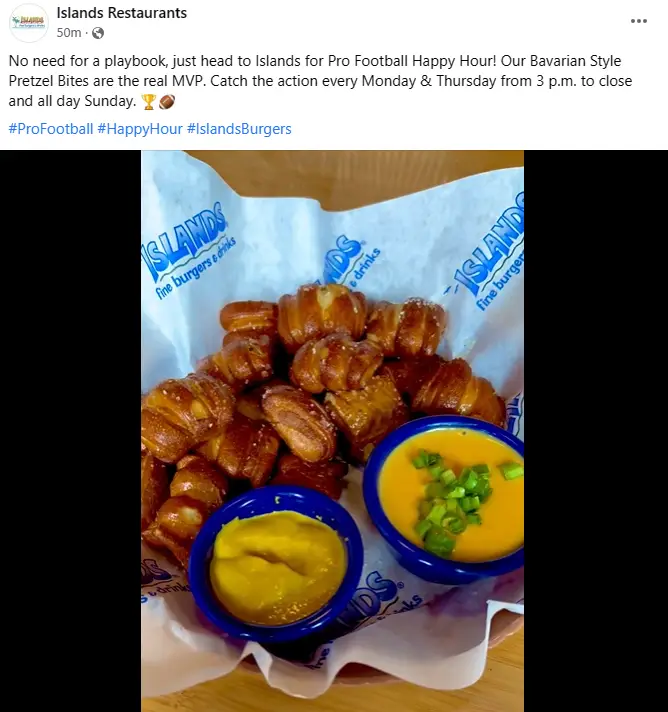 About Islands Restaurants
Islands Restaurants is an American restaurant chain that specializes in burgers, fries, and tropical drinks. They feature a beachy, Tiki bar kind of  atmosphere in all of their approximately 60 locations.
The menu at Islands Restaurants features a variety of burgers, sandwiches, salads, tacos, and appetizers.
Some popular dishes at Islands Restaurants include:
Big Wave Burger: A classic burger topped with lettuce, tomato, onion, pickles, and Thousand Island dressing.
Hawaiian Burger: With grilled pineapple, teriyaki sauce, lettuce, tomato, and onion.
Buffalo Wings: Crispy chicken wings tossed in Buffalo sauce and served with ranch or blue cheese dressing.
Island Fries: Crispy fries seasoned with a blend of spices and served with chipotle aioli.
Yaki Tacos: Soft tacos filled with grilled chicken or steak, Asian slaw, and teriyaki sauce.
Islands Restaurants also offers a variety of tropical drinks, such as mai tais, piña coladas, and margaritas. They offer discounted food and drinks during their popular Happy Hour on weekdays.
More Happy Hours
Visit our Happy Hours page here to find all the best places for a cheap bite or sip.