Get a free sub and drink when you sign up for the Jersey Mike's email club.  You'll also get a free sub and drink on your birthday.
Previous Jersey Mike's Offers
Get $1 off any size sub with a Jersey Mike's coupon valid through March 5.  Show this coupon to your cashier when ordering.  The coupon is valid in-person only.
Buy 2 Giant Subs at regular price and get a 3rd for only $3.99 with a Jersey Mike's coupon valid through February 12.  Show this coupon to your cashier when ordering.  You'll have to order in person for this one, it's not valid online.  The coupon will save you about $12 off the normal Giant Sub price.
Get $1 off any Regular Sub through January 24. Show this  coupon to your cashier when ordering.
How Can I Get A Free Sub From Jersey Mike's?
You'll earn Shore Points with each purchase that you can redeem for free subs later on. For purchase, you'll receive:
3 points for every KID'S MEAL
4 points for every MINI size sub or Breakfast Sandwich (where available)
6 points for every REGULAR, Wrap or Sub-in-a-Tub
12 points for every GIANT
You can redeem points as follows:
48 points for a FREE MINI size sub
72 points for a FREE REGULAR size sub, Sub-in-a-Tub or Wrap
144 points for a FREE GIANT size sub
CLICK HERE to enroll in the Jersey Mike's club.   You'll get a coupon for a free sub and drink on your birthday.   Jersey Mike's announced the promo on Facebook.
Where Do I Put A Jersey Mike's Promo Code?
Here's how to use Jersey Mike's promo codes:
Go to the Jersey Mike's website to start an online order.  Find the location you want to order from – you can let the site use your own location to find the nearest Jersey Mike's if you want.
Hit "Choose My Items"
Go through the Jersey Mike's menu and order all the sandwiches and other stuff you want.  When you're done, hit the "Start Checkout" button.
When you see your Order Summary, look a little further down the page for heading that says "Promotional Code", followed by a white space that says "Enter Code Here".  Enter the promo code here, then hit the "Add" button.
If the promo code is valid, you should get a message confirming it, but you won't see the discount hit your order total, yet.  You'll need to hit the "Review + Pay" button first.
On this next screen, you should see your discount applied.  Here's what it looks like when the promo code is entered correctly: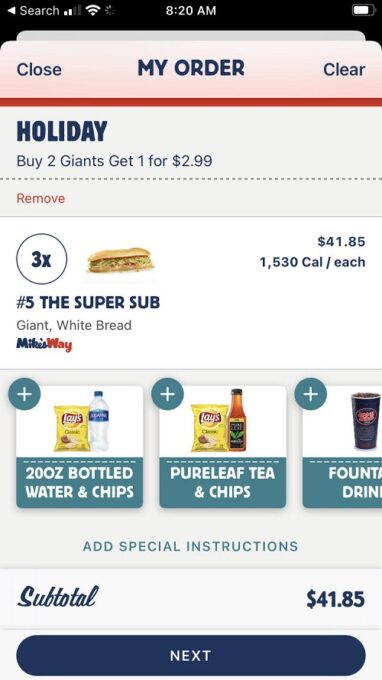 Does Jersey Mike's Have Printable Coupons?
Jersey Mike's offers printable coupons on a regular basis.  We recently saw one for $1 off a Regular Sub valid through May 5, 2022.  When Jersey Mike's has coupons available, we'll post them here!
Can You Use Jersey Mike Coupons Online?
Jersey Mike's offers discounts in a couple of ways: Promo Codes and Coupons.  Promo codes are generally only available to be used for online orders, or by using the Jersey Mike's app.  Coupons are redeemed in the store.  You can print one out, or you can show the Jersey Mike's coupon to your cashier with your phone to save some paper.  It's up to you.