Get a free Large Classic Pepperoni Pizza with an online order of $20 or more with a Little Caesars promo code valid on Mondays, Thursdays, and Sundays in September.  Click here to start an online order, and use promo code CLASSICPLAY6 for the free pizza.  Add a Large Classic Pepperoni, and if you've got at least $20 worth of other items in your cart, the price of it will drop to $0 once you apply the code.  Little Caesars sent this email with the promo code.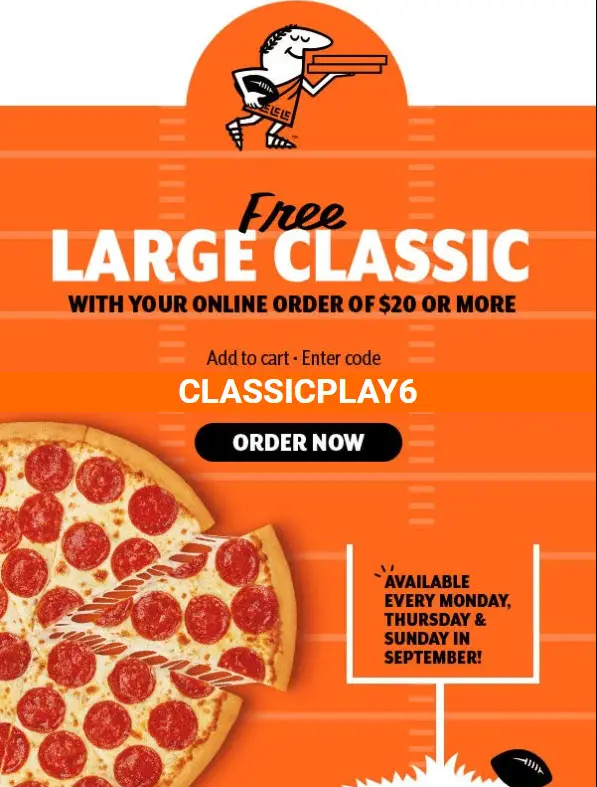 This is a part of Little Caesars' push as the multi-year Official Pizza Sponsor of the NFL.
Also, as part of the NFL sponsorship, you can win NFL game tickets, $50 or $250 gift codes to NFLShop.com, and more prizes all season long.  Just order online one hour before NFL games and you'll be eligible to win.  Plus, you'll get a shot at the grand prize – an all expenses paid trip to Super Bowl LVII is up for grabs!  Little Caesars has the details of the Pizza!Pizza! Pregame promotion here.
Little Caesars Promo Code For $7.99 Large Pizza
Get a 1, 2 or 3 topping Large Pizza for only $7.99 with a Little Caesars promo code valid for online orders.  Click here to start an online order, and use promo code UPTOYOU at checkout.  The promo code isn't valid for Thin Crust, Stuffed Crust, Deep Dish or Specialty Pizzas, but it's still $3-$4 off the regular price!
More Little Caesars Hot-N-Ready Specials
Get a large Old World Fanceroni Pepperoni Pizza at Little Caesars for only $9.99 from 4-8 pm for a limited time.  Hot-N-Ready to feed a few folks for under $10!
Little Caesar's says the Old World Fanceroni Pepperoni features a pepperoni pizza made with over 100 slices of curled, crispy old world pepperoni.
"You can expect a pizza covered from edge to edge with old world pepperoni and a crust that is crisped with cheese to the edges.  This gives this pizza a special texture and overall crunchy bite," the pizza chain said.
Little Caesars has the deal up front and center on its homepage. Below is their video about the Fanceroni Pepperoni Pizza.
Little Caesars Promo Codes & Everyday Deals
Little Caesars has more deals like a $3.49 Stuffed Crazy Bread, $5.55 Classic Hot and Ready Pizzas (with more Pepperoni), a $6.55 ExtraMostBestest Pizzas and other favorites.
Prices vary by location but typical Little Caesars deals include:
$3.49 Stuffed Crazy Bread
$3.99 Crazy Bread and Crazy Sauce
$5.55 Classic large Cheese, Pepperoni or Sausage (Classic Pepperoni Pizza now comes with 33% more Pepperoni)
$5 Lunch Combo from 

11:00 a.m. to 2:00 p.m.

The lunch combo features four slices of Detroit-style DEEP!DEEP! Dish pizza, paired with a 20-ounce Pepsi product.
$7.50 Caesar Wings – Oven Roasted, BBQ, Buffalo, or Garlic Parmesan
$6.55 ExtraMostBestest Pepperoni, Cheese or Sausage Pizza
$12 Ultimate Supreme or Veggie Pizza
You don't need a Little Caesars coupon code for these offers. Just order in-store or add them to your shopping cart if you're ordering online.  For more details see the website: www.littlecaesars.com
What's On The Little Caesars Menu?
Little Caesars has a laser focus on its Hot-N-Ready Pizzas with a smaller variety of toppings that other places.  The tradeoff is faster service and affordable prices that are pretty hard to beat.  You can get a one topping pizza for about $5 in most locations any day of the week.  The Hot-N-Ready Pizzas are best sellers that have been around since the 90s, and frankly it's pretty impressive that they've kept the price down all this time.  The Hot-N-Ready menu has other offerings now, too, like Detroit-Style pizzas, Caesar Wings, the Extramostbestest Pizza, and a rotating limited time offer.  Low prices doesn't mean a low number of choices here.  Their other signature item is the garlic parmesan seasoned Crazy Bread.  The Cookie Dough Brownie is a popular fixture on the menu, because who doesn't like something sweet to go with their delicious pizza?
Where Are Little Caesars Near Me and What Are Their Hours?
There are Little Caesars locations all over the map with over 5,000 pizza restaurants.  They are reportedly the third largest pizza chain in the United States as of 2020, behind Pizza Hut and Domino's.  They're active in the international market, too.  Little Caesars is truly a global pizza chain.  Not bad for a little joint that started in Detroit in the 1950s by Mike Ilitch and his wife Marian Ilitch!  Looking for one near you?  Click here to find a location near you – you need to start an order to find the closest one. Most locations open at 11, and usually close around 10 pm during the week, or around 11 pm or midnight on weekends.  Some stay open later.
Does Little Caesars Offer Delivery?
Little Caesars has only recently begun to offer delivery, after nearly a 20 year hiatus.  According to the company, until recently it wasn't possible to get delivery and keep prices so low to be consistent with the brand.  Now, a delivery order is available for $2.99 along with a 10% service fee that's capped at $3.  So, your delivery fee on a typical order will be $5 – $6.  Sometimes, we'll find a free delivery deal or promotional code.  We'll be sure to post them here when we do.  For delivery online orders, click here.  You can order delivery in the mobile app, too.
How Do I Find Little Caesars Nutritional Information?
Little Caesars has a full listing of calorie and nutritional information available online. To view the calories and nutritional information, click here for the official website of Little Caesars Nutritional Info.
Does Little Caesars Offer Other Coupons and Promo Codes?
Sometimes we'll come across other Little Caesars promo codes and printable coupons, but unfortunately they are often only available for specific locations or areas. You may see a Little Caesars pizza promo code with a long string of letters and numbers like "ZTI53789" that won't always work when placing your order.
At EatDrinkDeals, our policy is to only publish Little Caesars pizza coupon codes that are widely available to avoid disappointing our users. When Little Caesars coupons or promo codes are nationally available and from verifiable sources, we will post them here, so you only pay the best price for your favorite food!  As we mentioned above, though, you don't need a Little Caesars promo code to get a great deal.
If you sign up for the emails from Little Caesars Crazy Crazy Deals, you'll get access to deals for your location, like free crazy bread.  Also, the Little Caesars app can offer you some exclusive deals and extra savings on occasion.  You can download it from the Little Caesars Pizza website.
More from EatDrinkDeals
Inflation stinks!  Want to get make your money go further with the best deals, discount codes, coupons and specials from your favorite restaurants?  Click here to see the latest and greatest from EatDrinkDeals!
More Restaurant Daily Deals
Daily deals for all days of the week can be found here:
For more daily and weekly restaurant specials like these, see:  Restaurant Daily Deals
If you're an AARP member, you can get every day discounts at Denny's, McCormick & Schmick's, Outback and more places.  You can find all the details in our story, AARP Dining Discounts.
Also, many restaurant chains such as Bob Evans, Outback Steakhouse, Zoe's Kitchen and more offer discounts to the active military and veterans.  Here's the EatDrinkDeals roundup, Restaurant Military and Veterans Discounts.