Try out Little Caesars delivery and save $5 with a coupon code valid through January 31! Click here to start an order online. Use promo code TRYDELIVERY3C at checkout and save a fiver – or put it towards some extra pizza. It should look like this at checkout after the code is applied:
Little Caesar's posted the promo code on Facebook.
$10 Pepperoni Cheeser! Cheeser! Meal Deal
The Pepperoni Cheeser! Cheeser! Pizzas is back at Little Caesars, made with fresh mozzarella cheese, basil and a Asiago-Parmesan flavored crust. You can get one for $7, or add Crazy Bread and Sauce and a 2 Liter to make it a shareable meal for $10. Little Caesars sent this email with the offer. When ordering online, you should see something like this in the Limited Time Offers section: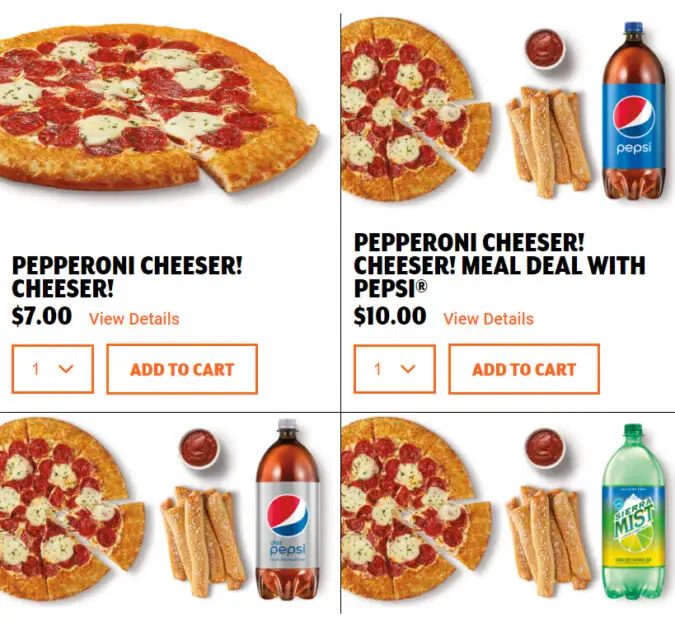 $6 Slices-N-Stix Deal
Little Caesars has a Slices-N-Stix pizza and bread sticks combo for $6. The Slices-N-Stix combines four pepperoni pizza slices and 8 cheese bread sticks in one pizza, plus a side of Crazy Sauce.
"What's better than your favorite foods? Getting two of your favorites in one amazing combination," said Jeff Klein, Senior Vice President of Global Marketing. "Half pizza plus half cheese bread sticks equals 100% awesomeness. It's the easiest decision you'll make this week."
Availability begins August 31 and lasts for a limited time. For more details or to order, visit www.littlecaesars.com
More from EatDrinkDeals
Want to get info on other deals, discounts, coupons and specials from your favorite restaurants? Click here to see the latest and greatest from EatDrinkDeals!
Little Caesars Pizza Specials
Little Caesars has $5 Classic Hot and Ready Pizzas, a $6 ExtraMostBestest Pepperoni and other favorites.
Prices vary by location but typical deals include:
$3.49 3 piece Stuffed Crazy Bread 4 – 8 pm daily
$5 Classic large Cheese, Pepperoni or Sausage
$5 Lunch Combo from

11:00 a.m. to 2:00 p.m.

The lunch combo features four slices of Detroit-style DEEP!DEEP! Dish pizza, paired with a 20-ounce Pepsi product.
$6 ExtraMostBestest Pepperoni, Cheese or Sausage Pizza
$7 ExtraMostBestest Thin Crust Pepperoni Pizza
$9 ExtraMostBestest Stuffed Crust Pepperoni Pizza
$9 Three Meat Pizza or Veggie Pizza
$10 Ultimate Supreme Pizza
For more details see the Little Caesar's website: www.littlecaesars.com
Little Caesars Menu
Little Caesars has a laser focus on its Hot-N-Ready Pizzas with a smaller variety of toppings that other places. The tradeoff is faster service and prices that are pretty hard to beat. You can get a one topping pizza for about $5 in most locations any day of the week. Their other signature item is the garlic parmesan seasoned Crazy Bread.
Little Caesars Near Me
Little Caesars has locations all over the map with over 5,000 restaurants. They are reportedly the third largest pizza chain in the U.S. as of 2020. Looking for one near you? Click here to find a Little Caesars location near you – you need to start an order to find the closest one.
Little Caesars Hours
Most locations open at 11, and usually close around 10 pm during the week, or around 11 pm or midnight on weekends. Some stay open later. To find the hours for your spot, click here to use the Little Caesars store locator.
Little Caesars Delivery
Little Caesars has only recently begun to offer delivery, after nearly a 20 year hiatus. According to the company, until recently it wasn't possible to get delivery and keep prices so low to be consistent with the brand. Now, delivery is available for $2.99 along with a 10% service fee that's capped at $3. So, your delivery fee on a typical order will be $5 – $6. To start a delivery order, click here for the Little Caesars website.
Little Caesars Nutritional Information
Little Caesars has a full listing of calorie and nutritional information available online. To view the calories and nutritional information, click here for the official Little Caesars Nutritional Info.