Starbucks has a Happy Hour for rewards members on Thursday, June 20, 2019, with a BOGO on Frappucinos and espresso beverages.
From 3 pm to closing, buy one grande or larger espresso beverage or Frappucino, and get another free. This is good from 3 p.m. to close in all company-operated and participating licensed stores.
You'll need a Happy Hour coupon to get the deal.  Rewards members automatically get a coupon by email and it is also loaded into their Starbucks app.  Show the coupon bar code to your barista to get the deal.
*Offer valid 6/20/19 only after 3 p.m. at participating Starbucks® stores in the U.S. Buy a grande or larger handcrafted espresso beverage or Frappuccino® blended beverage, get one of equal or lesser value free. Excludes hot and iced brewed coffee, ready–to–drink beverages, and Starbucks Reserve® beverages.
You can find the Frappucinos at:  Starbucks Frappucino Menu.
You can find the Espresso Beverage menu at: Starbucks Espresso Beverages
To get regular invitations, join the free Starbucks Rewards Program.
In addition to Happy Hour invitations you'll receive free drink or food rewards, custom offers on items you enjoy when you opt in to receive for My Starbucks Rewards® email, early access to new products and easy payment with the mobile app.
The Starbucks Happy Hour, which is 3 pm to close on select Thursdays and Fridays, is part of the company's ongoing strategy to increase awareness of the Starbucks Rewards loyalty program – which currently has nearly 15 million active users, the company said.
Starbucks announced the new Happy Hour on the Starbucks News Page.
Starbucks Websites
For more information see these Starbucks Websites:
About Starbucks (from Wikipedia)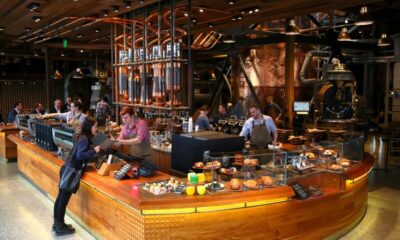 Starbucks Corporation (NASDAQ: SBUX) is an international coffee and coffeehouse chain based in Seattle, Washington. Starbucks is the largest coffeehouse company in the world, with 17,009 stores in 55 countries, including over 11,000 in the United States, over 1,000 in Canada, over 700 in the United Kingdom, and over 150 in Turkey.
Starbucks sells drip brewed coffee, espresso-based hot drinks, other hot and cold drinks, coffee beans, salads, hot and cold sandwiches and panini, pastries, snacks, and items such as mugs and tumblers.
For more information, visit the Starbucks website.