Exciting news! Starbucks has unveiled their eagerly-awaited fall menu. The highlights include the return of the Pumpkin Spice Lattes and other special seasonal beverages.
Discover Starbucks' Exciting New Fall Menu
This year marks the 20th anniversary of the legendary Pumpkin Spice Latte at Starbucks. Known as PSL, this beverage initiated the pumpkin spice trend that took over eateries and retail stores globally. Naturally, it's back for Starbucks' 2023 fall menu, along with other well-loved and exciting new beverages. Let's take a deeper look at what's on offer:
Back by popular demand and tempting as ever, the Pumpkin Spice Latte blends together Starbucks Signature Espresso and steamed milk, paired with authentic pumpkin, hints of cinnamon, nutmeg, and clove. It's finished off with a dollop of whipped cream and sprinkled with pumpkin pie spices. Whether you prefer it hot, iced, or blended, PSL has you covered.
Making its debut on the fall menu, the Iced Pumpkin Cream Chai Tea Latte is a symphony of flavors. It begins with a creamy chai tea latte, enriched with a pumpkin cream cold foam, and completed with a sprinkling of pumpkin spice. It's an unforgettable taste of fall.
Returning for the fifth year running, the Pumpkin Cream Cold Brew never disappoints. This crowd-pleaser is a blend of rich vanilla syrup, topped with pumpkin cream cold foam, and a final touch of pumpkin spice. An irresistible fall classic!
Bringing a twist to traditional fall flavors, the Iced Apple Crisp Oatmilk Shaken Espresso makes its debut. Taking a detour from the ubiquitous pumpkin, it combines Starbucks Blonde Espresso with hints of apple, cinnamon, and brown sugar, all smoothly blended with oatmilk. A refreshing new take on fall flavors!
From the bakery section, Starbucks introduces the Baked Apple Croissant. Filled with a comforting warm apple filling, gently topped with sugar, and baked till golden and crisp, it's a mini apple pie you can enjoy with your favorite brew. Complementing this is the return of much-loved treats - the Pumpkin Cream Cheese Muffin, the Owl Cake Pop, and the Pumpkin & Pepita Loaf, enticing pumpkin enthusiasts to indulge!
Exploring Starbucks' Innovative Summer Remix Menu
As summer cools down, Starbucks' Summer Menu Remix arrives to offer a refreshing transition. Packed with flavorful beverages and delectable treats, it's the perfect way to say goodbye to the hot season. Let's dive into what's on the menu:
Chocolate Cream Cold Brew with Caramel Syrup in a Caramel Lined Cup: A Chocolate Cream Cold Brew with decadent caramel sauce served in a caramel-lined cup.
Iced Chai Latte with Matcha Cream Cold Foam: An Iced Chai Tea Latte topped with Matcha Cream Cold Foam.
Blended Iced Black Tea Lemonade: A Starbucks Iced Black Tea Lemonade blended with ice.
Summer Menu
The Starbucks Summer Menu is here with two all-new beverages in the White Chocolate Macadamia Cream Cold Brew and the Chocolate Java Mint Frappuccino!
The White Chocolate Macadamia Cream Cold Brew has a big flavor with macadamia syrup, a white chocolate macadamia cream cold foam and a toasted cookie crumble on top. You can get a Grande for about $5.25 based on our price testing. The Chocolate Java Mint Frappuccino is made with roast coffee, sweet chocolate, mint flavors and Frappuccino all blended together. Then, it gets topped with mocha sauce, whipped cream, and a chocolate cookie mint sprinkle topping. A Grande costs $5.95 in most locations. Run in and give them a try!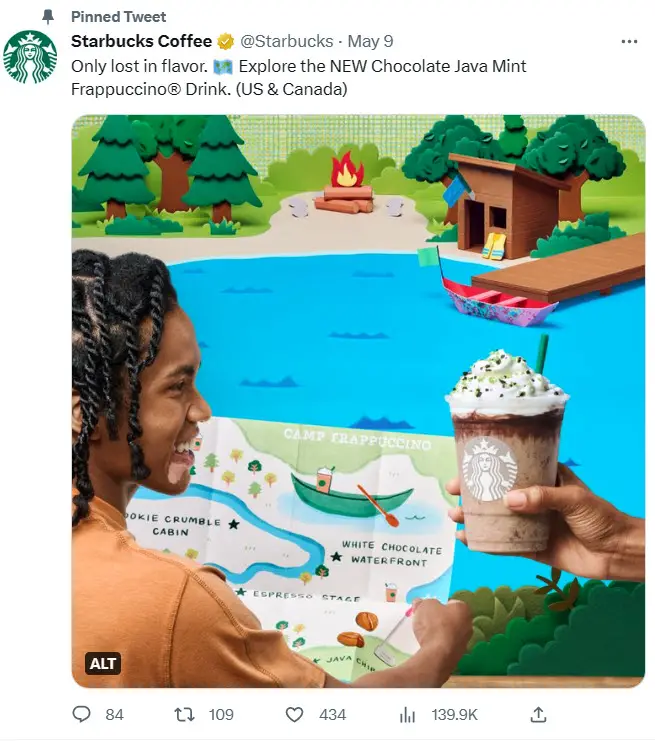 Oleato Coffee At Starbucks
As one of, if not the premier coffee chains in the world, Starbucks has always pushed the boundaries. So, here we go again with the introduction of Oleato Beverages to Starbucks – that's coffee infused with Partanna extra virgin olive oil.
So, that sounds kind of crazy, but Starbucks actually tested this in Italy last year to resounding success. Italy knows coffee and olive oil, obviously. So, the phenomenon is coming stateside, with Oleato Beverages hitting Chicago, Seattle, New York and Los Angeles cafes. Starbucks describes the concoction as "Velvety smooth" and "Deliciously lush". The options hitting U.S. markets are:
Starbucks Oleato Caffè Latte: Starbucks Blonde Espresso Roast infused with Partanna extra virgin olive oil, then steamed with creamy oatmilk
Starbucks Oleato Iced Shaken Espresso: Rich espresso with hazelnut tones mixed with creamy oatmilk and infused with Partanna extra virgin olive oil.
Starbucks Oleato Golden Foam Cold Brew: A dark, smooth cold brew infused with Partanna extra virgin olive oil.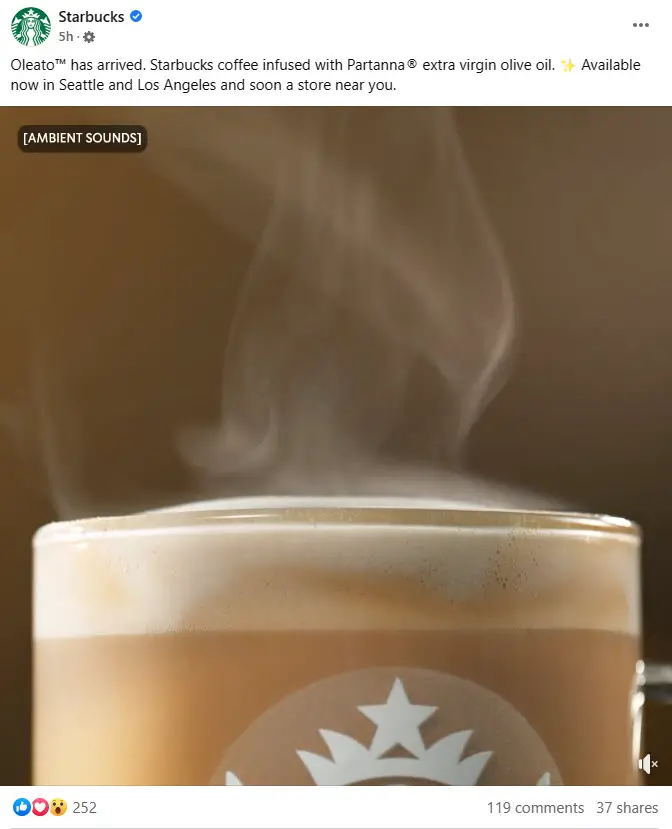 Pricing will vary by market, but the Oleato Caffè Latte is about $6.75, the Oleato Golden Foam Cold Brew around $6.50 and the Oleato Iced Shaken Espresso, $6.75. Prices at Starbucks Reserve locations may be higher, but they have more Oleato options, too. Some Reserve spots are even offering an Oleato Tasting Experience for about $50.
The jury's still out on whether this Oleato thing will gain broad appeal in the crowded and competitive coffee market, but Starbucks has made a living coming out ahead on stuff like this. Not everything they come up with turns to gold, but it's usually unwise to bet against them.
Winter Menu
Starbucks just launched its Winter Menu! Cozy up with some new items and returning favorites. Here is the lineup:
NEW Pistachio Cream Cold Brew: Cold coffee is a hit, regardless of the season, at Starbucks. This drink is a classic Cold Brew sweetened with vanilla syrup and topped with pistachio cream cold foam and salted sprinkles.
Pistachio Latte: To everyone's pleasure, this fan favorite is returning! The Pistachio Latte features sweet pistachio and rich brown butter with espresso and steamed milk. You can get it hot, iced, or as a Frappuccino blended drink.
Red Velvet Loaf: A vanilla cake swirled with red velvet cake, topped with white chocolate icing.
You will also be able to purchase whole-bean coffees this winter including the Starbucks Tribute Blend and two Starbucks Reserve Coffees. The Reserve Coffees are the NEW Starbucks Guatemala Lake Atitlan and Starbucks Reserve Ethiopia Yirgacheffe Chelelektu, available at select locations.
It's finally that time of the year again. Some people like summer, others like spring, but the holiday season is my forte. Starbucks is celebrating the season with new food and beverages that will be available for purchase starting November 3rd. Drink options this year include:
Peppermint Mocha
Caramel Brûlée Latte
Chestnut Praline Latte
Toasted White Chocolate Mocha
Iced Sugar Cookie Almondmilk Latte
Irish Cream Cold Brew
Food options include:
NEW Chocolate Pistachio Swirl
Reindeer Cake Pop
Sugar Plum Cheese Danish
Cranberry Bliss Bar
Snowman Cookie
These delectable treats are available for a limited time, so be sure to get them while you can!
Does Starbucks Still Have A Happy Hour?
Starbucks has historically had a Happy Hour on select Thursdays.  The Starbucks Happy Hour is available to app users on select Thursdays with a buy one, get one free offer.  The happy hour begins at 2 pm and is good on any handcrafted drink, which includes espresso beverages, Frappuccinos and iced coffees. Espresso beverages include Cappuccinos, Macchiatos, and Lattes, including the newly returned Pumpkin Spice Latte. We haven't heard of any Happy Hours in awhile, the recently announced Thurs-Yays in September with buy one, get one free
drinks
sure is promising.  We'll keep our fingers crossed and keep you posted when the next one hits!
Starbucks Coupons
Starbucks isn't really into the coupon thing.  They get plenty of business without them.  However, if we come across any Starbucks coupons, we'll put them up for you here!  In the meantime, you can get a free coffee if you're a new member for the Starbucks Rewards program (see below).  That's about the closest thing to a Starbucks coupon there is right now.  You can also save by using the Rewards Program to earn Stars towards free coffee or food.  It's worth your time, really.  Read below for more information on how to get started saving with the Rewards program.
Free Coffee For Rewards Signup
Starbucks Rewards offers you a chance to earn points towards free food for if you visit frequently.  If you want to create an account, click here for the Starbucks Rewards page.  If you're into Starbucks on the go (most of us are), click here and download the mobile app and you can create a Rewards account at the same time for maximum efficiency and free drinkness!
As a Rewards member, you'll earn 1 star per $1 spent. Use a gift card or a pre-loaded card on Starbucks app as payment and double that to 2 stars per $1 spent and you will still be able to redeem your points at different levels.  Rewards available are as follows:
25 Stars – customer your drink with an extra espresso shot, syrup, or dairy substitute
100 Stars – a free hot coffee, tea or bakery item
200 Stars – a free handcrafted drink or hot breakfast sandwich
300 Stars – a free sandwich, protein box or package of at-home coffee
400 Stars – a free signature cup, drink tumbler or other merch up to $20
Starbucks App
You'll need to have the Starbucks app and be logged into your rewards account to get Happy Hour deals. Rewards members automatically get a coupon loaded into their Starbucks app. Show the coupon bar code to your barista to get the deal.
To get regular invitations, join the free Starbucks Rewards Program and download the Starbucks app.  In our review, we rated the app an 8/10 and found that it justifies the precious memory space on the phones of caffeine lovers everywhere.
Does Starbucks Give Free Refills?
Rewards members get free refills on brewed coffee and tea.  To get a free refill show your Starbucks rewards card or your app. In addition to free refills you'll receive Happy Hour invitations, free drink or food rewards, custom offers on items you enjoy, early access to new products and easy ordering and payment.
Free refills are available only during your visit and do not include lemonade,iced tea infusions, or handcrafted beverages, such as the frappuccinos and lattes.
For more details, visit: Starbucks Rewards
Can I Get Starbucks Delivered?
Starbucks delivers with UberEats in select cities and states. You simply have to place an order through the UberEats app or the DoorDash app (for select locations). There will be an optimized menu for delivery, however, so you may not see your favorite treats on the custom menu. Click here to see if you are able to get Starbucks delivered to your current location. Plus, be sure to use the promo code COFFEE4U to get $5 off your first two delivery orders.
Where Can I Find Starbucks' Nutritional Information?
Starbucks has a spreadsheet with nutritional information for each menu item. It is important to know what you're putting in your body.
How Can I Get a Free Coffee from Starbucks?
Starbucks has a rewards program and customers can enroll to get free coffee. Every dollar spent is one star and at 50 stars you can get a free coffee. If you use a gift card or a preloaded card, you will get 2 stars for every dollar spent. You can also score other freebies once you advance star tiers (they count off by 25).