If you aren't a member of the Excellent Starbucks Rewards program, now is a great time to try it.  Now through August 10, when you join and sign up for payment via the Starbucks Card or in the app, you'll get a free beverage for your troubles!  Starbucks announced the offer on their website. If you want to create an account, click here for the Starbucks Rewards page.  If you're into Starbucks on the go (most of us are), click here and download the mobile app and you can create a Rewards account at the same time for maximum efficiency and free drinkness!
Free Coffee For Front Line Responders Through May 31
Our nation's front-line responders are working overtime, away from their loved ones, and risking their own health to help others during the coronavirus outbreak.  Now, Starbucks is stepping up in a big way to say thank you!  Through May 31, all front-line responders to the COVID-19 outbreak will receive a FREE tall hot or iced coffee.  No purchase is necessary.  Front-line responders include police officers, firefighters, doctors, nurses, hospital workers and paramedics.  Please bring an ID or wear your uniform to be eligible for the deal.  Starbucks announced the news on their running COVID-19 updates page here and on Twitter.
Thank you to the healthcare workers and first responders working tirelessly to keep our communities safe. 💚

Inspired by the generosity of our partners (employees), we are offering all front-line responders a free tall brewed coffee at participating stores in the US. pic.twitter.com/e7Z8aRCtMt

— Starbucks Coffee (@Starbucks) March 26, 2020
Expanded Happy Hour Deals
Starbucks has expanded their Happy Hour on select Thursdays.   
The Starbucks Happy Hour is available to app users on select Thursdays with a buy one, get one free offer.  Previously the Happy Hour started at 3 pm and included a BOGO on select beverages only.  The new happy hour begins at 2 pm and is good on any handcrafted drink, which includes espresso beverages, Frappuccinos and iced coffees.
"Meet a friend, plan a date, escape from the office—Happy Hour is now from 2–7 pm on select Thursdays and it's buy one, get one free on ANY handcrafted drink (size grande or larger)," the chain announced on their Starbucks Happy Hour page.
"That means you can enjoy everything from iced coffee to cold brew, macchiatos to matcha, Pink Drink to Frappuccino drinks. It even includes Nitro, where available. Just get the app for your Happy Hour coupon. Then keep an eye out on Thursdays and scan to redeem the deal."
Espresso beverages include Cappucinos, Macchiatos, and Lattes, including the newly returned Pumpkin Spice Latte.  You can find the complete Starbucks espresso beverage menu at:  Starbucks Espresso Beverages
You can find the complete Starbucks Frappucino beverage menu at:  Starbucks Frappucino Beverages
You'll need to have the Starbucks app and be logged into your rewards account to get Happy Hour deals. Rewards members automatically get a coupon loaded into their Starbucks app. Show the coupon bar code to your barista to get the deal.
To get regular invitations, join the free Starbucks Rewards Program and download the Starbucks app.  In our review, we rated the app an 8/10 and found that it justifies the precious memory space on the phones of caffeine lovers everywhere.
Starbucks Free Refills
Rewards members get free refills on brewed coffee and tea, the chain announced.
To get a free refill show your Starbucks rewards card or your app. In addition to free refills you'll receive Happy Hour invitations, free drink or food rewards, custom offers on items you enjoy, early access to new products and easy ordering and payment.
Free refills are available only during your visit and do not include lemonade,iced tea infusions, or handcrafted beverages, such as the frappuccinos and lattes.
For more details, visit: Starbucks Rewards
For more information see these Starbucks Websites:
About Starbucks (from Wikipedia)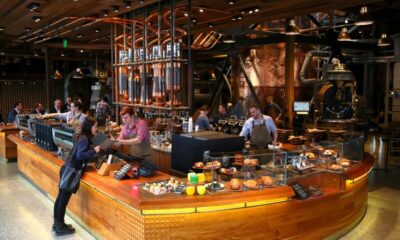 Starbucks Corporation (NASDAQ: SBUX) is an international coffee and coffeehouse chain based in Seattle, Washington. Starbucks is the largest coffeehouse company in the world, with 17,009 stores in 55 countries, including over 11,000 in the United States, over 1,000 in Canada, over 700 in the United Kingdom, and over 150 in Turkey.
Starbucks sells drip brewed coffee, espresso-based hot drinks, other hot and cold drinks, coffee beans, salads, hot and cold sandwiches and panini, pastries, snacks, and items such as mugs and tumblers.
For more information, visit the Starbucks website.