National Sandwich Day is November 3.  You should probably go out and get a sandwich to celebrate.  But where?!  We've put together a list with all the best deals to help you get the most bang for your buck!
EatDrinkDeals includes links to restaurant websites where you can confirm the deal and find further information.  We won't post any deals that cannot be verified from a source such as the restaurant website, social media account, or press release.  So don't be afraid – get out there and save!
Do you want to have great deals like these emailed directly to you? Click here to sign up for our newsletter!
Beef 'O' Brady's
Get any sandwich except the Prime Rib Sandwich with fries for just $7 at Beef 'O' Brady's on November 3.  Mention the deal in this Beef 'O' Brady's social post to your server, or use promo code SANDWICHDAY21 for online orders.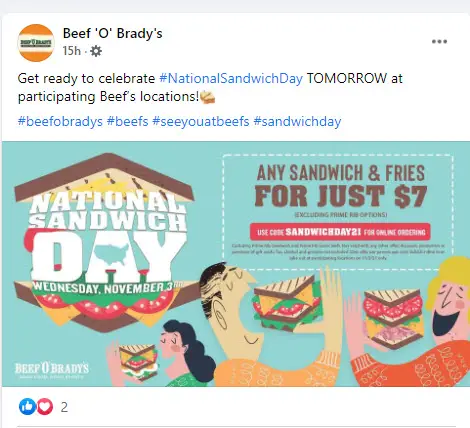 Burger King has $2 Whopper Wednesdays; some Wednesdays you can get the deal for just $1. Get a Whopper for just $1 or $2 when you purchase in the app, or online at BK.com.  Here's a typical announcement Burger King makes on Facebook: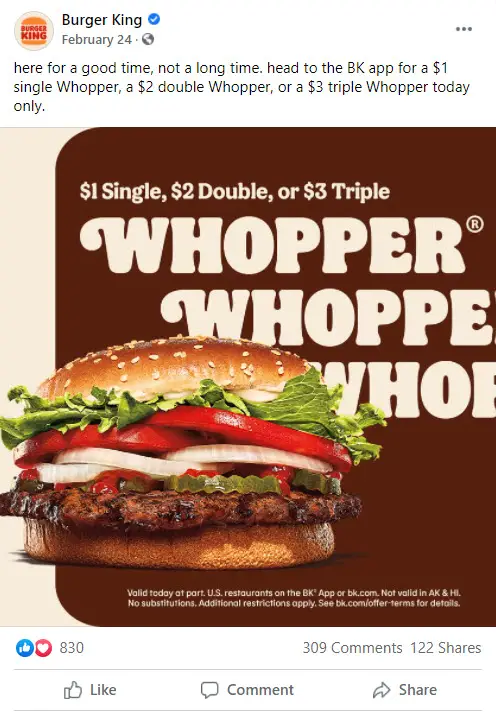 Carl's Jr.
Get a Monster Angus Thickburger for $5.49 with a Carl's Jr. coupon valid through November 4.  Redeem this coupon when you order: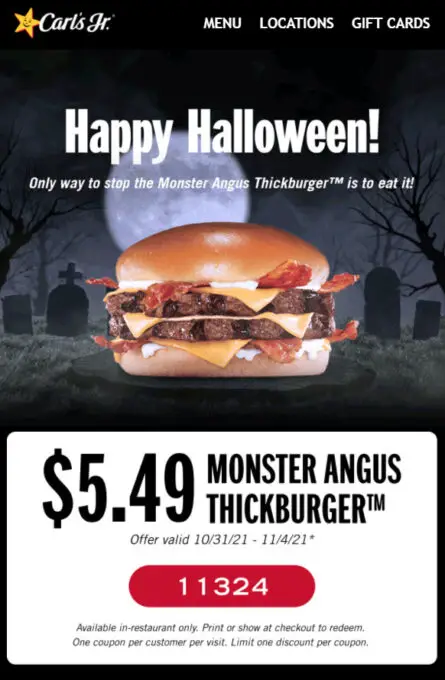 Buy one sandwich and get another 50% off with this Corner Bakery coupon good on November 3.  CLICK HERE for your Corner Bakery coupon.  For online orders, use promo code 752.  Click here if you want to start an order on your sammies.
Dickey's Barbecue Pit
Get a Big Yellow Cup and either the Westerner or Cueban Sandwich for just $6.99 with a Dickey's deal valid online through November 5.  Click here to start an online order, and you should see the offer in the Limited Time Only section of the menu at the top.  A Big Yellow Cup is about $3, and depending on your location, the Cueben or Westerner Sandwich can cost $7-8, so you're saving $4-$5.  Dickey's posted the deal on their Facebook page.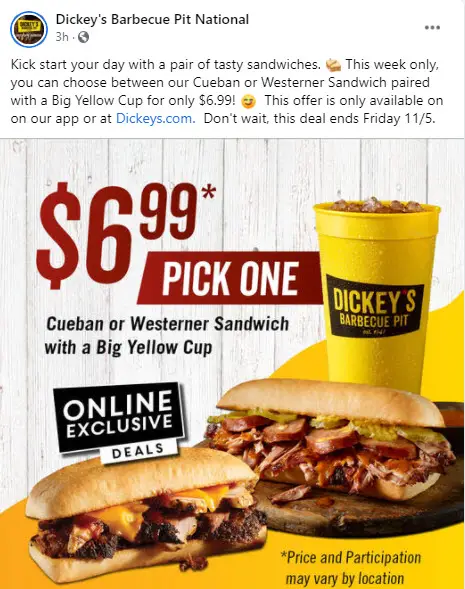 Hardee's
Get a Monster Angus Burger Small Combo for $8.49 with a Hardee's coupon valid through October 25.  Redeem this coupon when you order: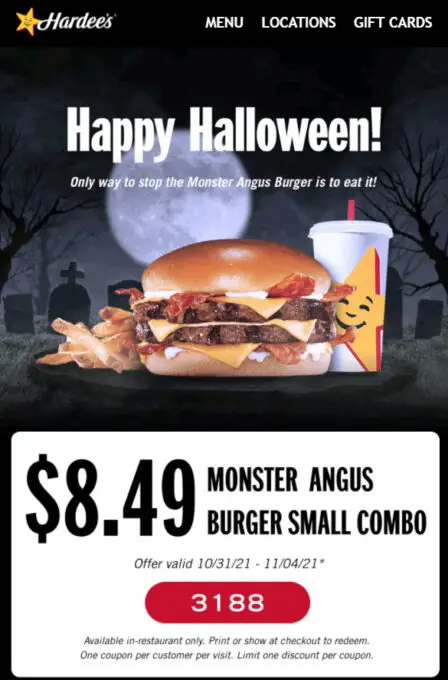 Ike's is celebrating its 14th birthday along with Sandwich Day by offering 1,400 free sandwiches to its Rewards members on November 3.  Sign up by November 1 to be eligible – you can do that here.  Then, ALL Rewards members can get a free drink on November 4 and free chips on November 5, then free delivery on November 6-7 with promo code LOVEIKES.  Ike's spread the love with this press release.
Jersey Mike's
Get $2 off a  Regular Sub with a Jersey Mike's coupon code valid for app purchases through November 7!  Looking for the app?  Click here to download it.  Use promo code SANDWICH at checkout for the deal.  It should look like this – note that the discount will apply once you hit "Next" to go to the next screen for payment: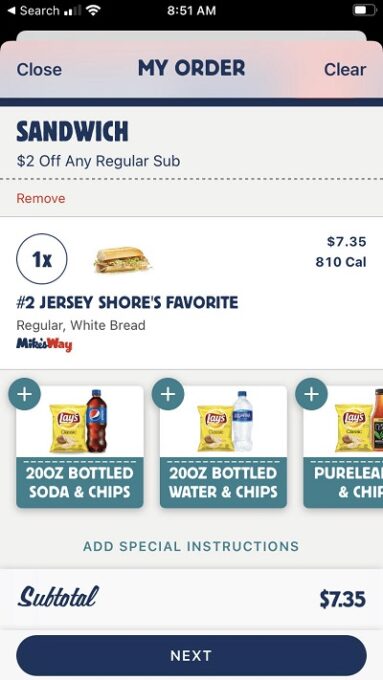 Jimmy John's
Jimmy John's is donating 100% (that's all of it for us mathematically challenged folks) of the sales of its new Beefy Black and Bleu sandwich to the Jimmy John's Foundation on November 3.  To learn more about the mission of the Jimmy John's Foundation and its partnership with the Boys & Girls Clubs of America, visit their site here.
McAlister's Deli
From November 3 through November 17, McAlister's Rewards Members can use a Buy One, Get One Sandwich 50% off reward. Sign up here for the Rewards perks.  McAlister's posted the deal online.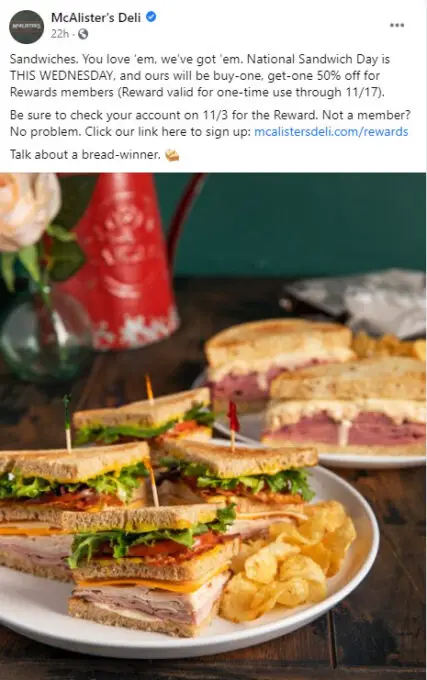 Panera
Get 25% off your order up to a $5 total discount with a Panera promo code valid online and in the app through November 30!  Click here to start an online order on the Panera website and click Order Online at the top. Grab the items you want, and at checkout, use promo code FALLFAV25.
Your max discount would be $5 on an order of $20 or more.  Here's how it looks at checkout after you've put input the code correctly: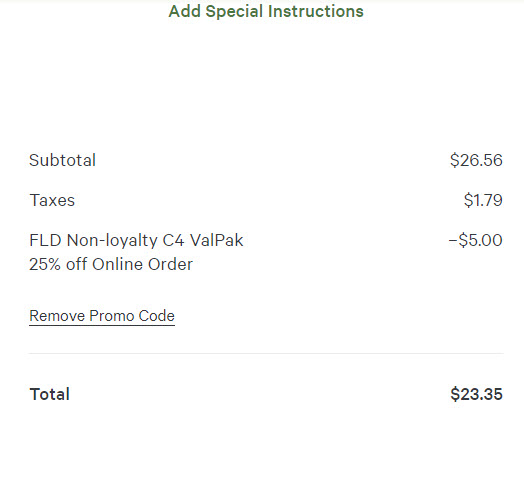 Click here to read our EatDrinkDeals Panera story to learn about other deals, like their $5.99 Value Duets and $8.99 monthly subscriptions for unlimited coffee.
On November 3, Potbelly Perks members can buy one Original or BIG Sandwich and get one free!  Potbelly posted the deal on their social accounts.  Click here to get info on Potbelly Perks and sign up.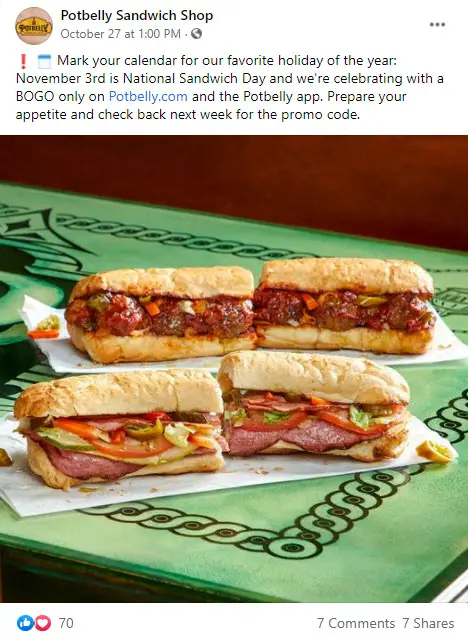 Quizno's
Buy one sub and get another one 50% off on National Sandwich Day at Quiznos.  You'll need to be a Toasty Points member for the deal.   To join, see the Quiznos Toasty Points page here.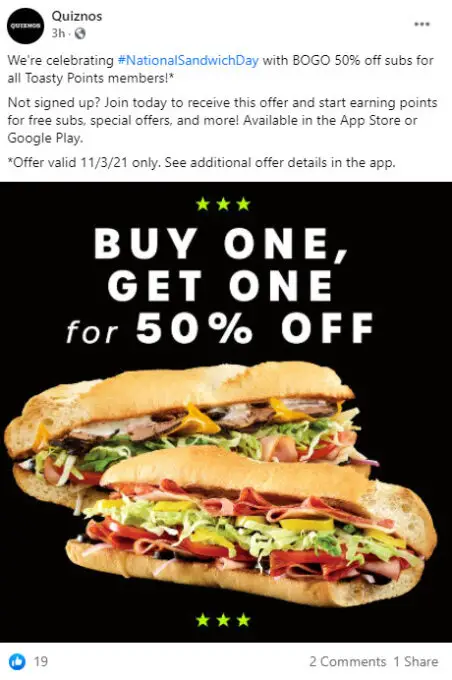 Schlotsky's
On November 3, customers who have the Schlotzsky's app can get a medium sandwich for $5. You can load up for a group and get up to 5 of them.
Buy one footlong and get another 50% off or even free with some sweet Subway coupon codes!  Not all locations honor the buy one, get one free code, but you should almost always be able to use the buy one, get one 50% version.  Use promo code BOGO50 when you've got two footlong subs in your order to buy one and get another 50% off.  Or, try FREESUB for the buy one, get one free offer.  Click here for the Subway website and hit "Start Order" at the top right.   Visit our Subway page here for more details on these codes.
Which Wich
Sandwich Day falls on a Wednesday this year, which means you can get in on the Which Wich Wicked Wednesday special with a Regular Wicked sandwich for $5!  The flagship Wicked Wich is a quintuple threat with turkey, ham, roast beef, pepperoni, and bacon, plus the choice of three cheeses and any additional toppings. Which Wich will post the deal on their website on Wednesdays.
White Castle
Buy one Original or Cheese Slider and get one free with a White Castle coupon valid on November 3.  CLICK HERE for your White Castle coupon.