Newk's Eatery has a new Mix & Match family meal deal that feeds four people for $24.
Newk's said their family meal deal – good through December 31, 2019 – allows guests to mix & match four entrees for $24 after 4 p.m. Choices on the Mix & Match menu include four hand-crafted pizzas (Pepperoni, Pepperoni & Sausage, BBQ Chicken or Margherita), three entrée salads (Greek, Caesar or Simply) or their signature Five Cheese Mac & Cheese entrée, all for only $24.
Regular prices for the entrees are $7 to $9, so the 4 for $24 deal represents a savings of up to $12.
*Choose any four shareable entrees and place your order after 4 pm to receive the $24 price. Add protein to your salads for an additional charge. Orders scheduled for future pick up or delivery will be price adjusted as they ring in after 4 pm.
Newk's Grab and Go Chili
Newk's also announced a Newk's Grab & Go Chili bundle, which includes 64 ounces of their Newcomb Family Recipe Beef Chili, shredded Cheddar cheese, sliced pickled jalapeños and sour cream, available in their Express Market open air cooler.  Price is about $25.
"This season, guests can focus on things that matter the most while enjoying wholesome, comfort food recipes you've come to expect from Newk's, handcrafted with our best of the best ingredients," said Chris Newcomb, Newk's Eatery co-founder and CEO. "We're committed to offering satisfying meals without shortcuts, that ease the stress of the season. We hope families can connect over a good meal and focus on the relationships that matter the most in their lives."
The new menu offerings are available at all Newk's locations. For additional information, or to find a restaurant near you, please visit www.newks.com.
Newk's Dessert Coupon
Get a Newk's coupon for a free dessert when you join the Newk's Eatery Roundtable Club.
CLICK HERE to enroll. Newk's Eatery is a chain of fast casual cafés.  Newk's operates over 100 restaurants in 13 states.
About Newk's Eatery (from Wikipedia)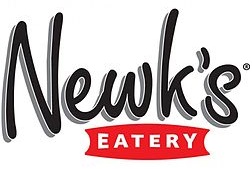 Newk's Eatery was founded in 2004 as Newk's Express Café by father and son chefs, Don and Chris Newcomb, with the first store opening in Oxford, Mississipi.  Today, over 100 Newk's locations operate in 13 U.S. states. The company is headquartered in Jackson, Mississippi, United States.
Newk's purveys gourmet made-from-scratch sandwiches, soups, salads, California-style pizzas, desserts, fresh fruit, coffee, specialty drinks, wine, beer, and a large variety of other related items. The restaurant chain, situated on the upscale spectrum of fast casual, maintains a strong culinary focus with all products made-from-scratch with fresh ingredients in each store daily. Defining features of the company's restaurants are open kitchens and large roundtables with gourmet condiments, toppings, and breadsticks, which can be found at all Newk's locations.