Mix and Match 4 Entrees for $24 through March 29 at Newk's Eatery.  Choose from Pizzas, Entree Salads, or Entree Five Cheese Mac & Cheese.  Newk's sent this email with the offer.
Newk's Rewards Coupon
Get a Newk's coupon for a free dessert when you join the Newk's Eatery Roundtable Club.
CLICK HERE to enroll. Newk's Eatery is a chain of fast casual cafés.  Newk's operates over 100 restaurants in 13 states.
About Newk's Eatery (from Wikipedia)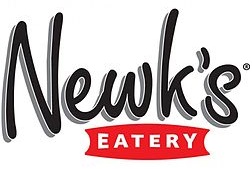 Newk's Eatery was founded in 2004 as Newk's Express Café by father and son chefs, Don and Chris Newcomb, with the first store opening in Oxford, Mississipi.  Today, over 100 Newk's locations operate in 13 U.S. states. The company is headquartered in Jackson, Mississippi, United States.
Newk's purveys gourmet made-from-scratch sandwiches, soups, salads, California-style pizzas, desserts, fresh fruit, coffee, specialty drinks, wine, beer, and a large variety of other related items. The restaurant chain, situated on the upscale spectrum of fast casual, maintains a strong culinary focus with all products made-from-scratch with fresh ingredients in each store daily. Defining features of the company's restaurants are open kitchens and large roundtables with gourmet condiments, toppings, and breadsticks, which can be found at all Newk's locations.