Get $1 off Crispy Tenders, $1 off a Latte and other deals with these McDonald's app coupons good today through Sunday, May 26, 2019.
McDonald's currently has these coupons* available only through the app; you can click the "Deals" button in the app to see these and any other current coupons.  To redeem any of these coupons, you can either show to your cashier, or order through the app:
$1 off 4 pc Buttermilk Crispy Tenders

$1 off large McCafe Frappe, Mocha or Latte

$1 off Hotcakes and Sausage Platter

Buy a large Minute Maid Slushie, get one for 50 cents

Buy a medium or large fries, get any size soft drink for 50 cents
You can download the app and get more details on the McDonald's Weekly Deals at the McDonald's App Site.  Some deals may not be available in all locations.  *McDonald's app offers vary by location; your deals may differ.
McDonald's Senior Discount
Senior citizens can get soft drinks and coffee for 59 cents* by ordering through the McDonald's app. When you browse the mobile order menu for soft drinks or coffee, select Senior as the size (change the default from medium).  You'll get your drink for 59 cents.  *Price may vary by location; shown is the typical price.
How To Use the McDonald's App Coupons:
The McDonald's coupons will appear in the "Deals" section of the app after you have registered. To redeem a McDonald's coupon on your phone, select the offer you want, tap "redeem" and scan your phone when you order.
Terms and Conditions
McD App download and registration required. Valid only at participating U.S. McDonald's.
More Fast Food Coupons
For more deals like this including coupons from Wendy's and Burger King, see the EatDrinkDeals Fast Food Coupons page.
About McDonald's (from Wikipedia)
McDonald's Corporation (NYSE: MCD) is the world's largest chain of hamburger fast food restaurants, serving around 68 million customers daily in 119 countries. Headquartered in the United States, the company began in 1940 as a barbecue restaurant operated by Richard and Maurice McDonald; in 1948 they reorganized their business as a hamburger stand using production line principles. Businessman Ray Kroc joined the company as a franchise agent in 1955. He subsequently purchased the chain from the McDonald brothers and oversaw its worldwide growth.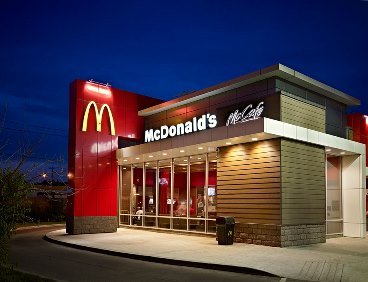 A McDonald's restaurant is operated by either a franchisee, an affiliate, or the corporation itself.
McDonald's primarily sells hamburgers, cheeseburgers, chicken, french fries, breakfast items, soft drinks, milkshakes and desserts. In response to changing consumer tastes, the company has expanded its menu to include salads, fish, wraps, smoothies and fruit.  McDonald's has about 34,000 locations worldwide.