Get $0.99 Coffee (or free for Healthcare Workers!), $1 off $7 purchases and more with these McDonald's app coupons good through April 5, 2020.
Currently, these coupons* are available only through the McDonald's app; you can click the "Deals" button in the app to see these and any other current coupons.  To redeem any of these coupons, you can either show to your cashier, or order through the app.  Note that these coupons vary by your geographic location, but you should see some similarities – your app may give you a BOGO deal on a breakfast burrito instead of an Egg McMuffin, for example:
FREE Premium Roast Coffee for Doctors, Nurses, or First Responders – no purchase necessary.  Valid ID required.
$1 off any purchase of $7 or more – Daily Deal valid once a day
$1 Large Fries – Daily Deal valid once a day
Buy a Big Mac, get a Large soft drink free – Daily Deal valid once a day
$1 off an Egg McMuffin, Sausage McMuffin with Egg, Bacon Egg and Cheese Biscuit or Sausage Egg and Cheese Biscuit – Daily Deal valid once a day
$1 off Large Fries (valid once a week through 5/3/2020).
$0.99 any size Premium Roast or Iced Coffee (valid once a day through 5/3/20)
You can download the app and get more details on the McDonald's Weekly Deals at the McDonald's App Site.  In our review of the McDonald's app, we liked the interface and had no problems with the ordering process from start to finish.  We also liked how the coupons are easy to spot in the Deals section. 
*McDonald's app offers vary by location; your deals may differ.

Other McDonald's Deals
McDonald's also has plenty of other deals and special menu items available without the need for coupons.  Check out our EatDrinkDeals McDonald's Menu story to learn about the latest promotions.
McDonald's Senior Discount
Senior citizens can get soft drinks and coffee for 59 cents* by ordering through the McDonald's app. When you browse the mobile order menu for soft drinks or coffee, select Senior as the size (change the default from medium).  You'll get your drink for 59 cents.  *Price may vary by location; shown is the typical price.
For other great senior discounts elsewhere, visit our EatDrinkDeals AARP Restaurant Discounts article.
McDonald's App Coupon – Buy 5 McCafé Drinks, Get 1 Free
Exclusively available on the McDonald's app, get a free McCafe beverage for every five that you purchase.
* Offer Valid thru 5/3/20 at participating McDonald's. See McDonald's App For Details. Mobile Order & Pay At Participating McDonald's. McDonald's App download and registration required. 
How To Use the McDonald's App Coupons:
The McDonald's coupons will appear in the "Deals" section of the app after you have registered. To redeem a McDonald's coupon on your phone, select the offer you want, tap "redeem" and scan your phone when you order.
Terms and Conditions
McDonald's App download and registration required. Valid only at participating U.S. McDonald's.
More Fast Food Coupons
For more deals like this including coupons from Wendy's and Burger King, see the EatDrinkDeals Fast Food Coupons page.
About McDonald's (from Wikipedia)
McDonald's Corporation (NYSE: MCD) is the world's largest chain of hamburger fast food restaurants, serving around 68 million customers daily in 119 countries. Headquartered in the United States, the company began in 1940 as a barbecue restaurant operated by Richard and Maurice McDonald; in 1948 they reorganized their business as a hamburger stand using production line principles. Businessman Ray Kroc joined the company as a franchise agent in 1955. He subsequently purchased the chain from the McDonald brothers and oversaw its worldwide growth.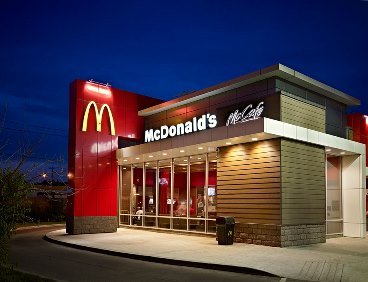 A McDonald's restaurant is operated by either a franchisee, an affiliate, or the corporation itself.  McDonald's primarily sells hamburgers, cheeseburgers, chicken, french fries, breakfast items, soft drinks, milkshakes and desserts. In response to changing consumer tastes, the company has expanded its menu to include salads, fish, wraps, smoothies and fruit.  McDonald's has about 34,000 locations worldwide.
McDonald's Info
McDonald's is the world's largest restaurant chain by revenue, serving over 69 million customers daily in over 100 countries across 37,855 outlets as of 2018.  Although McDonald's is best known for its hamburgers, cheeseburgers and french fries, they also feature chicken products, breakfast items, soft drinks, milkshakes, wraps, and desserts. In response to changing consumer tastes and a negative backlash because of the unhealthiness of their food, the company has added to its menu salads, fish, smoothies, and fruit. The McDonald's Corporation revenues come from the rent, royalties, and fees paid by the franchisees, as well as sales in company-operated restaurants. According to two reports published in 2018, McDonald's is the world's second-largest private employer with 1.7 million employees (behind Walmart with 2.3 million employees).