Editor's Note:  Old Chicago sent unfortunate news that as of March 21, 2020, all locations are closed indefinitely due to business challenges from the coronavirus outbreak.  Here's a press release with the info.
Old Chicago Rewards
Get a free appetizer, a $17 credit on your birthday and more deals when you sign up for the Old Chicago rewards program
New rewards members receive a free appetizer up to $10 after their first transaction.  Rewards members also get a $17 credit towards purchase of a pizza; credit is loaded to your account just prior to your birthday.  More details below.
You can sign up at:  Old Chicago Rewards
*Terms of Old Chicago Rewards special: If you have registered your OC Rewards account, provided us with your birthdate during that registration, and made one visit to one of our locations in the 12-month period prior to your birthday, we will automatically upload a Birthday Value to your account. The Birthday Value is valid for 14 days, starting seven days prior to your registered birthdate. Limit one Birthday Value per 12-month period. The Birthday Value will be subject to the terms and conditions set forth below governing redemption of rewards. Our current Birthday Value is worth $17 towards the purchase of a pizza. The Birthday Value must be redeemed in a single visit.  Details:  https://oldchicago.com/page/terms-conditions
About Old Chicago Pizza & Taproom (from Wikipedia)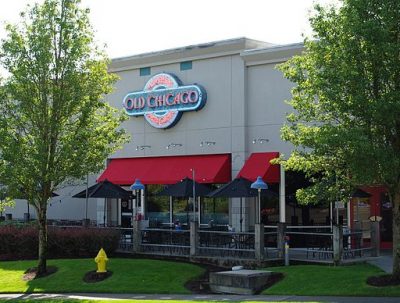 CraftWorks Restaurants & Breweries, Inc. is a multi-brand restaurant operator headquartered in Broomfield, Colorado USA. The company owns several casual dining restaurant chains, most notably Old Chicago, Gordon Biersch Brewery Restaurants, and Rock Bottom Restaurants Breweries. CraftWorks owns and operates nearly 200 restaurant locations throughout North America, has more than 12,000 employees, and over 70 locations serving beer brewed on-site, making it the largest operator of brewery restaurants.
CraftWorks Restaurants & Breweries operates 60 restaurants under the name Old Chicago. Franchise partnerships under its Old Chicago brand account for 36 additional locations not owned or operated by CraftWorks. Old Chicago restaurants can be found in 22 states.
Gordon Biersch combines German-style beer and its made-from-scratch cuisine. Featuring German lagers brewed according to the German Purity Law of 1516 (Reinheitsgebot), Gordon Biersch has won numerous gold medals at both the Great American Beer Festival and World Beer Cup. Gordon Biersch offers a made-from-scratch American menu with international flavors. The first Gordon Biersch opened in Palo Alto, California.  In 2016, Gordon Biersch had 32 locations nationwide. The company also reported four locations in Taiwan.