Old Chicago Pizza & Taproom has food and drink specials on NFL Game Days.
Get these $5 $7 and $14 specials during pro football season starting September 6, 2018:
$5 menu:  Pub Pizzas, Boneless Wings, or 4 pc Pepperoni Rolls
$7 menu: Pub Pizza + Miller Lite or Coors Light Pint
$14 menu: Gridiron Burger + 2 Miller Lite or Coors Lite Pints, or Pick Two $5 items + 2 Miller Lite or Coors Lite Pints
For more details visit the Old Chicago Football Specials website or contact your local Old Chicago.
More Game Day Deals
For more NFL Game Day Deals like this, see the EatDrinkDeals roundup of
Game Day Deals
.
About Old Chicago Pizza & Taproom (from Wikipedia)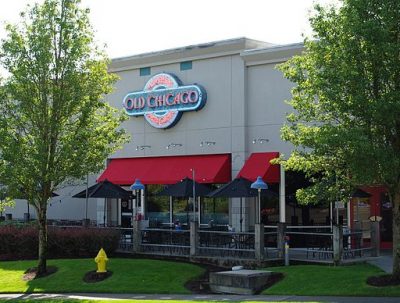 CraftWorks Restaurants & Breweries, Inc. is a multi-brand restaurant operator headquartered in Broomfield, Colorado USA. The company owns several casual dining restaurant chains, most notably Old Chicago, Gordon Biersch Brewery Restaurants, and Rock Bottom Restaurants Breweries. CraftWorks owns and operates nearly 200 restaurant locations throughout North America, has more than 12,000 employees, and over 70 locations serving beer brewed on-site, making it the largest operator of brewery restaurants.
CraftWorks Restaurants & Breweries operates 60 restaurants under the name Old Chicago. Franchise partnerships under its Old Chicago brand account for 36 additional locations not owned or operated by CraftWorks. Old Chicago restaurants can be found in 22 states.