P.F. Chang's has Family Meals starting at about $32 and cocktail four packs to go for about $30.
P.F. Chang's Family Meals
P.F. Chang's Family Meal for two is priced at about $32* and comes with your choice of one each of:
Lettuce Wrap
Soup
Noodle or Rice
Main Entrée.
You can also get a Family Meal for four for about $52 or for six for about $72.
Entree choices include
Chang's Spicy Chicken
Sesame Chicken
Kung Pao Chicken
Mongolian Beef
Beef with Broccoli
Buddha's Feast
GF Chang's Chicken
GF Mongolian Beef
GF Beef with Broccoli.
For the complete menu, select your local P.F. Chang's (start Here) then click Order Online to see the takeout menu.
P.F. Chang's Cocktails To Go
Where permitted by law, many P.F. Chang's also have cocktails and wine available for takeout. Get a Cocktail Four Pack for about $30. Mix and match any four of these drinks:
Organic Agave Margarita: Casa Noble Tequila and organic agave nectar shaken with fresh-pressed lime juice.
Red Sangria: Absolut Mandrin Vodka and 14 Hands Merlot.
Chang's Mai Tai: Premium rums shaken with fresh tropical juices and sweetened with Monin Almond Syrup.
Coconut Mojito: Malibu Coconut Rum, House-Made Coconut Cream, lime juice, mint leaves.
Twisted Whiskey Sour: Woodford Reserve Bourbon, Cointreau, orange juice, orange blossom honey, orange bitters.
Happy Hour at P.F. Chang's
Update: Due to Covid-19 restrictions, many P.F. Chang's have suspended their happy hour; before planning to take advantage of the deals below call your local P.F. Chang's to confirm they have happy hour specials.
Happy Hour times vary by location, but most P.F. Chang's have Happy Hour from 3 PM – 6 PM Monday through Friday. Here's a typical Happy Hour menu as of October 2019; prices may vary slightly by location:
Small Plates
Chang's Chicken Lettuce Wraps – A secret Chiang family recipe and signature dish. $6

Chang's Vegetarian Lettuce Wraps – A secret Chiang family recipe and signature dish. $6

Mongolian Potstickers $6

Spicy Tuna Roll – Ahi, cucumber, spicy sriracha. $6

California Roll – Kani kama, cucumber, avocado. $6

Crispy Green Beans $6

House-made Pork Egg Rolls $5

Cecilia's Shrimp Dumplings $5

Asian Mac & Cheese $5
Kung Pao Brussel Sprouts $5

Vegetable Spring Rolls – Crispy rolls stuffed with julienned veggies, sweet chili dipping sauce (4 per order). $5

Hand-Folded Crab Wontons (4) – Creamy crab filling, bell pepper, green onion, spicy plum sauce. $5

Kimchi Fries $4
Cecilia's Pork Dumplings $4
Tempura Poppers $3
Changs BBQ Spare Ribs $3
Rick's Northern-Style Spare Ribs $3.
Drink Specials
$4 Craft Beer by the Bottle
$6 Sake by the Jar
$6 Wine by the Glass
Pitchers of beer $8
$6 Cocktails by the Glass or $17.95 by the Pitcher:

Asian Pear Mojito
Sake Sangria
Red Sangria
Organic Agave Margarita
Aperol Spritzer
Pink Grapefruit Spritzer
Lillet Spritzer
For more details visit the PF Chang's Happy Hour web page. P.F. Chang's announced the new Happy Hour on their Facebook page. Hours Of Happy hours and Hours Of Happy specials are subject to change to comply with local or state liquor laws, and may vary by location.

About P.F. Chang's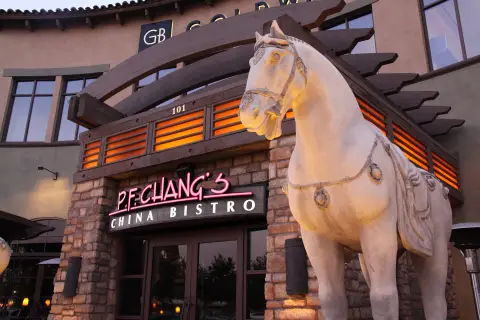 P. F. Chang's China Bistro is a chain of about 215 restaurants in the U.S. PF Chang's specializes in American Asian cuisine. You can find the complete PF Chang's menu at https://www.pfchangs.com/menu/main