Pizza Ranch has announced a slew of new deals for a limited time to help its customers through these tough times.  Pizza Ranch posted these deals on Facebook:
Small Pizza for $5
Medium Pizza for $7
Large Pizza for $10
8 Piece Chicken and Ranch Wedges for $12
Family Pasta with Sweet Marinara Sauce and 6 Breadsticks for $9.99
To start an online order, click here to go to the Pizza Ranch website.
Coupons
Get two large pizzas for $22 with these Pizza Ranch coupons good today through December 31, 2020.
CLICK HERE for your Pizza Ranch coupons.  Current Pizza Ranch coupons include:
$22 any two large pizzas

$5 for 4 20 oz Coca Cola Beverages
Ranch Rewards at Pizza Ranch
Pizza Ranch's Ranch Rewards program lets you earn one point for every dollar spent on qualifying buffet, carryout and delivery purchases at participating Pizza Ranch locations.  When you earn 75 points, you'll receive $5 in Ranch Rewards.  Click here for more information and details about how to sign up for the Ranch Rewards program.
Kid's Night at Pizza Ranch
Many Pizza Ranch locations offer one free Kid's Buffet with the purchase of an Adult Buffet at regular price on Kid's Night.  Visit the Pizza Ranch Kids Free Page for more information.
Gluten-Free Pizza
Many Pizza Ranch locations offer a gluten-free crust in a one-serving size for dine-in, carryout or delivery pizza orders.  Pizza Ranch also offers sauces and toppings that do not contain gluten in their ingredient statements.  For more information and a complete list of gluten-free menu offerings, check out the Pizza Ranch gluten-free crust website.  For a list of national pizza chains that offer gluten-free options, check out our Gluten-Free Pizza Roundup.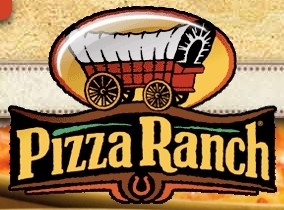 The Pizza Ranch, Inc., founded in 1981, is a "fast casual" restaurant chain. Pizza Ranch offers pizza, chicken, a salad bar, and a pizza and chicken buffet.  Pizza Ranch has more than 180 locations in Colorado, Illinois, Iowa, Kansas, Michigan, Minnesota, Missouri, Montana, Nebraska, North Dakota, South Dakota, Wisconsin, and Wyoming.  It's is the largest regional pizza franchise in Iowa, Minnesota, North Dakota, and South Dakota.
The first restaurant opened December 21, 1981 in Hull, Iowa.  The six original house pizzas were the Roundup (deluxe), Sweet Swine (Hawaiian), Texan Taco, Bronco (meat lover's), Prairie (veggie lover's) and Sagebrush.  Initially, Pizza Ranch only offered a Tuesday night buffet while the rest of the dining hours were for take-out or dine-in orders.
Pizza Ranch has grown over the years and now has franchises in thirteen states.  Their headquarters, formerly located in Hull, Iowa, is currently located in Orange City, Iowa.
Pizza Ranch is a Christian based company.  The Pizza Ranch vision is "To glorify God by positively impacting the world we live in."
The chain has become a popular stop for presidential candidates during the Iowa caucuses.
More Pizza Coupons
For more deals like this including coupons and promo codes from Pizza Hut, Papa John's, Domino's, Chuck E. Cheese and more pizza places, see the EatDrinkDeals Pizza Coupons page.