Pizza Ranch has a new $7.99 Mix and Match deal available for carryout orders placed online. Order at least two of the following items and get as many as you want, for $7.99 apiece:
Medium Single-Topping Pizza
Medium Ranch Stix with Cheese
8 Boneless Wings
Chicken Fries
Small Cactus Bread
Chocolate Chip Cookie
(4) 20 oz. Beverages
View the $7.99 Pizza Ranch menu online here.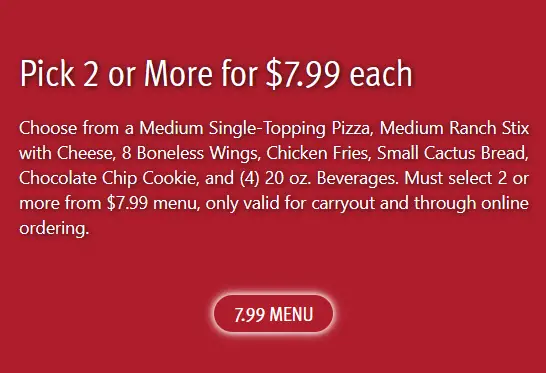 Pizza Ranch Coupons
Save on pizza and chicken bundles with these Pizza Ranch coupons.
CLICK HERE for your Pizza Ranch coupons. You'll need to enter your location and it will bring up local coupons for your favorite Pizza Ranch.  Examples of deals available include:
$28.99 Pizza Pack – Large pizza, small Cheesy Ranch Stix, Small Cactus Bread or Chocolate Chip Cookie
$30.99 Chicken Pack – 8 Piece Box, 6 Biscuits, Family Mashed Potatoes and Gravy. All white meat or sauced chicken at an additional cost.
$44.99 Combo Pack – Medium Pizza, 8 Piece Chicken Box, Family Mashed Potatoes and Gravy, Small Cactus Bread or Chocolate Chip Cookie. All white meat and sauced chicken at an additional cost.
$5 off 12-piece chicken.
Note that some of these deals are for online orders only.  To access them, you'll need to click here to start an online order, choose your location, and go to the Deals section.  Pizza Ranch has about 200 locations.
Ranch Rewards at Pizza Ranch
Pizza Ranch's Ranch Rewards program lets you earn one point for every dollar spent on qualifying buffet, carryout and delivery purchases at participating Pizza Ranch locations.  When you earn 75 points, you'll receive $5 in Ranch Rewards.  Click here for more information and details about how to sign up for the Ranch Rewards program.
Kid's Night at Pizza Ranch
Many Pizza Ranch locations offer one free Kid's Buffet with the purchase of an Adult Buffet at regular price on Kid's Night.  Visit the Pizza Ranch Kids Free Page for more information.  Usually, the deal is on Tuesdays during the regular hours the buffet is open, for kids aged 10 and under.
Many Pizza Ranch locations also offer 10% off to seniors and military.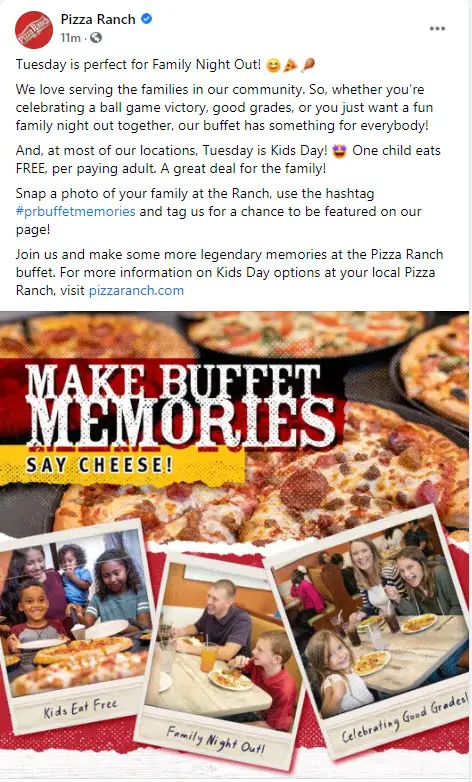 Many Pizza Ranch locations offer a gluten-free crust in a one-serving size for dine-in, carryout or delivery pizza orders.  Pizza Ranch also offers sauces and toppings that do not contain gluten in their ingredient statements.  For more information and a complete list of gluten-free menu offerings, check out the Pizza Ranch gluten-free crust website.  For a list of national pizza chains that offer gluten-free options, check out our Gluten-Free Pizza Roundup.