Get Boneless Wings for just $0.75 apiece when you buy 8 or more with a Pizza Hut deal valid online for a limited time at participating locations. If your Pizza Hut offers it, you'll find it here on their deals page like this: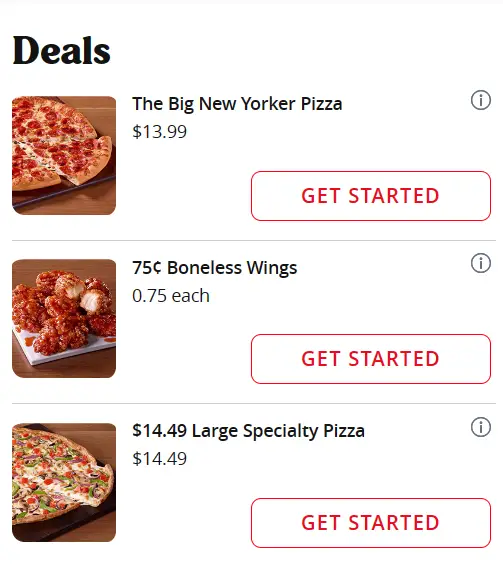 Also, try Pizza Hut's new Cheesesteak Melt and Pizza! Other specials include the Big New Yorker Pizza and Melts for $6.99. Also, The BOOK IT! program is back at Pizza Hut, with free pizza for kids that read!
Cheesesteak Melt and Pizza
Pizza Hut is introducing Cheesesteak to its menu! You can try it on pizza or in a melt. Starting at $13.99, the Cheesesteak Pizza features sirloin steak strips, alfredo sauce, green bell peppers, onion, and parmesan oregano. You can get it medium or large and pick your crust. The Cheesesteak Melt starts at $6.99 and includes melted cheese, sirloin steak strips, and an assortment of savory toppings, all baked into a crispy crust and topped with butter and parmesan oregano seasoning. You'll also get a side of ranch to dip in.
Big New Yorker Pizza
24 years ago, Pizza Hut came out with its 16-inch Big New Yorker Pizza. It hasn't been around for awhile, but it's back for $13.99 for a limited time.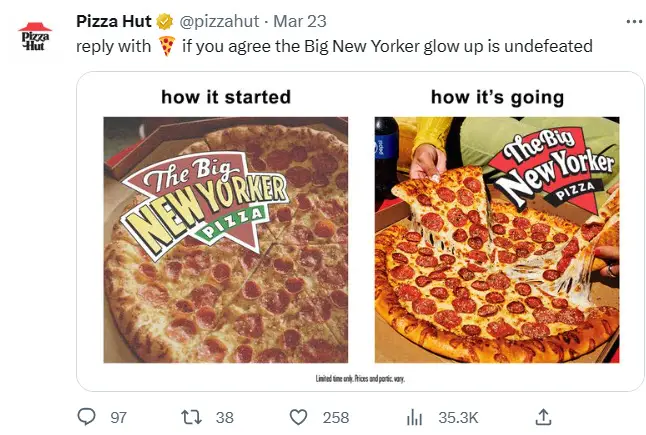 Pizza Hut Melts For $6.99
Pizza Hut recently added 'Melts' to its menu. These innovative menu items enable you to satisfy that pizza craving without having to actually order a pizza. A melt is basically two slices of Pizza Hut's Thin N' Crispy Crust folded over and filled with an array of toppings. There are four types of melts available right now:
Pepperoni Lover's with marinara dipping sauce
Buffalo Chicken with buffalo dipping sauce and ranch dipping sauce
Chicken Bacon Parmesan with ranch dipping sauce
Meat Lover's with marinara dipping sauce
You can snag these for $6.99 at participating locations.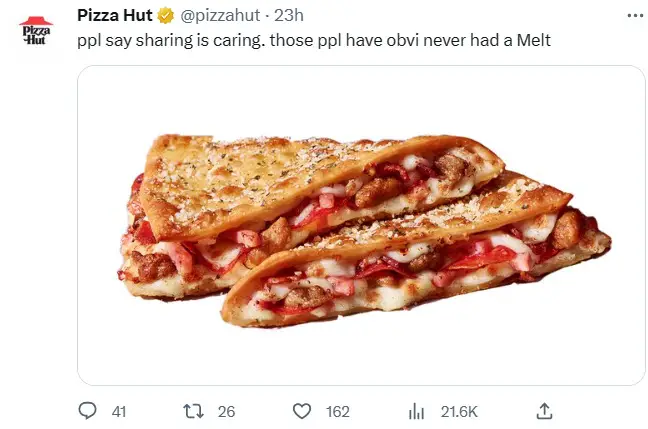 Tastemaker Comes Back For $10.99
Pizza Hut had a $10 Tastemaker deal for years, where you could get a Large Pizza with up to 3 toppings of your choice. Sadly, it went the way of the dodo last year. However, we've spotted the deal again – it's back from extinction! This time it's an extra buck. So, Tastemaker has returned, but it's $10.99. If it's available at your location, you'll find it on the Pizza Hut Deals page.
BOOK IT! Free Pizza For Kids At Pizza Hut
In 1984, Pizza Hut launched the BOOK IT! program to incentivize reading for children. Educators of Pre-K – 6th grade kids (either teachers or parents homeschooling) can sign their classrooms up for the BOOK IT! program. Teachers set goals for their students and when a student reaches their monthly reading goal, they are awarded a Reading Award Certificate giving them a free, one-topping Personal Pan Pizza from Pizza Hut. Students can earn up to 6 of these throughout the duration of the program. Click here to sign up and visit this link for more information and frequently asked questions.
Oven-Baked Pasta From Pizza Hut
Pizza Hut has new Oven-Baked Pasta available nationwide for $10.99. Pasta options include:
Chicken Alfredo: A combo of creamy Alfredo sauce, grilled chicken, and cheese.
Italian Meats: A brand new recipe with sweet tomato sauce, pepperoni, Italian sausage, and cheese.
Cheesy Alfredo: New creamy Alfredo sauce with two layers of cheese, topped with baked-fresh parmesan.
Veggie: A combination of sweet tomato sauce, green peppers, onions, tomatoes, black olives, and oven-baked cheese.
All of these options come with breadsticks or garlic bread and are topped with a new parmesan and oregano topping.
The Stuffed Crust Pizza
Pizza Hut's Stuffed Crust Pizza – introduced in 1995 – is back for a limited time with a three-topping large for $13.99.
"The Original Stuffed Crust pizza was a game changer 25 years ago, and while there have been many imitators, nothing beats Original Stuffed Crust from Pizza Hut," said George Felix, chief marketing officer, Pizza Hut.
The $13.99 Large up to 3-Toppings Original Stuffed Crust pizza offer is available for a limited time at participating traditional Pizza Hut locations nationwide for contactless delivery, carryout and curbside pickup.
Pizza Hut has the details up on its Deals page.
Big Dinner Box Deal
The Big Dinner Box is back at Pizza Hut!  The standard box comes with two medium, one-topping rectangular pan style pizzas, boneless wings and breadsticks  You can swap out the boneless wings for a pasta option or even a third pizza at most locations, too.
Pricing varies, but in our testing, we found it was about $23 – $25.  Pizza Hut has the details up on its homepage.
Pizza Hut Promo Codes
Visit our Pizza Hut Coupons and Promo Codes page here to save on your next Hut run!
About Pizza Hut
Pizza Hut is one of the iconic pizza restaurant chains in the world. It has more than 18,000 locations in over 100 countries. Along with Domino's, Papa John's, and Little Caesars, they make up a big share of the U.S. pizza market.
The restaurant's menu primarily focuses on – you guessed it – pizza, with a variety of toppings and crust styles. They also offer sides such as breadsticks, wings, and desserts like cinnamon sticks. There are always some Pizza Hut specials running, too. Recent hits include their Melts, which are like slices folded up (or calzones),  Stuffed Crust Pizza, and Oven Baked Pastas. Pizza Hut continues to innovate its menu to keep it fresh and get more repeat customers.