Scooter's Coffee is dishing out free coffee all September long! This is a bold move from the 600-plus strong chain. Get any size of fresh-brewed hot coffee, including medium or dark roasts and popular flavors like Caramelicious, Scooter Doodle, or French Vanilla. Free. Straight up. No tricks! You can find the free coffee deal posted on the Scooters Coffee website.
According to Joe Thornton, President of Scooter's Coffee, the brand wants to offer indulgent free coffee to both loyal and new customers throughout the month of September, rather than just on one day. Scooter's Coffee takes pride in serving high-quality coffee made from 100% Arabica beans sourced directly from farmer partners and roasted with care. The brand's friendly baristas serve farm-to-cup coffee with a smile, and they are excited to celebrate National Coffee Day throughout September to savor all the good that coffee brings to the day.
Scooter's Coffee Coupon
Get a coupon for 10% off an online order when you sign up for emails from Scooter's Coffee.  You can sign up on their homepage.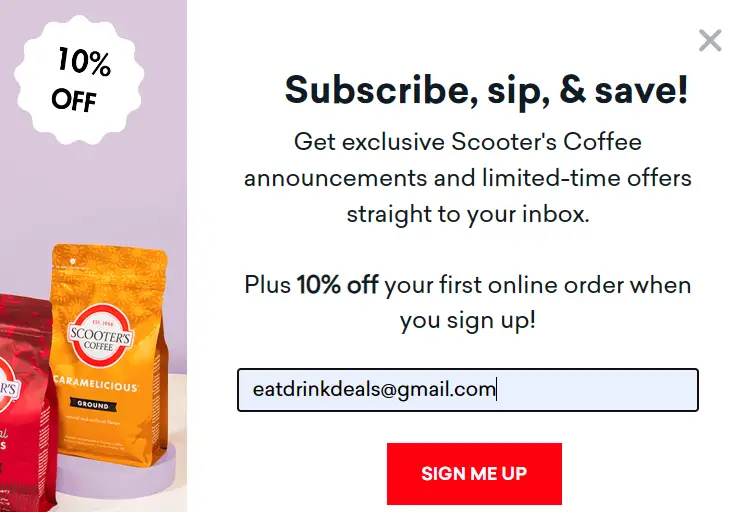 About Scooter's Coffee
Scooter's Coffee is a drive-thru coffeehouse chain founded in 1998 by Don and Linda Eckles in Bellevue, Nebraska. Scooter's has over 600 locations throughout the United States, serving a variety of coffee, tea, smoothies, and other beverages, as well as baked goods and breakfast sandwiches. Scooter's Coffee prides itself on its fast and friendly service, as well as its commitment to sourcing and roasting only the highest quality coffee beans. Scooter's also sells its coffee directly to customers via its online shop, and at retail locations nationwide.
Scooter's Coffee offers a wide variety of beverages and food items, but some of their most popular menu items include:
Caramelicious: a caramel latte with whipped cream and a caramel drizzle
Mocha: a chocolate latte with whipped cream and a chocolate drizzle
Caramelicious Caramel Mocha: a combination of the Caramelicious and Mocha drinks
Iced Caramelicious: an iced version of the Caramelicious drink
Caramelicious Caramelicious: a double shot of espresso with caramel and cream
White Mocha: a white chocolate latte with whipped cream and a white chocolate drizzle
Hot Chocolate: a classic hot chocolate topped with whipped cream
Chai Tea Latte: a spiced tea latte with steamed milk
Breakfast Sandwiches: a variety of breakfast sandwiches, including the Bacon, Egg & Cheese Croissant and the Sausage, Egg & Cheese Biscuit
Baked Goods: a selection of muffins, scones, and other pastries