Sheetz gas stations / convenience stores have 2 hot dogs for $1, unlimited fries for $9.99 a month, and more deals for Sheetz Rewards members.
Sheetz Food Deals
Sheetz has two hot dogs for $1, pizzas for $3.99 and more food specials.
At Sheetz you can order order from a kiosk inside or order online or through the Sheetz App. Many locations offer drive-through or curbside pickup.  Food deals at Sheetz include the following; some deals require a Sheetz Rewards membership:
$0.99 Hot Dogs or 2 for $1
$3.99 2 Dogz Meal
$3.99 Pepperoni Personal Pizza
$4.99 Grilled Cheese Meal Deal
$4.99 half Turkey Sub Meal Deal
$4.99 Shmuffin Meal Deal.
Find more deals by following these steps:
Go to the Sheetz app.  If you haven't downloaded it yet, you can get set up in about 3 minutes with your email address.
Hit the "My Sheetz Rewards" icon in the bottom center of the screen, then go to Offerz.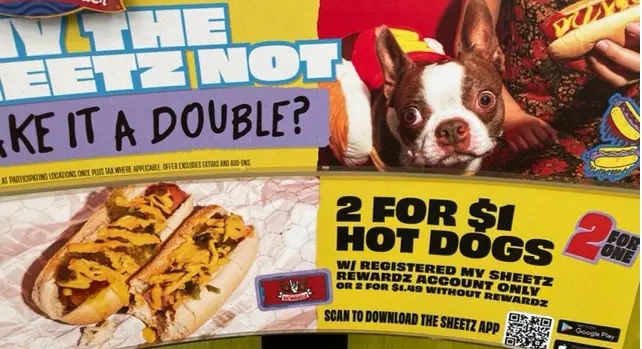 Sheetz Fries Subscription
Sheetz Convenience Stores have a fries subscription for $9.99 / month – get all you can eat all the time!
To enroll, open the Sheetz app and click on More -> Buy Subscriptions.
If you don't have the Sheetz app download it and register your email address at:  Sheetz app.
*Limit 1 bag of fryz or 1 drink every 2 hours.  Credit card will be charged $9.99 / month for Unlimited Fries. Cancel at any time by viewing Subscription Deals under the Active tab.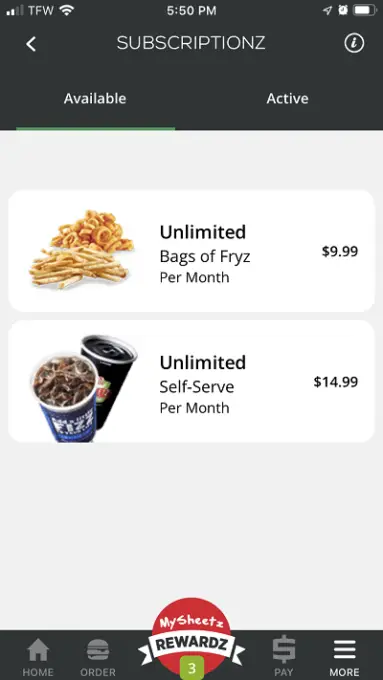 About Sheetz
Sheetz is a chain of convenience stores and gas stations primarily located on the East Coast. The first Sheetz store was opened in Altoona, Pennsylvania in 1952, and now boasts over 600 locations.
Sheetz stores are well known for their food offerings. Most locations have a made-to-order food station where you can customize and order sandwiches, burgers, hot dogs, salads, milkshakes and more. The chain is also known for its extensive breakfast menu, which includes options such as breakfast sandwiches, burritos, and bowls.
Sheetz has its own line of food and beverage products, including Sheetz Bros. Coffee, Sheetz MTO energy drinks, and Sheetz-branded snacks. The company has also expanded its offerings to include Sheetz Run & Done specialty coffee shops and Sheetz-owned and operated restaurants called "Sheetz Cafe."