Sonic has brought back their $2.99 Carhop Classic.
Get a quarter pound double cheeseburger plus tots or a crispy tender sandwich plus tots for $2.99.  Regular price for the sandwich alone is about $2.50 with tots priced at about $1.89.
You can order the deal through the What's New tab on the Sonic App or ask your server for the Carhop Classic to get the special $2.99 price.
Sonic announced the special on the Sonic Deals Page.
Tax not included. Add-ons cost extra. Includes Quarter Pound Double Cheeseburger or Crispy Tender Sandwich with medium Tots. Limited time only at participating drive-ins.
Sonic Happy Hour
Get 1/2 off drinks and slushes during the Sonic Afternoon Happy Hour from 2 – 4 pm.
The half-price happy hour special is good on soft drinks, iced teas, regular or frozen lemonades and limeades, Ocean Water and Slushes.
You can also get these deals all the time by ordering with the Sonic app
+Happy Hour: For a limited time only at participating SONIC Drive-In locations. Offer includes Soft Drinks, Iced Teas, regular Lemonades and Limeades, Frozen Lemonades and Limeades, Ocean Water®, and Famous, Real Fruit and Candy Slushes. Add-Ins cost extra. 
For more details visit the Sonic Deals page.
All Day Happy Hour On The App
Sonic announced that their popular Happy Hour promotion is all day long for a limited time when you order with the Sonic app.  For Happy Hour, customers can get drinks and slushes for 1/2 off the regular menu price.
Sonic announced the extended Happy Hour on the Sonic App Page.
Click here to download the Sonic app for your mobile device.
About Sonic (from Wikipedia)
Sonic Drive-In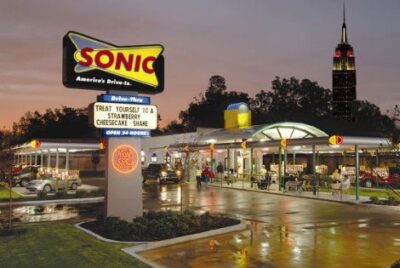 is an American drive-in fast-food restaurant chain based in Oklahoma City, Oklahoma.As of As of August 31, 2016, there were 3,557 Sonic locations in 43 U.S. states, serving approximately 3 million customers per day.  In 2011, it was ranked 10th in QSR Magazine's rankings of the top 50 quick-service and fast-casual restaurant brands in the nation.  Known for its use of carhops on roller skates, the company annually hosts a competition to determine the top skating carhop in its system.
At a standard Sonic Drive-In, a customer drives into a covered drive-in stall, orders through an intercom speaker system, and has the food delivered by a carhop. Most drive-ins also have patio seating, and many have drive-thru lanes.
Menu
The Sonic menu consists of hamburgers and French fries, as well as onion rings, corn dogs, chili dogs and breakfast toaster sandwiches. Drink options include soft drinks, slushes, and milkshakes. Customers can combine various drinks and flavors to create thousands of possible drink combinations. Ice cream desserts include sundaes and floats.
Websites