Sonic Drive-In has Every Day deals and Tuesday specials.  Sonic's deals include:
Half-price shakes plus $1.49 ice cream sandwiches every night after 8 pm
1/2 off drinks and 99-cent corn dogs during the Sonic Afternoon Happy Hour from 2 – 4 pm
Half-price Cheeseburgers after 5 pm every Tuesday.
For more details visit the Sonic Deals page.
Tuesday Special
After 5 pm every Tuesday you can get half-price Cheeseburgers at Sonic. Sonic announced the Family Night special on their Deals Page.
Sonic said their  Cheeseburgers are prepared with melty American cheese, crinkle-cut pickles, chopped onions, fresh shredded lettuce and ripe, hand-sliced tomatoes on a perfectly seasoned 100-percent pure beef single patty all pulled together in a soft, warm, bakery fresh bun. Burger fans also have the choice of condiments including tangy mustard, creamy mayo or classic ketchup.
"Our juicy cheeseburgers have been a SONIC brand tradition since 1953, and offering them half price is a fun way to invite guests to celebrate this classic," said Lori Abou Habib, vice president of national marketing at SONIC. "We're making it easy to enjoy a family dinner on Tuesday nights with a delicious offer everyone can agree on."
*See menu for pricing. Offer includes single-patty SONIC® Cheeseburgers (approx. 1/4 lb. precooked) only. Add-Ons cost extra. Not good in conjunction with Combos/other offers. Valid while supplies last at participating SONIC® Drive-Ins.
Here's the EatDrinkDeals roundup of Tuesday specials at all of your other favorite restaurants.
All Day Happy Hour On The App
Sonic announced that their popular Happy Hour promotion is all day long for a limited time when you order with the Sonic app.  For Happy Hour, customers can get drinks and slushes for 1/2 off the regular menu price.
Sonic announced the extended Happy Hour on the Sonic App Page.
Click here to download the Sonic app for your mobile device.
About Sonic (from Wikipedia)
Sonic Drive-In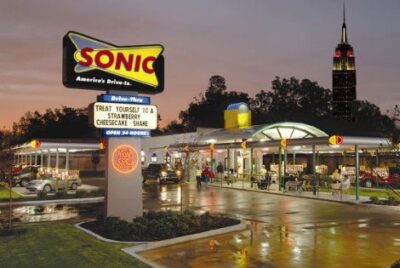 is an American drive-in fast-food restaurant chain based in Oklahoma City, Oklahoma.As of As of August 31, 2016, there were 3,557 Sonic locations in 43 U.S. states, serving approximately 3 million customers per day.  In 2011, it was ranked 10th in QSR Magazine's rankings of the top 50 quick-service and fast-casual restaurant brands in the nation.  Known for its use of carhops on roller skates, the company annually hosts a competition to determine the top skating carhop in its system.
At a standard Sonic Drive-In, a customer drives into a covered drive-in stall, orders through an intercom speaker system, and has the food delivered by a carhop. Most drive-ins also have patio seating, and many have drive-thru lanes.
Menu
The Sonic menu consists of hamburgers and French fries, as well as onion rings, corn dogs, chili dogs and breakfast toaster sandwiches. Drink options include soft drinks, slushes, and milkshakes. Customers can combine various drinks and flavors to create thousands of possible drink combinations. Ice cream desserts include sundaes and floats.
Websites