Given the current state of the world, most of us have no choice but to eat at home, sometimes depending on takeout. The coronavirus has affected our daily routine, and our dietary habits are no exception. Research has shown that 70% of consumers have succumbed to the delicious and handy clutches of food delivery in recent months. Perhaps even more telling about our eating habits, 60% of people prefer to order food directly from the restaurant rather than from online delivery services. 
Below are some even more fascinating facts about takeout in the USA:
The most ordered food by a wide margin is chicken. Over 12 states are noted as seeing an increase in ordering chicken-based dishes.

Chinese dishes take the second spot for popularity. More and more people than ever before have turned their attention to this tasty Asian cuisine when ordering takeout.

Pizza, perhaps surprisingly, comes in third. Many Americans, especially the younger crowd, seem to crave pizzas, be they vegetarian or laden with meat toppings.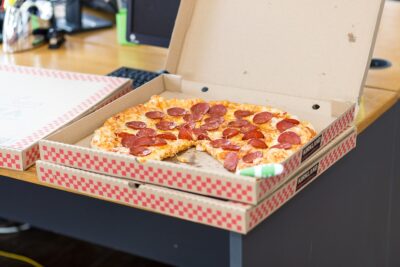 The next most popular food for takeout is the all-mighty burger. A simple veggie burger, a cheeseburger, and a huge variety of other types of burgers are popular choices of many Americans.

Some states have also developed a wider taste for Mexican food. This cuisine is quickly taking the American population by storm.

Almost one out of four Americans opt for the same kind of fast food daily.

Americans consume 31% more packaged food than they do fresh food.

Perhaps not surprisingly, more than 20% of Americans consume their meals in their cars.

About 10% of Americans' disposable income is spent on fast food.
The most popular takeout by Americans 
Takeout is certainly on the rise, and people surely love to indulge in their favorite cuisine from the comfort of home. Here, a list of some of the most ordered food.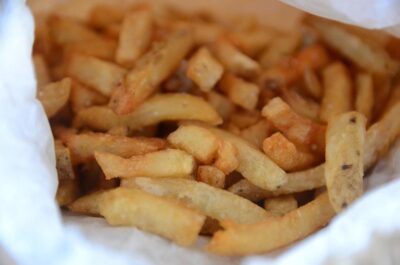 Believe it or not, french fries are absolutely one of the most popular comfort foods. A variety of availability has increased the ordering of this fantastic food, whether for a meal or a simple snack, and the famous fry has fans in every pocket of the USA. Even when people are ordering more substantial or even completely different food items, more often than not, fries are the side dish of choice to accompany their meal.
Pad Thai

: Recently, this food item has started growing leaps and bounds in popularity with the American population. Pad Thai has emerged overwhelmingly in various parts of America.

Pizza

: In terms of the most ordered food, pizza is right near the top. About 79% of the American population is opting for pizza to satisfy their appetite when it comes to takeout. Available with a choice of various toppings and varieties, this Italian staple is worth a favorite for many.

BBQ

: Has anyone ever imagined enjoying a barbeque while stuck in quarantine? It's happening! BBQ falls in the category of one of the most ordered types of food during the pandemic. A meat heavy plate, perhaps with fish and other char-grilled items cooked on an open fire, is a huge craving for many. If you are a vegetarian, then you can alternately order paneer, sweet potato, broccoli, and many other veggie options to satisfy your taste for succulent BBQ.
More from EatDrinkDeals
Want to get info on other deals, discounts, coupons and specials from your favorite restaurants?  Click here to see the latest and greatest from EatDrinkDeals!
More Restaurant Daily Deals
Daily deals for all days of the week can be found here:
For more daily and weekly restaurant specials like these, see:  Restaurant Daily Deals
If you're an AARP member, you can get every day discounts at Denny's, McCormick & Schmick's, Outback and more places.  You can find all the details in our story, AARP Dining Discounts.
Also, many restaurant chains such as Bob Evans, Outback Steakhouse, Zoe's Kitchen and more offer discounts to the active military and veterans.  Here's the EatDrinkDeals roundup, Restaurant Military and Veterans Discounts.
Top ten takeout choices all over the world
When comparing the takeout preferences in the number of countries around the world, here are some recent findings:
| | | |
| --- | --- | --- |
| Rank | Type of takeout food | Total number of countries |
| 1. | Pizza | 44 |
| 2. | Chinese | 29 |
| 3. | Sushi | 10 |
| 4. | Fish and Chips | 6 |
| 5. | Fried Chicken | 5 |
| 6. | Indian | 4 |
| 7. | Korean | 3 |
| 8. | Thai | 2 |
| 9. | Tapas | 1 |
| 10. | Tacos | 1 |
The top choices of takeout foods from Americans
A more in-depth study reveals the popular takeout items among people from America: 
Chicken: 30%

Chinese: 15%

Pizza: 12.5%

Burgers: 7.5%

Sushi: 7.5%

Mexican:.5%

Pasta: 5%

Other:17.5%
There was a time when pizza and chinese were ordered in almost the same frequency and compared equally in terms of popularity, but things have certainly changed. The biggest factors in the changing of food habits is due to mobile apps, chains of delivery-only restaurants, a wider variety of restaurants and items to choose from, ease of delivery, and various convenient payment methods.
Apart from other well-known and popular food preferences, items such as tikka masala, fish and chips, and Indian foods are slowly but increasingly growing in popularity and starting to stake their claim as staples in the American takeout world.
How Americans are ordering takeout
Food delivery apps are the most favorite platform when it comes to food ordering for many Americans. Orders for delivery at home have gained significant traffic, especially during the current pandemic. Some of the most searched delivery apps include:
Caviar

– 50%

Grubhub

– 22.3%

Doordash

– 22.3%

Uber Eats

– 22.2%

Postmates

– 22%
As the statistics reveal, it is easy to note that the USA has dominated the search volume for online food delivery systems. Moreover, the most used takeout apps over the last three months have mostly been through American companies.
Conclusion
As we all are forced to remain inside of our homes, food delivery has become something to increasingly look forward to on an almost daily basis for many. With the current stay-at-home orders, the choice of cuisine, perfect packaging, zero-contact deliveries, and loads of discounts are a welcome gift. 
We all know that it's incredibly exciting and fulfilling to head on out to our favorite food joints with our friends to enjoy awesome meals with good company. However, for the time being at least, takeout and food delivery are thankfully mainstays in our current culinary experiences to help bring some tasty treats to our door until we can go out in person and enjoy them again.