Uncle Julio's has a happy hour Monday – Friday from 3 – 6PM. You can snag The Swirl (which is a swirled frozen margarita and frozen sangria) for $5. If you're not feeling that, you can also get Julio's Gold – Uncle Julio's special margarita – for the same price.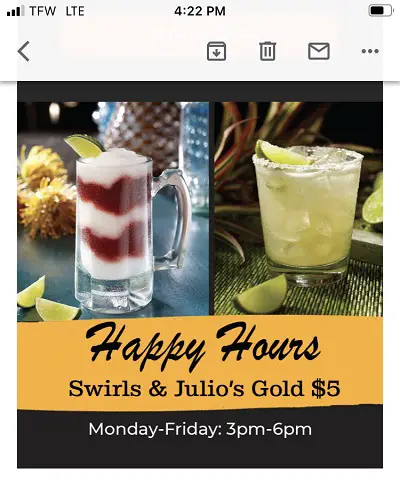 Uncle Julio's also has a Fresh Margarita of the Month for about $13. You can also add a premium tequila floater with Lunazul Silver or Exotico Reposado for $2 more.
Taco Tuesday Special At Uncle Julio's For $12/Person
Spice things up with Taco Bar Tuesday at Uncle Julio's!  For $12 per person, make your own tacos with all the fillings and toppings you need brought to your table for your ultimate creation.  You'll need a minimum of 2 people in your group to dig into Taco Bar Tuesday.
Here's some more details from Uncle Julio's.
Loyalty Program
Uncle Julio's has an Amigo Especial rewards program that can help you save big. The program is broken up into bronze, silver, gold, and platinum tiers. When you sign up, you automatically get complimentary table side guacamole. Once you accumulate 250 points for the first time, you are upgraded to silver (plata). You will get $25 credit for your next visit and $25 credit on your birthday (or around it). If you do not reach gold within a year, your points will expire.
When you hit 500 points for the first time, you are upgraded to gold (oro). This will grant you priority seating for every visit for up to four guests. You also get a complimentary dessert and two Chocolate Pinatas to redeem in restaurant along with eligibility to participate in double point days. If you do not reach platinum within a year, you will be demoted to silver.
The final tier, platinum (platino), is achieved the first time you accumulate 2,500 points. You will get a $250 credit and qualify for table side guac for a full year! If you are able to earn 1,500 points within the following year, you can stay in platinum. If you fail to do so, you will be demoted to silver.
Plus, when you sign up for texts, you will get $5 off your online order of $25 or more! Click here to sign up for the Amigo Especial loyalty program and text messages!