Get $5 off some new menu items with Veggie Grill promo codes valid through March 22. Here are the codes:
Sonoran Bowl: Use code BOWL
All Hail Kail: SALAD
Grilled Chick'n Sandwich: SANDWICH
Marinated Chick'n Wrap: WRAP
Veggie Grill sent this message with the codes.
New Menu Items
For the new year, Veggie Grill has four new menu items featuring the world-famous Bitchin' Sauce, a cult-favorite brand of creamy, savory, plant-based dips.  These all vegan meals are part of the Bitchin' lineup for a limited time:
Bitchin' Burger: A Veggie Grill Classic Burger with Original Bitchin' Sauce
Bitchin' Bowl: A Harvest Bowl with Original Bitchin' Sauce
Bitchin' BLTA: A BLT Avocado Croissant with Chipotle Bitchin' Sauce
Bitchin' Nachos: Southwestern Nachos with Chipotle Bitchin' Sauce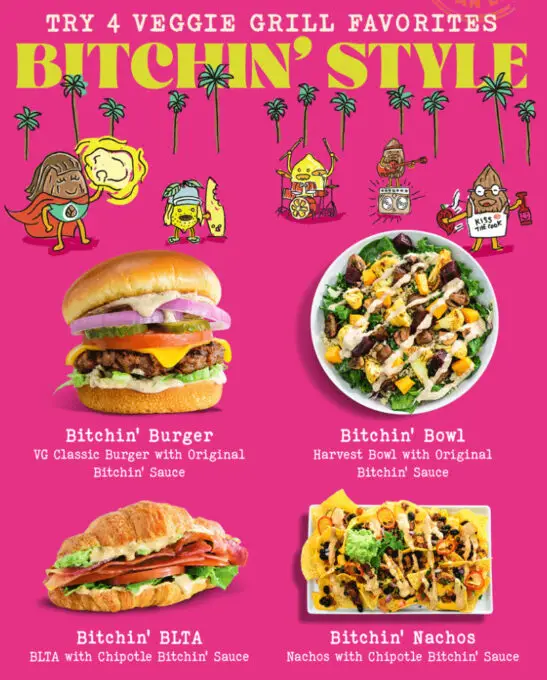 Veggie Grill Daily Deals
Veggie Grill has a lineup of different deals each day to keep you coming back. The offers are valid for in-store and online purchases. When you order online, there may be a promo code needed, which we will list for you:
Monday – Buy 2 entrees, get a free order of wings. Use promo code MONDAY. "Entrees" include a burger, sandwich, bowl, burrito or salad
Tuesday – Get 2 tacos with rice, beans and chips for $9.95. Use promo code TUESDAY.
Wednesday – Buy 1 bowl, get another half off. Use promo code WEDNESDAY.
Thursday – Buy 1 burrito, get one free. Use promo code THURSDAY.
Friday – Get a free Regular Side with Entree purchase. Use promo code FRIDAY.
Saturday – Sunday – Get a free dessert with any order. No promo code needed!
$5 Off Veggie Grill Coupon
Get $5 off when you join the Veggie Grill Rewards program.  Get these benefits from the program:
Start earning: Place your first order and get $5 credit towards your next Veggie Grill purchase.
Skip the line: Order ahead so your veggies are ready when you are.
Earn $9 for every $99 spent: Earn free food by ordering and paying through the app.
For more information or to enroll, visit:  Veggie Grill Rewards
About Veggie Grill
Veggie Grill is a fast-casual restaurant chain that specializes in plant-based cuisine. Since its founding in 2006 in Irvine, California, Veggie Grill has expanded to over 30 locations.
The menu focuses on vegetarian and vegan options, including burgers, sandwiches, salads, bowls, and sides. They use a variety of plant-based proteins instead. No meat here!
Some of the most popular items on the Veggie Grill menu include the Beyond Burger, a plant-based burger patty that looks, cooks, and tastes like meat, and the Santa Fe Crispy Chickin' sandwich, which is a vegan chicken sandwich topped with avocado, lettuce, and spicy vegan mayo. They also offer a variety of side dishes, such as sweet potato fries, mac and cheese, and quinoa power salad.
Veggie Grill also offers a selection of plant-based beverages, including smoothies, organic teas, and cold-pressed juices.